Student Ambassador: Ellie Hall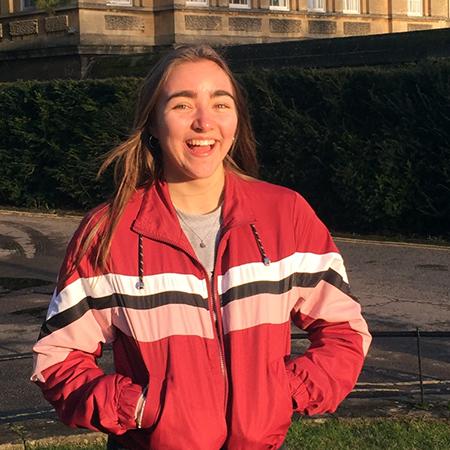 Year: First
Subject: History
Where are you from?: Manchester
Best thing about Merton?
Merton has so much going for it – I think it is a hidden gem! It is central (especially for history – we are right next door to where the lectures are), with reasonably priced food and accommodation, and incredibly friendly. We also have two libraries, which is perfect for moving around when your focus starts to fade. The college itself is stunning, with its own garden and views over Christ Church Meadow. Undoubtedly the best thing about Merton is the people – as a fresher I was made to feel so welcome, with very few barriers between subject and year groups creating a real community.
What's the work like?
The fairly intensive workload (around one or two essays a week) means that you learn a lot really quickly! I decided to pick topics and time periods I had never done before, which was a challenge, but I have enjoyed going from no knowledge at the beginning of term to feeling confident that I have grasped what was going on by the end. I have found it really refreshing to be allowed to be a beginner at something, (for instance, medieval history) and the tutors have been really supportive and encouraging in this scenario – they just want to grow your interest and knowledge in the subject area that they love!
What are tutorials like?
I was initially apprehensive about tutorials – I had no formal debating experience and was used to being in classes of 30 all the way through sixth form. It can take a bit of getting used to being in a group of two or three and a tutor, but now they tend to be the highlight of my academic week! They are an amazing opportunity to work through ideas that are still a bit confusing written down, and to build your ideas and understanding further with the help of both the tutor and your tutorial partner.
What do you do when you're not working?
This year I had the opportunity to be the assistant choreographer for a musical at St Catherine's College! I hadn't taught my own choreography before, but it was a really friendly environment, and it was lovely to meet lots of new people whilst putting together a show that I was proud of. Having a creative outlet helped me to be more productive overall, as I found it helped me more clearly define the times when I was having a break, and when I should get some work done. Following on from this I am carrying on doing more shows, so throwing myself in the deep end of something new definitely paid off! There's loads going on within Merton too – from BOPs (college parties) every other week, to more relaxed film nights.