Life at Merton: Accommodation
We guarantee high-quality college accommodation for all undergraduates, whether they are on a three-year or four-year course. We are normally able to offer single accommodation to nearly all new graduate students who require it.
Undergraduate accommodation
Undergraduate students at Merton enjoy:
A room in college-owned accommodation for the duration of their course, should they wish it
A high standard of accommodation at competitive prices
Regular room cleaning
Access to communal laundry facilities
A central Oxford location

Free wifi 

via the

eduroam

network, and wired connections in each room
Rooms come in a variety of styles and locations at two prices, depending on whether the room is en suite or has a shared bathroom. We have two ground-floor rooms that are accessible for students with disabilities (one is a fully-adapted suite with adjacent carer room).
There are three large kitchens on the main college site for student use, as well as kitchen facilities available in the Holywell Street accommodation.
Accommodation is provided for all undergraduates for the duration of their course. It is automatically allocated to new students, and in subsequent years allocation of accommodation is by ballot organised by the JCR. Most freshers are randomly allocated accommodation, generally in Rose Lane or Merton Street properties; all of these properties adjoin the main College site. The majority of second-year undergraduates live in Holywell Street. These are individual houses which make up part of our Holywell Quad, and all have a kitchen in the property. Those in their third year generally live in the main College precinct, whilst those doing a fourth year return to live in Holywell Street. The college provides up to 288 rooms for undergraduate accommodation which consists of 200 standard rooms with shared bathrooms and 88 en suite bedrooms, including two rooms which are fully adapted for wheelchair use.
Living out: The College can guarantee a room to all students for the full duration of their undergraduate course, and so students will not need to find accommodation privately. However, each year a very small number of students opt to live out. Students who decide to do this are asked to notify the College of their intentions by late January of the previous academic year.
Vacation residence: Accommodation is only provided to undergraduates during term time; there is no entitlement to a room during the vacation. However, a limited amount of accommodation tends to be available, and students may make an application to reside in college during part or all of the vacations. Priority is given to those with vacation deadlines or extended terms, who are sitting exams, who live overseas, or who have some other academic reason for remaining in Oxford.
Accommodation charges for 2023-24
£4,611 for a single room; or
£4,885 for an en suite room
This is charged in three equal instalments and must be paid by the Friday of 1st Week of each term
These sums cover 25 weeks' residence (during each academic term only) and include a room cleaning service, web access and an electricity allowance of 1,000 units per term (after which, students are charged at the prevailing rate set out in the licence agreement – 8.4p per unit in 2018/19). Anyone who wants more detailed information on what is included in or excluded from these charges can contact the Admissions Officer at undergraduate.admissions@merton.ox.ac.uk.
Graduate (and second BA student) accommodation
Merton aims to accommodate all its fresher graduates and these rooms are allocated by the Accommodation Manager.
It is not possible for fresher graduate students to choose accommodation at Merton, but if you have specific requirements we will do our best to take these into consideration. If you have such requirements, please contact the Accommodation Manager as soon as possible to discuss.
In subsequent years the Middle Common Room (MCR) run a ballot for the available rooms, usually around 70-80 depending on fresher requirements. The majority of rooms available in the ballot are located in Manor Place.
General accommodation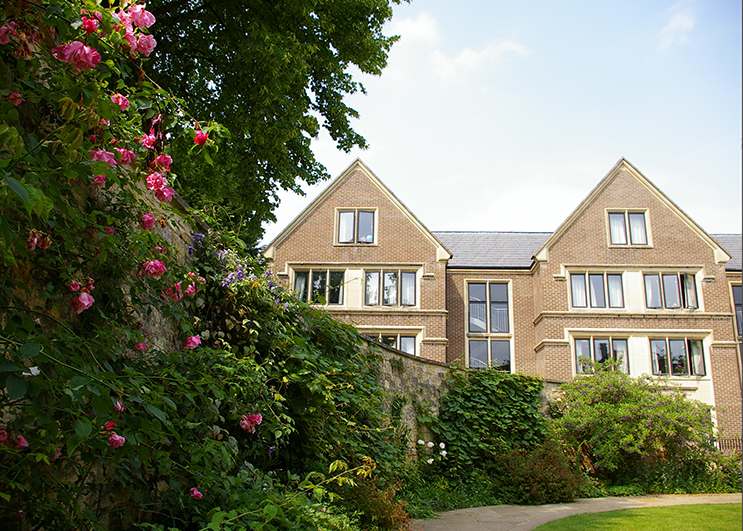 Merton College provides up to 156 rooms for graduate accommodation which comprises 64 standard rooms with shared bathrooms and 92 en suite rooms, including one room which is fully adapted for wheelchair use.
Just under 100 graduates are accommodated in Holywell Buildings, a modern facility in central Oxford, located between Holywell Street and Jowett Walk and in three blocks, with a central Quad area, and close to the University science area and the Bodleian Library.
All rooms in Holywell Buildings are en suite; some rooms have a bath in the en suite and some have a shower.
All rooms are equipped with both wifi and ethernet connections.
There are communal kitchens located in the basement of each building and kitchenettes on each level. All kitchens are provided with an oven and an induction hob; a microwave and fridge/freezer are also provided. (Graduates need to provide their own cooking utensils/crockery and pans.)
A communal laundry facility is provided and this is located across the Holywell Quad from the Holywell Buildings.
Also part of the Holywell Complex is Holywell Cottage, a house with five bedrooms and a shared kitchen and bathroom facility.
There is a Common Room and Computer Room located in one of the blocks for graduate use and there is a Lodge at Holywell which is staffed around the clock.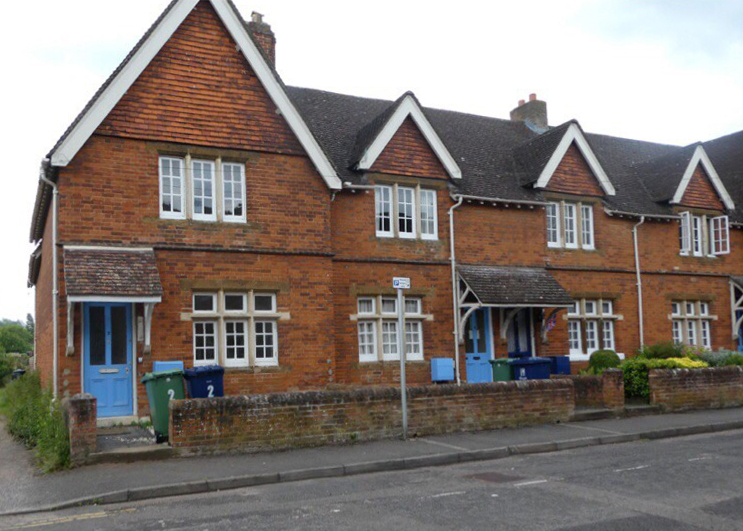 Other single non-en suite accommodation is located in houses in Manor Place - close to the Social Sciences departments and St Catherine's College, and near to the Merton College Sports Ground and Pavilion. These houses consist of either four or five bedrooms and have a shared kitchen and bathroom in each house, with both wifi and ethernet connections.
The College also has one fully adapted set of rooms, consisting of bedroom, study and bathroom and a room for a carer (if required) which are located in the Holywell Buildings.
Any questions about accommodation should be directed to the Accommodation Manager.
Accommodation for couples
The College also offers, for couples, eight one-bedroom flats which are in a building located on the corner of Iffley Road and Stockmore St, about ½ mile from the city centre. These flats are let on an Assured Shorthold Tenancy basis for a fixed term from the end of September to the end of August each year. Information about these may be obtained from the Accommodation Manager.
The College regrets it is unable to offer family accommodation and graduates are advised to contact the University Graduate Accommodation Office for options.
Accommodation charge for 2023-24
Graduate single accommodation: £7,420 (October-July), charged in three instalments at the beginning of each term. Graduate students living in Holywell Buildings will in addition be charged for electricity consumed.
Flats: from £1,072.75 per month (let on a 12-month shorthold tenancy; council tax and utilities are the responsibility of the lessee)
Room Deposit
All graduates (whether new, re-admissions, or returners) must pay a room deposit of £100 within four weeks of the date of the letter offering you a place at Merton College in order to secure your room. A refund of the room deposit will be made only in the event that you fail to fulfil the academic condition for your offer set by the department/faculty.  A refund will not be made in the event of your withdrawal from the offer of a place for any other reason. You may pay the deposit by:
Bank transfer to Merton College:

Account number: 30650137
Sort Code: 20 65 26
Reference: Your Surname + "Room Deposit"

Debit/Credit Card (except American Express). Please contact the Bursary if you wish to use this option.
How to apply for accommodation
In order to apply for College accommodation you need to complete the Merton Accommodation Application Form sent to you together with the College Offer Letter. As a part of this process you will need to complete the Financial Declaration Form.
Single accommodation will only be confirmed on satisfactory completion of the financial declaration form and the receipt of £100 deposit. A room will be allocated to you and the location advised upon arrival.
Cases where grant confirmation is given late in the summer will be borne in mind when we make accommodation allocations, but candidates should bear in mind that the College is unable to guarantee accommodation to those who provide satisfactory evidence of funding late in the year.
New graduates are expected to arrive on the Friday 10 days before the start of Michaelmas term as per the published University Dates of Term (i.e. for 2023-24, the arrival date is Friday 29 September, as term begins Sunday 8 October). The programme of Freshers' Week activities begins at 5:00pm on that Friday. Arrival before that date is by request only to the Accommodation Manager and approval is based solely on verifiable academic requirements. Any extra nights are chargeable at a daily rate of £24.73.
Student Accommodation Code

We are committed to fulfilling the requirements of the Student Accommodation Code, a nationwide code of practice for accommodation providers within higher education.