Student Ambassador: Alice Hilder Jarvis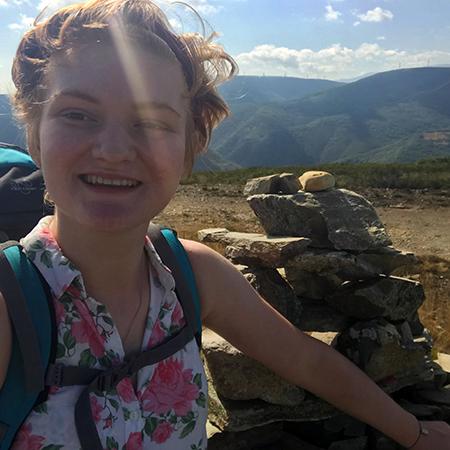 Year: 2
Subject: Maths and Philosophy
Where are you from?: Wheathampstead, Hertfordshire
Best thing about Merton?
There are so many good things about Merton that it's hard to pick the best one! If I had to choose, I'd say the best thing is the people. I've met so many inspiring people here, and I'm constantly surprised by the eye-opening chats that people have at Merton about a whole range of different ideas that I'd barely even thought about before! Merton is also a beautiful place to live. I often catch myself walking through Fellows' Garden with a huge smile on my face just because it makes me so happy to be in a place as lovely as Merton.
Best thing about your course?
The best thing about Maths and Philosophy is the variety of the course. In the morning, I might be writing an essay about Epistemology or Applied Ethics, and by the afternoon I'll have turned to a problem sheet on Probability or Complex Analysis! Particularly in the third and fourth years of my degree, there is a broad range of modules which I can choose from, which allows me to tailor my degree to suit my interests. In my fourth year, I'll also be able to choose to drop one of my two subjects and focus exclusively on the other if I want to, so that I can spend more time and energy on the topics that I love. It's a really varied degree, with so much space to make it your own.
Best thing about the collegiate system?
Living in a College has so many advantages, academically as well as socially. On the social side, the collegiate system fosters a genuine sense of community. It's lovely to recognise almost all of the people who live with me in my college. The collegiate system also makes meeting so many new people feel much less overwhelming, and helps you build relationships with the other people who live around you. On the academic side, it's great to be able to pop downstairs or across college to speak to someone who does my subject, to ponder over a Maths problem together or talk about a tricky idea in some of my reading.
What are tutorials like?
Tutorials are one of the highlights of studying at Oxford. Tutorials are classes which happen in small groups – in Maths, usually pairs or threes. Tutorials make the learning experience a lot more intense and help you push yourself much further. The opportunity to learn from academics in these small groups gives you the chance to ask any questions you might have, and make the most of the expertise of your tutors. In Philosophy, I've been lucky enough to have a lot of one-on-one tutorials, which have been some of my favourite parts of my degree. It's been incredible to talk to an expert in my subject every week, and to dissect in such detail the ideas and arguments which I've been learning about and discussing in my essays.
What do you do when you're not working?
When I'm not working, I spend a lot of my time bouldering and climbing! There are several climbers at Merton, and I usually bump into people I know when I'm up at the climbing wall, so it's quite a sociable activity. Climbing is a really good way to relax and get my body moving, so I find it a great way to detox from studying! I'm also a choral scholar, so I sing choral evensong three times a week with Merton College Choir in Merton's chapel. I love Merton College Choir – we sing beautiful music, some of which our conductor commissions for the choir, and often have opportunities to record CDs, sing concerts, and appear on the radio. It's also where I've met many of my closest friends!