Student Ambassador: Benedict Yorston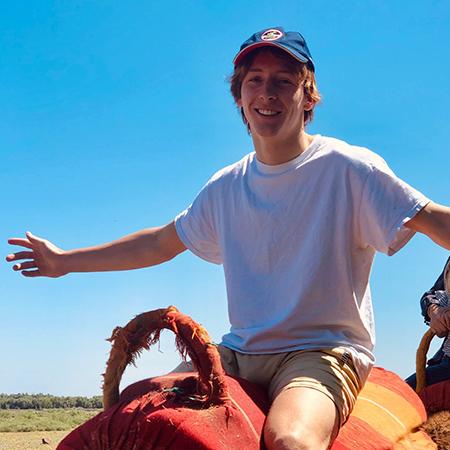 Year: 1
Subject: Physics and Philosophy
Where are you from?: Abingdon
Why Merton?
Accommodation for your whole degree, stunning grounds/buildings, the best barman in Oxford, central but still somehow feels like it's in its own little bubble of tranquility, and the only college with free alcohol at our College Parties. And I'm there.
Best thing about Merton?
We had welfare Zoom calls with goats during lockdown. Beat that.
Best thing about your course?
You get to be a scientist and a humanities student so basically you get the best of everything (including two subject dinners!). When the two areas start to coincide it's also insanely cool, provided that's the kind of thing you're interested in!
Best thing about Oxford?
Definitely the people. Your tutors are the smartest people you could ever hope to meet in your subject area, and you can learn something from every single other undergraduate.
Best thing about the collegiate system?
You can pretend you're in your own Hogwarts House (friendly sporting rivalries and all…) 
Highlight of the year?
Time Ceremony. Definitely do ask in one of our Q&A sessions (or read about it in our Alternative Prospectus), but too awesome an event to explain here!
Most important thing you've learnt?
McDonald's does actually have a closing time…
How has Oxford changed you?
It hasn't really. No great self-discovery yet. Maybe next year.
What were you worried about before you arrived?
Like most, not knowing anyone at all to begin with.
What new opportunities have you had?
Literally endless. I spent five hours walking round the 300 societies at Freshers Fair, and signed up to about 150 of them. Can't say I got involved with them all, but student newspapers, a radio station, and the political societies all stand out for me.
What's the work like?
I get both problem sheets (a load of physics questions) and essays because of my degree. It's a lot, I won't lie. You're expected to spend 40 hours a week working for your degree each week, so it's basically a full-time job.
How do you cope with the workload?
I aspire to cope with excellent prioritisation and using my time well, but late night caffeine can also produce surprisingly good essay results. Getting ahead on readings during the holidays is a very good way of making term the best it can be (we get 28 weeks' holiday a year so a little prep work hardly ruins it…)
What do you do when you're not working?
Sport's a big one for me. For Uni I play hockey, squash, and a weird sport called Real Tennis, whilst there's always a College football or rugby to play in/support. I'm also involved at the Oxford Union which is amazing (search it up on YouTube). Still plenty of time for nights out and bar nights.
Favourite spot to relax?
On a hockey pitch/football pitch/tennis court/squash court etc. I'm only relaxed when I'm doing the absolute opposite! The Merton games room (complete with Mario Kart) is a great place when you're feeling a bit dead.
Favourite place to eat?
Pizza Pilgrims on top of the Westgate – best pizza in Oxford by miles, and they have a classic Pac-Man machine whilst you're waiting.
Favourite place to go out?
Sports night Wednesday at Park End is regularly the  highlight of a week.
What do you do in the holidays?
I've only had one non-corona holiday so far! Tutoring is a good way I earn a little extra money, whilst I tend to spend the rest of it either training for sport, catching up on some Netflix box sets, or meeting back up with friends from home (or from uni to be honest, I miss them that much♥️♥️) 
What are tutorials like?
Very chilled, and productive. So much more efficient than school lessons.