Chapel: People
The Chaplain
The Revd Canon Dr Simon Jones has been Chaplain of Merton since 2002. As well as being responsible for the day to day life of the Chapel, Simon also co-ordinates the various College welfare bodies and convenes the College's Student Support Committee and Chapel & Patronage Committee. He is always happy to speak in confidence with any member of College (regardless of religious affiliation) concerning any matter.
Email: Simon Jones
Telephone: 01865 276365.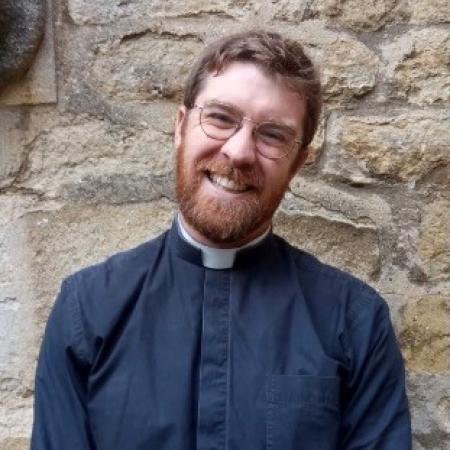 Associate Chaplain and Career Development Researcher
The Revd Lyndon Webb is Associate Chaplain and Career Development Researcher. Lyndon has particular responsibility for pastoral care within the Chapel community, for leading discussion groups, and developing new initiatives.
Email: Lyndon Webb
Telephone: 01865 276297.
Biography
Originally a modern linguist, prior to training Lyndon spent four years living in intentional communities in Dorset with a particular focus on ecology, conservation and the relationship between gardening and mental health for those in recovery from addictive behaviours.  Lyndon subsequently trained for ordination at Ripon College Cuddesdon, where he completed a BA in Theology and MSt in Modern Doctrine at Oxford, before returning to Dorset to serve his curacy in the parish of St John's Church, Broadstone. Alongside his pastoral and liturgical role at Merton, Lyndon will also be working on a PhD in ecology, queer theology and the Song of Songs in conjunction with Sarum College, Salisbury and Winchester University.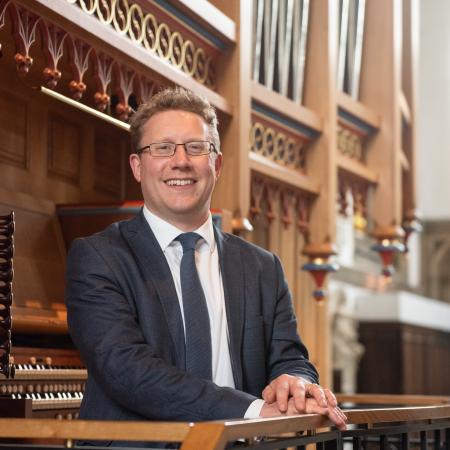 Reed Rubin Organist & Director of College Music
Benjamin Nicholas is responsible for all the music in Chapel, directing and training the College Choir and the Choristers. Ben is also a College Lecturer in Music teaching undergraduates in all year groups. As Director of College Music, Ben encourages music-making across the College.
Email: Benjamin Nicholas
Biography
Benjamin Nicholas is Reed Rubin Organist & Director of Music at Merton, and Principal Conductor of The Oxford Bach Choir. As a conductor he has appeared with the City of Birmingham Symphony Orchestra, City of London Sinfonia, Royal Philharmonic Orchestra, The BBC Singers and The Holst Singers in works such as Elgar's The Apostles, Vaughan Williams' Sea Symphony, Holst's Savitri and Verdi's Requiem.
During Benjamin's time at Merton, the annual Passiontide at Merton festival has been established, the Dobson Organ has been installed, and the College Girls' Choir has been founded. He was elected a Bodley Fellow in 2018. 
Benjamin has been involved in the commissioning of a great many works, and conducted the premieres of Charlotte Bray's Bach RE:Imagined in Southwark Cathedral with the City of London Sinfonia, Howard Goodall's Veni Sancte Spiritus in Westminster Abbey and numerous choral works by Kerry Andrew, Birtwistle, Chilcott, Dove, Jackson, MacMillan, Martin, Muhly, Tabakova, Weir, and Wilby in Tewkesbury and Oxford.
Benjamin was a chorister at Norwich Cathedral before being appointed Organ Scholar of Chichester Cathedral at the age of 17. He went on to hold organ scholarships at Lincoln College, Oxford and St Paul's Cathedral before becoming Director of Music at St Luke's Church, Chelsea in 2000. Prior to moving to Merton, he was Director of Tewkesbury Abbey Schola Cantorum and Director of Choral Music at Dean Close School. From 2011 to 2016 he served the Edington Music Festival, firstly as conductor of the Schola and then as Festival Director.
Chapel Office and Choir Manager
Lizzie Casey manages the Choral Foundation and is responsible for the management of both the Choir of Merton College and the Merton College Girl Choristers. Lizzie is also the Chaplain's PA and provides administrative support for the Chapel.
Email: Lizzie Casey
Verger
Verger: Leah Collins. Leah is currently on maternity leave. Jen Crompton is covering Leah's maternity leave; they are responsible for the daily running and upkeep of the Chapel. They help with the organisation and setting up of services, as well as overseeing concerts and outside events.
Chapel Officers
A number of students assist with the running of the Chapel. They welcome people to services and give out books, light candles, read, serve at the Eucharist, and are also represented on the College's Chapel & Patronage Committee.
Student Chapel Officers: George Adams, Ebube Akojie, Tom Allen, Antonia Anstatt, Benjamin Atkinson, Susie Barrows, Luke Bateman, Alex Brown, Roheena Buckland, Eleanor Clark, Marcus Gamble, Ellie Garrigan Mattar, Hollie Goodwin, Carl Haller, Elisabeth Ilgner, Rachel Jung, Francesca Lovell-Read, Jared Martin, Camilo Mosquera, Jana Nedelkoska, Lukas Ruediger, Audrey Southgate, and Michael Zajac.
Pastoral Assistant: Josie Godfrey
Livestreaming technicians: Sebastian Dows-Miller, Joseph Clarke, Ruby Doran Meira, Penny Hilder Jarvis, and Shiv Mandal.