Chapel: People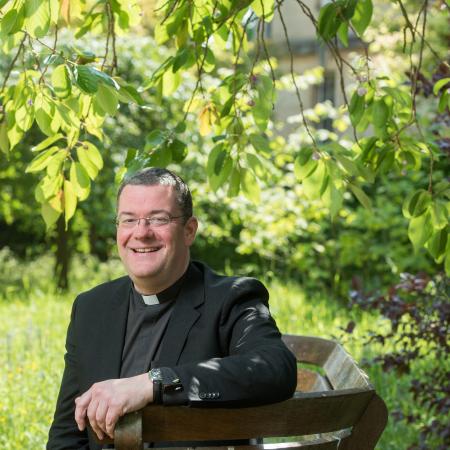 The Chaplain
The Revd Canon Dr Simon Jones has been Chaplain of Merton since 2002. As well as being responsible for the day to day life of the Chapel, Simon also co-ordinates the various College welfare bodies and convenes the College's Student Support Committee and Chapel & Patronage Committee. He is always happy to speak in confidence with any member of College (regardless of religious affiliation) concerning any matter.
Email: Simon Jones
Telephone: 01865 276365.
Associate Chaplain and Career Development Researcher
The Revd Dr Jarred Mercer has been Associate Chaplain since 2017. He serves as a pastor to the Chapel community, leads discussion groups and other activities in College, and develops new initiatives for the flourishing of the communal life of the Chapel. He is always available to support students and members of College regardless of their participation in Chapel or religious affiliation. Jarred is also a postdoctoral researcher and member of the Faculty of Theology and Religion.
Email: Jarred Mercer
Biography
The Revd Dr Jarred Mercer is originally from Florida, USA, but came to the UK in 2009. He completed his Masters degree at the University of St Andrews and his DPhil here at Oxford (The Queen's College), and was a visiting doctoral researcher at École Pratique des Hautes Études in Paris from 2012-2013. He was curate at St Mary Magdalen, Oxford for two years, combining this with his former role as Junior Chaplain here at Merton. Jarred's research interests are primarily in early Christianity and have focussed largely on Hilary of Poitiers. He is currently beginning a research project on the spirituality of children in late antiquity and writing in contemporary theology. Jarred is married to Chelsea and they have three children.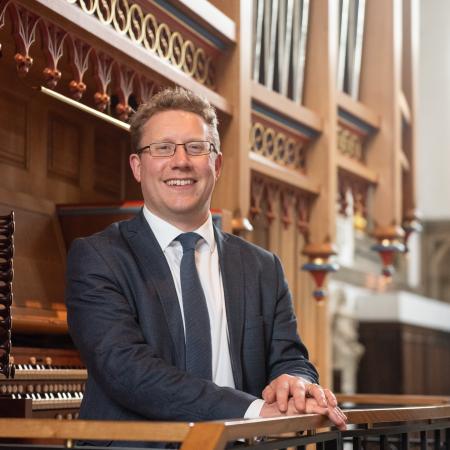 Reed Rubin Organist & Director of Music
Benjamin Nicholas is responsible for all the music in Chapel, directing and training the College Choir and the Choristers. Ben is also a College Lecturer in Music teaching undergraduates in all year groups. As Director of College Music, Ben encourages music-making across the College.
Email: Benjamin Nicholas
Biography
Benjamin Nicholas is Reed Rubin Organist & Director of Music at Merton, and Principal Conductor of The Oxford Bach Choir. As a conductor he has appeared with the City of Birmingham Symphony Orchestra, City of London Sinfonia, Royal Philharmonic Orchestra, The BBC Singers and The Holst Singers in works such as Elgar's The Apostles, Vaughan Williams' Sea Symphony, Holst's Savitri and Verdi's Requiem.
During Benjamin's time at Merton, the annual Passiontide at Merton festival has been established, the Dobson Organ has been installed, and the College Girls' Choir has been founded. He was elected a Bodley Fellow in 2018. 
Benjamin has been involved in the commissioning of a great many works, and conducted the premieres of Charlotte Bray's Bach RE:Imagined in Southwark Cathedral with the City of London Sinfonia, Howard Goodall's Veni Sancte Spiritus in Westminster Abbey and numerous choral works by Kerry Andrew, Birtwistle, Chilcott, Dove, Jackson, MacMillan, Martin, Muhly, Tabakova, Weir, and Wilby in Tewkesbury and Oxford.
Benjamin was a chorister at Norwich Cathedral before being appointed Organ Scholar of Chichester Cathedral at the age of 17. He went on to hold organ scholarships at Lincoln College, Oxford and St Paul's Cathedral before becoming Director of Music at St Luke's Church, Chelsea in 2000. Prior to moving to Merton, he was Director of Tewkesbury Abbey Schola Cantorum and Director of Choral Music at Dean Close School. From 2011 to 2016 he served the Edington Music Festival, firstly as conductor of the Schola and then as Festival Director.
Chapel Administrator and Verger
Chapel Administrator: Lizzie Casey. Lizzie is the Chaplain's PA and provides administrative support for the Chapel and Choral Foundation.
Verger: Leah Collins. Leah is responsible for the daily running and upkeep of the Chapel. She helps with the organisation and setting up of services, as well as overseeing concerts and outside events.
Chapel Officers
A number of students assist with the running of the Chapel. Chapel Wardens welcome people to services, arrange readers and servers for the main Sunday evening service and send out the weekly Chapel email. The sacristans light candles and ring the bells before services and often serve at the Sunday evening Eucharist. The Chapel Clerk arranges the rota of weekday readers. This year's officers are:
Student Chapel Officers: Victor Ajuwon, Alex Beukers, Adrian Burbie, Molly Clark, Tim Foot, Margaret Frainier, Henry Grub, Jamie Judd, Rob Lentz, Tom Lousada, Gian Piero Milani, Thomas Nightingale, Oliver Pateman, Colin Robertson, Audrey Southgate, and Rowan Wilson.
Pastoral Assistants: Catherine Haydon and Andrew Bailey.