Student Ambassador: Rebecca Smithson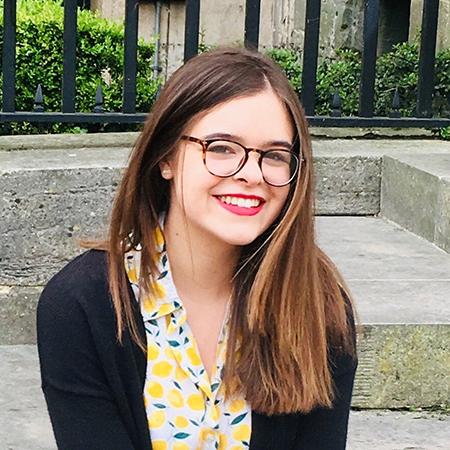 Year: 2
Subject: French & Linguistics
Where are you from?: Accrington, Lancashire (near Manchester)
Why Merton?
I fell in love with it on the Open Day. The garden was huge and calming and felt like home, and everyone was so friendly. I liked the accommodation and how old the buildings were, and there's so much financial provision to help you out. I can't imagine studying anywhere else!
Best thing about your course?
The combination of science and humanities. One day I'm analysing sound waves and making graphs and dealing with formulae, and the next day I'm reading poetry and learning about authors. There's so much variety in my degree, and it really stretches me to gain a range of different skills.
Best thing about the collegiate system?
It really helps the community to thrive – you don't just get lost within the huge university, but instead you interact and build relationships with the people surrounding you, students and staff.
Most important thing you've learnt?
To keep an open mind and to be compassionate – in a community of such diverse lifestyles and people, you can learn so much about how to live. Oh, and also to make sure not to leave your socks in the laundry room. They will go missing.
How has Oxford changed you?
I was so worried that coming to Oxford would make me lose my personality, my home and - most importantly - my accent! The opposite is true: whilst my mind has been opened up by living in a city full of opportunity and people from all walks of life, I've gained another home, not lost my old one.
What were you worried about before you arrived?
I was so nervous that I would be the odd one out because of my working-class background. I didn't know how to 'do university', and I put so much pressure on myself to get it just right. Little did I know that so many people are in the same situation. I coped really well and settled in so quickly!
What new opportunities have you had?
The range of opportunities on offer is astounding, and I often feel sad that I can't get more involved in a wider variety of activities! I'm involved in what is essentially a student committee for the college (the JCR), and have been able to work for the university! I also am involved with a translation outreach project, which involves going into schools and leading creative workshops. I like dance and have benefitted from the range of dance groups on offer, as well as attending French Society, Spanish Society, feminist events, craft events, academic talks...You name it, Oxford has an event for it.
Employment possibilities are also in abundance in Oxford. Whilst you don't have the time to have a part-time job during term, the university offers lots of help in securing internships and placements outside of term time, as well as offering continued careers support both during and after your degree.
How do you cope with the workload?
Lists and planners. I love being organised and so I try my best to plan out my day and what I'll do. When you break the big tasks down, they don't seem as intimidating.
What do you do when you're not working?
I like to go to museums, exercise, dance, meet up with friends, go to talks and lots of other stuff!
Favourite spot to relax?
Anywhere green – Fellows' Garden, Christ Church Meadows, Park Meadows... I also love to bask in the sunshine on the memorial outside the Taylorian!
Favourite place to eat?
Other than the kitchen? I like the Alternative Tuck Shop on Holywell Street – it's really good value.
What are tutorials like?
Tutorials can be scary at first, but the academics just want to read your ideas (through your essay) and then have a discussion with you. It's like having a teacher all to yourself, but imagine that teacher wrote the textbook (as many tutors often do)! It's fun to experiment with your ideas and try out new things.