Student Ambassador: Charlie Lamb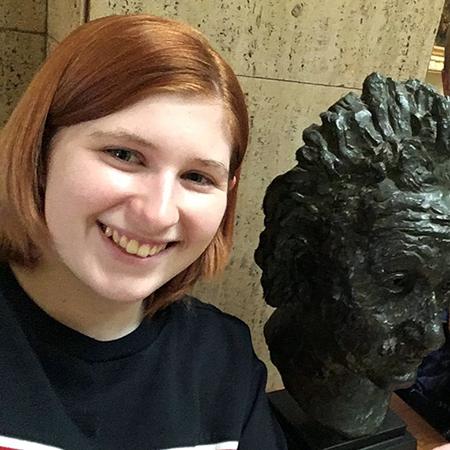 Year: First
Subject: Biology
Where are you from?: Widnes (near Liverpool)
Why Merton?
Merton jumped out at me on open day as having a really beautiful garden and great facilities, with the size of a pretty big college but the intake of a pretty small one.
Best thing about Merton?
Just how everyone seems to know everyone, there's a lot of friendships across different years and subjects. I can't walk around college without saying hi at least four times.
Best thing about your course?
I get to do some really cool things in labs. There's loads of really interesting dissections and practicals.
Best thing about the collegiate system?
The collegiate system lets everything be a lot more personal and manageable. As well as being a part of a large university with lots of people, you are also a part of a small community.
Highlight of the year?
Free ice cream trips during welfare week.
Most important thing you've learnt?
I've learnt that I am here to be the best that I can be, and that it isn't the best of what my best friend can be or what my tutor can be, it's about me, and if I want to make the most out of my time here then I've got to work for it myself and be proud of what I can achieve.
How has Oxford changed you?
I'm more appreciative of the little things in life, like how bees are able to move their tiny wings to fly, or how I'm helping my body whenever I get vaccinated.
How do you cope with the workload?
I cope pretty well with the workload. I always try and get something done when I'm in the mood, and try and finish something as early as I can. But if I feel like I deserve a break, then I get one. I only do this because I have good self-control to be able to tell myself when to start working again.
What do you do when you're not working?
I like to cheerlead! I'm on both university teams and I'm going to coach one of the teams next year. (Fingers crossed for another varsity win!)
Favourite place to eat?
You can never beat a takeaway with all of your mates in whosever room is biggest.
What do you do in the holidays?
I like spending time with my family, and annoying them with cool biology facts I learnt over the term.
What are tutorials like?
Tutorials for me are usually discussions about different areas in biology. We convey our ideas and talk and debate how they may be true or not. It's the chance for us to ask questions and expand our knowledge beyond lectures. However, it doesn't feel much like teaching, more just like a conversation. It's nothing to be scared of.