Studying English and joint schools at Merton
The study of English Language and Literature at Oxford is exceptionally well-established and broad-ranging in content; you will have the opportunity to study writing in English from its origins in Anglo-Saxon England to contemporary literature periods. As well as British literature, you can study works written in English from across the globe.
Joint school courses
English & Modern Languages: The study of Modern Languages at Oxford emphasises a literature-focussed approach, as well as providing practical linguistic training. These two subjects therefore work extremely well together, and expand the range of study options across the field of Western literature and thought.
History & English: Since the History and English degree began Merton has been one of the most consistent colleges in admitting students for it. With three History tutors and three English tutors there is ample opportunity to study different periods both through their literature and through their history. Merton's History and English graduates have gone on to careers in Art History and International Relations as well as in English and History.
Course structure
The first year of the course provides a foundation in core tools, approaches and topics. In years two and three there is a diverse selection of optional papers that allow students to pursue their own specialist interests.
The approach to literary studies at Merton is based on the close reading of literary texts, informed by an understanding of historical, aesthetic, and intellectual contexts, but there is ample opportunity for theoretical diversity. Considerable emphasis is placed upon the intellectual background to literature, and tutorials are regularly supplemented by seminars in this area.
Most students take the English Language and Literature Course I but applicants with an interest in Course II (Medieval Literature and Language) are also very welcome.
Student Profile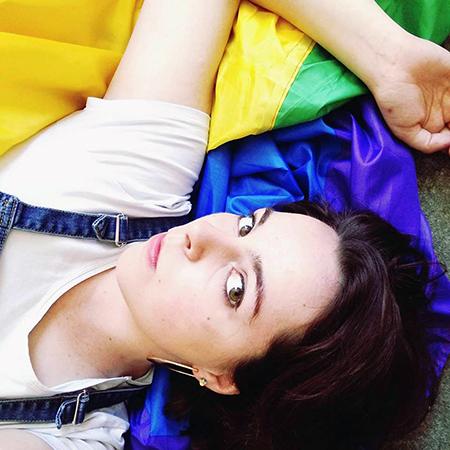 Bethan Hughes
Year: Three
Subject: English
Where are you from?: Bethesda, North Wales
Best thing about your course?
I love the freedom given to us at Merton to explore periods of literature, and develop our own understanding of texts, whilst being supported devotedly by our tutors.
How has Oxford changed you?
Oxford has made me far more confident and given me an invaluable skill set beyond those that came with my degree. I've taken part in running societies, committees and even a ball, and I've loved every minute of it. I've made public speeches, presented awards, and I feel as if Oxford has shaped me into someone who's ready to face the 'real' post-university world.
What were you worried about before you arrived?
I worried I'd be completely alone in a new city, with no support system or social life. I was so so wrong! The college family system really helped me - you're paired with two mentors in the year above who are your 'parents' (one does your subject and one does your college sibling's subject), and a 'sibling'. This meant I had been in touch with at least three people before rocking up to Oxford. I really hit it off with my college family, because we're still friends now after two years! I also made a load of new friends who lived in my house in first year, as well as friends from all over the university. Almost everyone's in the same position, in that they're coming to university for the first time, and just like everywhere there's a lot of friendly (and not-so-friendly) people. But the friends I've made at Merton and at Oxford, and keep making (you don't just stop in first year), feel like they'll be friends for a long time. They've supported me through the ups and downs of first and second year, and I don't know what I'd do without them.
What new opportunities have you had?
I've had the chance to be on the JCR committee, as Access Representative for a brief period. I've also worked at Student Conferences for the university, as a helper at Open Days for the college, and as a helper during the interviews period. I was part of the ball committee for Glitterball, an LGBTQ+ ball - and seeing that all come together was probably the highlight of my year! It was a great night, and knowing my hard work made over 600 guests have an unforgettable night was great! I've had a chance to try out drama, and being a playwright, when I rewrote Hamlet for the #hamlet project.
How do you cope with the workload?
I didn't very well in my first two years - taking on way too much, and sacrificing sleep and health so that I could keep up with the work and social side. But what I'd advise is buy a diary, and know that sometimes you have to compromise. A good schedule should keep you on track. Remember that just because someone works 12 hours a day, doesn't mean they're working 12 good hours - so if you can do what they do in 12, in five, then you're more effective and you have free time. The workload is doable, but speak to your tutors if you feel like you're struggling, and remember that struggling a little to begin with isn't a sign of failure, it's a sign of adjustment.
Favourite place to go out?
I love Plush, which is Oxford's LGBTQ+ club. They support the 'Good Night Out' campaign, and have a zero-tolerance policy for harassment or queerphobic behaviour. I almost always feel safe when I'm at Plush.
What do you do in the holidays?
I'm a seasonal worker at a local family fun park, I work as a server at a Chinese takeaway, and I teach English to Chinese children. I also like to see my friends from home, meet up with friends from university if possible (but this is hard because of distance), and try to get some academic work done! The more of the reading list you get read in the holiday, the easier things are for you!
What are tutorials like?
Sometimes they can feel a bit like you're being tested. But the best ones feel like a one-to-one (or maybe two-to-one) conversation with one of the most beautiful and brilliant academics in your field of study.
What is wearing sub fusc like?
Wearing sub fusc is a bit like putting on battle armour. I feel ready for exams once it's on.
The benefits of studying English at Merton
Merton's libraries are well-stocked for English. Our special collections include one of the best collections of TS Eliot material in the world.
The English Faculty is around 10 minutes' walk from the main college site. Merton accommodation in Holywell Street is even closer (and our Manor Road houses are directly opposite).
Merton's student-run English Society holds a variety of events, social activities and talks throughout the year, which are ever popular.
We also have a college Poetry Society, newspaper, speaker society (the Bodley Club), and politics/current affairs/debating society (the Neave Society).
Merton English alumni include the former Director General of the BBC, Mark Thompson, and Mark Haddon, author of The Curious Incident of the Dog in the Night-Time. Recent graduates have gone on to a wide variety of careers, including law, teaching, journalism, postgraduate study, and television script-writing.
Video: English Language and Literature at Oxford University
Key facts
Average intake at Merton:
Seven single honours, and two or three in Joint Schools.
Test:
Candidates must take the English Literature Admissions Test (ELAT).
Written work:
A marked essay of A2-Level or equivalent. Joint schools may require additional written work.
Specific subjects:
English Literature or English Language & Literature is essential. For joint schools, certain other subjects are essential and/or recommended.
Deferred entry:
Applications for deferred entry will be considered on their merits.