Law
Merton law school is a friendly, close-knit community comprising students studying for the 3-year BA in Jurisprudence, the 4-year Law with Law Studies in Europe (France, Germany, Italy, Spain, or the Netherlands), and graduate students. There are roughly equal numbers of men and women, and students come from a wide range of backgrounds and countries. We welcome overseas applications.
Key information
Course listing and admissions criteria:
Average intake at Merton:
Six (including Law with Law Studies in Europe).
Second BA in Law:
We welcome applications from graduates wishing to read for a second BA in Law.
Application must be made via UCAS. Second BA applicants are in competition with those applying for a first degree.
Benefits of studying Law at Merton
Merton's Law tutors provide introductory tutorials to orientate students into the law course. They also make more use of specialist external tutors than most colleges; so students are taught by an expert in their field and experience a broad range of tutors and colleges.
Merton students tend to work closely together and have been very successful in their exams.
Mooting features prominently at Merton.
Our law students are very well placed. The college provides accommodation throughout the undergraduate degree, either in college itself or close by; both sites are a short walk from the Law Faculty and Library.
There are prizes for the best first year university exam results (sponsored by Norton Rose) and for the best performing second year lawyer (sponsored by Allen & Overy). There are also prizes for doing well in College termly mock exams.
Merton's student-run law society holds a variety of events, social activities and talks throughout the year, which are ever popular.
The Merton Lawyers' Association, which comprises all Merton lawyers, past and present, and holds events once a year, usually in London. Current students get to meet those who are already in practice and these events also give those who have graduated the opportunity to catch up with their friends and tutors.
Student Profiles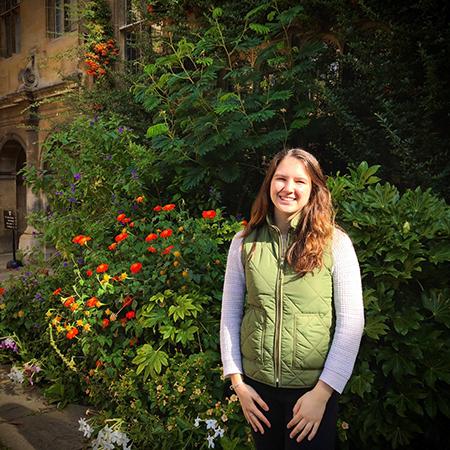 Name: Leah Berger
Year: 3
Where are you from?: Vermont (USA)
Hi! My name is Leah. I am going into my third and final year studying law at Merton. I am American and grew up in a small rural state called Vermont (aka the land of Ben & Jerry's and Bernie Sanders). I also spent a year studying abroad in Berlin, Germany before beginning my law studies at Oxford.
Coursework
I decided to study law because I was interested in the intersection of human behaviour, economics, politics and the structure of society. I took these subjects in high school (equivalent to A-levels) and decided law was the best route to explore these interests.
I have learned about all the above and more! Although the workload is quite rigorous, the tutors are fair and very supportive. Generally, there will be a reading list for the week and an essay due for each subject. The reading list will contain textbook overviews, as well as primary texts (i.e. cases and statutes).
A tutorial will take place at the end of the week, where you will have the opportunity to ask questions and discuss the work set that week. There will be late nights in the library and cramming for an essay no doubt, but the peers within your course and the resources available are there to help and support you to thrive.
Law is a fascinating subject with very real practical applications and developments that change the way society functions.
Merton
As an international student, I did not initially understand the college system very well. I chose to study at Merton for a few basic reasons based on what I read online, namely, its smaller size, central location, academic rigour and beautiful classic architecture.
However, I have discovered much more that I love about the college. First, the people in college are genuine and caring. From my peers to the Porters to the tutors, I have been surrounded by supportive and kind people. I also particularly enjoy the Fellows' Garden, which is a large garden meticulously maintained and amazing for studying in the warmer months or a garden party with friends. The accommodation at Merton is also quite good, and some of the old rooms in college are absolutely stunning (not to mention hundreds of years old)! There is also Hall with cheap and abundant meals, the Porters who are staffed 24/7, student and faculty welfare advisors, a beautiful chapel and two libraries.
Oxford
Beyond Merton, Oxford as a town is also a vibrant place. There are many university-wide societies and clubs that meet regularly. I personally powerlift with the Oxford University Powerlifting Club, am part of Merton's own Halsbury Law Society and the 1980 Society (a women's* focused club) and Oxford Women in Business.
There are also plenty of cafés, gyms, pubs and parks for meeting friends or taking a break. Some of my favourites include The Missing Bean (coffee shop), Sasi's Thai, Mano's Greek Deli and The House for a cocktail or The Kings Arms for a pint after a long day. Although Oxford has a wide range of activities and cuisines, London is also just a short bus or train ride away.
If I've learned anything from Oxford, it's to take a chance and be more confident than you think you are! It goes by quickly, so take advantage of the numerous opportunities that are available. Merton is a great place to take advantage of all that Oxford has to offer in a supportive and incredible environment.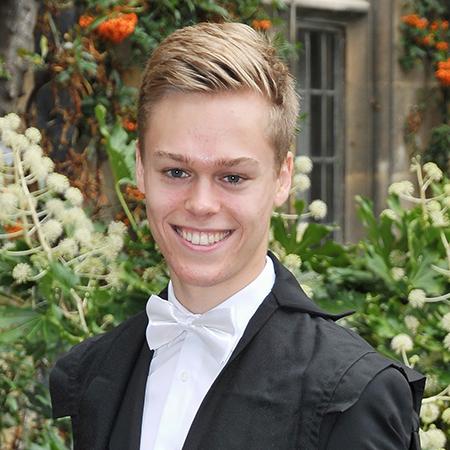 Name: Sam Gibbs
Year: 2
Where are you from?: Surrey
Best thing about Merton?
Being a small college means Merton has a really strong community feel and this is especially true of Merton lawyers. The college law society (Halsbury Society) is very active and provides a great way of getting to know the lawyers in all the years.
Best thing about your course?
Law is a subject that is always changing. While it can be really frustrating when you're told in a lecture that this may not be the law in a week's time it is also really exciting – not many other subjects have such rapid developments that affect how we live our lives.
Best thing about Oxford?
The teaching at Oxford is second to none. Not only are we taught in tiny tutorial groups of just two students but we get a whole hour to discuss what we've found interesting or particularly challenging that week with a world-leading academic – often the same person that has written our textbook!
What new opportunities have you had?
I have had so many new opportunities at Oxford that I could never have imagined. From playing inter-college water polo to being this year's JCR Male Welfare Rep and President of the Halsbury Society there is so much to do, regardless of what you enjoy!
What's the work like?
I'd be lying if I said the work wasn't challenging – not only do we have to read the primary materials (i.e. cases) but we also have to embrace and attempt to understand the incredibly complex views that academics have on the topics during any given week. That being said, the work is incredibly exciting and I really enjoy the challenges every single week – it means that the work is never ever boring.
How do you cope with the workload?
To be honest, coping with the workload during the first term of my first year was tough but by the end of Michaelmas (first term) I had just about got the hang of it! This meant that even though we had exams in Hilary (second term), I was more relaxed and had more time to enjoy myself as I had worked out how to approach my reading lists and work more effectively. Downtime is also important and I make sure to meet up with friends most evenings.
Favourite place to eat?
Hall is definitely my favourite place to eat. I eat in hall twice a day (lunch and dinner). For just over £3, lunch is practically an all-you-can-eat buffet where you can go to not only fill yourself up but chat with friends and have a great time together.
What do you do in the holidays?
While I do have some work to do during the holidays I make sure that I spend a lot of time relaxing and catching-up with friends from home. I also try to go travelling and earn a bit of money.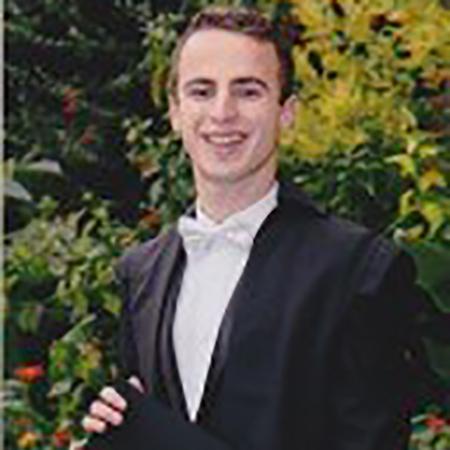 Name: Jack Horrobin
Year: 2
Where are you from?: The Forest of Dean, Gloucestershire
Why Merton?
Besides being a picturesque college with impressive quads and beautiful gardens, a major thing that drew me to Merton was the fantastic accommodation provision. Merton provides high-quality, reasonably priced accommodation in the centre of Oxford for all three years of your degree – I cannot overstate the peace of mind this gives you as a student.
Best thing about Merton?
The best thing about Merton is the wonderful friendships I have made during my time here. The second-best thing about Merton is the spot where I forged many of those friendships: hall. The Merton dining hall is the perfect place to meet new people, all whilst enjoying fantastic food at very affordable prices. Hall lunch deserves an extra special mention; for £3.55 you get more or less as much as you can eat!
Best thing about your course?
Law is an exciting discipline and unlike anything you will have studied so far. The dynamic, ever-changing nature of the subject provides scope for us to talk about not just what the law is but to engage with normative arguments about what it should be – this is where the most riveting discussion is to be had! That said, plenty of time is spent engaging with legal problem-solving too; the subject draws on a broad range of skills and will always keep you on your toes!
Best thing about Oxford?
Some people do look at me a bit confused when I talk about Oxford as being a 'buzzing' city – coming from a fairly rural area, I think my idea of what constitutes a bustling city may be a little skewed. However, I wholeheartedly believe that Oxford can hold its own against larger student cities. We have an active music scene, pub scene, a large shopping centre, plenty of restaurants, a café culture and world-class sporting facilities, but the real beauty is that all of these amazing things are within walking distance of one another - that's the best thing about Oxford.
Best thing about the collegiate system?
I talk to friends at other universities and they are surprised to hear about the diversity of the relationships I have made. Most of them have a small network consisting of a few people in their subject, people they were put in dorms with and maybe a few friends from a society they're part of. In contrast, I have made (what I hope will be) lasting friendships amongst people from various subjects and various years of study, and I believe that I have the college system to thank for that. Being part of a college community is something really quite special and few universities are placed to offer it.
What were you worried about before you arrived?
My worry was one that I think is shared by many: fitting in. This worry was very quickly dispensed with though. Merton is brimming with friendly people and when you arrive you will find that a thorough Fresher's Week itinerary is in place to help you get to know one another and settle in. The current students, college staff and your tutors really do go to great lengths to make you feel at home.