Studying Law at Merton
Merton law school is a friendly, close-knit community comprising students studying for the 3-year BA in Jurisprudence, the 4-year Law with Law Studies in Europe (France, Germany, Italy, Spain, or the Netherlands), and graduate students. There are roughly equal numbers of men and women, and students come from a wide range of backgrounds and countries. We welcome overseas applications.
The benefits of studying Law at Merton
Merton's Law tutors provide introductory tutorials to orientate students into the law course. They also make more use of specialist external tutors than most colleges; so students are taught by an expert in their field and experience a broad range of tutors and colleges.
Merton students tend to work closely together and have been very successful in their exams.
Mooting features prominently at Merton.
Our law students are very well placed. The college provides accommodation throughout the undergraduate degree, either in college itself or close by; both sites are a short walk from the Law Faculty and Library.
There are prizes for the best first year university exam results (sponsored by Norton Rose) and for the best performing second year lawyer (sponsored by Allen & Overy). There are also prizes for doing well in College tests each term.
Merton's student-run law society holds a variety of events, social activities and talks throughout the year, which are ever popular.
Student Profile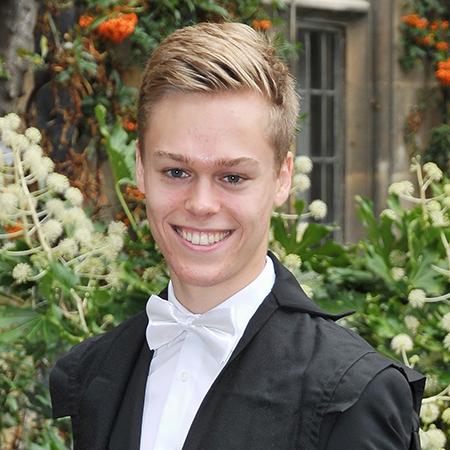 Name: Sam Gibbs
Year: 2
Subject: Law
Where are you from: Surrey
Best thing about Merton?
Being a small college means Merton has a really strong community feel and this is especially true of Merton lawyers. The college law society (Halsbury Society) is very active and provides a great way of getting to know the lawyers in all the years.
Best thing about your course?
Law is a subject that is always changing. While it can be really frustrating when you're told in a lecture that this may not be the law in a week's time it is also really exciting – not many other subjects have such rapid developments that affect how we live our lives.
Best thing about Oxford?
The teaching at Oxford is second to none. Not only are we taught in tiny tutorial groups of just two students but we get a whole hour to discuss what we've found interesting or particularly challenging that week with a world-leading academic – often the same person that has written our textbook!
What new opportunities have you had?
I have had so many new opportunities at Oxford that I could never had imagined. From playing inter-college water polo to being this year's JCR Male Welfare Rep and President of the Halsbury Society there is so much to do, regardless of what you enjoy!
What's the work like?
I'd be lying if I said the work wasn't challenging – not only do we have to read the primary materials (i.e. cases) but we also have to embrace and attempt to understand the incredibly complex views that academics have on the topics during any given week. That being said, the work is incredibly exciting and I really enjoy the challenges every single week – it means that the work is never ever boring.
How do you cope with the workload?
To be honest, coping with the workload during the first term of my first year was tough but by the end of Michaelmas (first term) I had just about got the hang of it! This meant that even though we had exams in Hilary (second term), I was more relaxed and had more time to enjoy myself as I had worked out how to approach my reading lists and work more effectively. Downtime is also important and I make sure to meet up with friends most evenings.
Favourite place to eat?
Hall is definitely my favourite place to eat. I eat in hall twice a day (lunch and dinner). For just over £3, lunch is practically an all-you-can-eat buffet where you can go to not only fill yourself up but chat with friends and have a great time together.
What do you do in the holidays?
While I do have some work to do during the holidays I make sure that I spend a lot of time relaxing and catching-up with friends from home. I also try to go travelling and earn a bit of money.
The Merton Lawyers' Association
The Merton Lawyers' Association is comprised of all Merton lawyers, past and present, and holds events once a year, usually in London. Current students get to meet those who are already in practice and these events also give those who have graduated the opportunity to catch up with their friends and tutors.
Video: Law at Oxford University
Key facts
Average intake at Merton:
Six (including Law with Law Studies in Europe).
Test:
Candidates must take the Law National Admissions Test (LNAT).
Specific subjects:
No specific subjects are required. Candidates applying for Law with Law Studies in Europe may need a language qualification, depending on course choice.
Deferred entry:
Applications for deferred entry will be considered on their merits.
Second BA in Law
We welcome applications from graduates wishing to read for a second BA in Law. Application must be made via UCAS. Second BA applicants are in competition with those applying for a first degree.