The Bodley Club
The Bodley Club was founded in 1894 as a literary discussion group, but has over the years developed into the College's speaker society. The only criterion for selecting speakers is that they should be "fabulously interesting", and the Club hosts prominent individuals from all fields, including authors, scientists, and other public figures. All suggestions are welcome via our Facebook page. Events are usually open to any member of the University, but some are restricted to Mertonians only.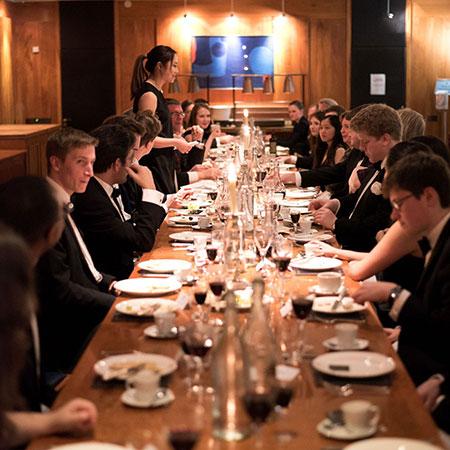 This year, the Bodley Club has continued to broaden its horizons, upholding its constitutional mandate of hosting 'fabulously interesting' speakers from all disciplines. In Michaelmas, we were delighted to welcome Professor Sergi Pardos-Prado (Fellow) to speak on Catalan independence – a particularly topical discussion in light of the referendum in October 2017.
Hilary term was busy with five events, including our Annual Dinner which was a splendid evening, the highlight being an after-dinner speech by Professor Steven Gunn (1979, Acting Warden-elect) on 'Everyday life and accidental death in 16th century Oxfordshire'. In January, Professor David Nutt (Lincoln, 1981) gave a fascinating talk entitled 'Time for a new Enlightenment in science?', a well-attended event that was followed by lively discussion on the pros and cons of drug legalisation. January also saw Minoo Dinshaw, one of the most promising biographers of his generation, deliver a talk on his 2016 debut, Outlandish Knight: The Byzantine Life of Steven Runciman. I am grateful to Frederick Money (2013) for organising this event.
In February, we hosted The Hon Mr Justice Cooke (St Edmund, 1967), who delivered a talk entitled 'Trying to do justice', speaking about his career as a High Court Judge, and Tim Marshall, bestselling author of Prisoners of Geography, who gave a talk on his latest book, Worth Dying For: The Power of Politics and Flags. In the final week of Trinity, we hosted a Summer Garden Party – a wonderful occasion with which to finish the year.
This year also saw a major change in the Club's committee. Graduating this year are Natalie Nguyen (ex-President, 2015) and Alice Walker (ex-Treasurer, 2015), to whom I am immensely grateful for their long-standing commitment. I am also indebted to Emma Ball (Treasurer, 2017) and Victor Ajuwon (Secretary, 2015) for their continued dedication to the smooth running of the Club, as well as to Fra' John Eidinow (Fellow, 1986) – the Senior Member – and to all who have attended this year.
Adam Carter (2016)
Bodley Club President 2018-19