The Bodley Club
The Bodley Club was founded in 1894 as a literary discussion group, but has over the years developed into the College's speaker society. The only criterion for selecting speakers is that they should be "fabulously interesting", and the Club hosts prominent individuals from all fields, including authors, scientists, and other public figures. All suggestions are welcome via our Facebook page. Events are usually open to any member of the University, but some are restricted to Mertonians only.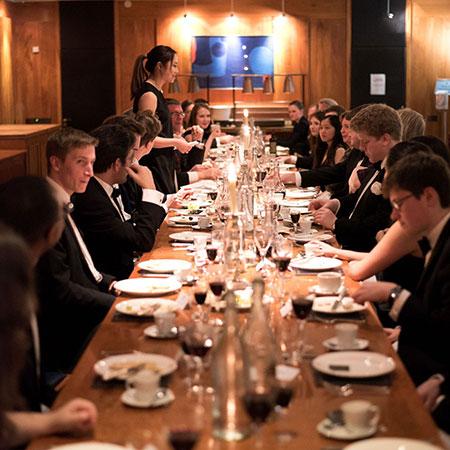 2019/20
The Bodley Club has been delighted to host two fascinating events this year, with very diverse topics, as per our Club's mandate to invite speakers from without or within the College who are deemed to be 'fabulously interesting' and from wide-ranging disciplines.
In Michaelmas we welcomed best-selling author Mark Haddon (1981), an Oxford local and himself an alumnus of Merton College. He spoke to us about his creative work, his recent heart surgery and his new novel, The Porpoise, a thrilling and complex weaving together of Shakespeare's Pericles, Jacobean London and modern-day Greek myth.
In Hilary, thanks to recent Merton alumnus Tom Fetherstonhaugh (2016), we were put in touch with Hyung joon Won, a South Korean violinist and activist who has been using music as a medium for peace and reconciliation between the two Koreas. After a long diplomatic battle to organise an initial concert with musicians from North and South Korea in the Demilitarised Zone, he performed in China and Sweden with a North Korean musician – something that until now has been impossible.
Unfortunately, we were not able to hold the Club's Annual Dinner or Garden Party, both of which had been planned for Trinity term, due to the ongoing pandemic. We look forward to being able to reschedule these for the next academic year, and to continuing our programme of speakers.
This year saw changes in the Club's committee, as Adam Carter (2016) and Francesco Dernie (2016) moved on into the busy world of graduate medicine. We were delighted to welcome Alex Beukers (2018) to the committee, and she has been wonderfully helpful with organising this year's talks. Also graduating this year is Emma Ball (Treasurer, 2017), to whom I am immensely grateful for her long-standing efforts towards the smooth running of the Club. I also thank Victor Ajuwon (Secretary, 2015) for his continuing commitment, as well as our Senior Member, Fra' John Eidinow (Fellow, 1986), and all who have attended this year.
Wick Willett (2017)
Bodley Club President 2019-20