The Bodley Club
The Bodley Club was founded in 1894 as a literary discussion group, but has over the years developed into the College's speaker society. The only criterion for selecting speakers is that they should be "fabulously interesting", and the Club hosts prominent individuals from all fields, including authors, scientists, and other public figures. All suggestions are welcome via our Facebook page. Events are usually open to any member of the University, but some are restricted to Mertonians only.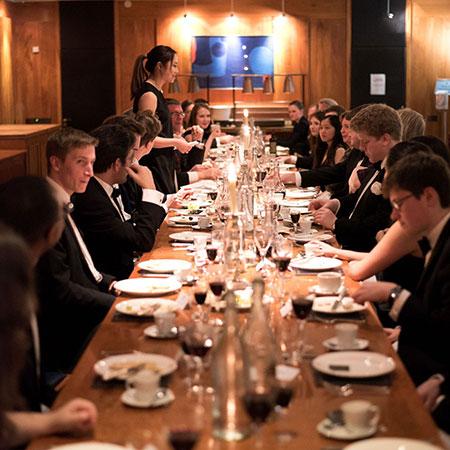 The Bodley Club has had another busy and enjoyable year, hosting speakers from a wide variety of disciplines.
In January, as Brexit consumed Westminster, we hosted two speakers who were able to shed some light on this often complex, yet vitally important, national conundrum. First, Professor Geoffrey Evans (Nuffield) took a sociological approach, giving a talk entitled 'Brexit and the political exclusion of the British working class'. Later in the month, Professor Stefan Enchelmaier (Lincoln) gave an equally fascinating legal explanation of the workings of the European Union, in a talk entitled 'Get to know your ex: a primer of the EU's internal market'.
From political matters, the Bodley Club turned to insights into the workings of the human brain. Professor Masud Husain (New College) tackled the phenomenon of apathy from a psychological perspective in his talk entitled 'When the spark goes out: the neuroscience of human apathy and motivation'. We were particularly honoured to host Professor Irene Tracey (Warden-Elect) to speak on her life and career at our Annual Dinner, attended by members of all three common rooms.
We were also delighted to host Dr David Salter (1975) who spoke about his adventures building two-way partnerships between Britain and Christian communities in Egypt.
In the final week of Trinity term, we held a Summer Garden Party for members of the JCR and MCR – a wonderful occasion with which to finish the year.
The end of Trinity term saw changes to the Club's committee. Leaving this year is Francesco Dernie (Junior Cellarer, 2016), to whom I am immensely grateful for his commitment. I am also indebted to Victor Ajuwon (Secretary, 2015), Emma Ball (Treasurer, 2017) and Wick Willett (Cellarer, 2017) for their continued dedication to the smooth running of the Club, as well as to Fra' John Eidinow (Fellow, 1986) – the Senior Member – and to all those who have attended Bodley Club events this year, and made my time as a member of the committee so enjoyable.
We are always looking for new speakers. If you would be interested in giving a talk, please email Emma Ball.
Adam Carter (2016)
Bodley Club President 2018-19