Report: Diving in Madagascar, summer 2018
From August to September 2018 Biological Sciences undergraduate Paris Jaggers travelled to Madagascar to volunteer for an NGO working in conservation and community support for local fisheries. She was awarded an Undergraduate Travel Grant towards travel, accommodation and other costs, which covered roughly a third of the total outlay, including all flights.
This expedition - six weeks diving off the southwest coast of Madagascar, with ten days of travel through the country before and afterwards - was an opportunity for me to observe in reality the ecology and policy that I am studying on the Marine Ecology course, and also to experience what it is like to conduct ecological fieldwork. Travelling to Madagascar was interesting in itself of course, both on a cultural and historical level and for the opportunity to witness the unique wildlife of its terrestrial ecosystems. With one of the most unique biodiversities on the planet Madagascar exhibits a variety of ecosystems (e.g. tropical rainforest, savannah, desert, dry 'spiny' forest and montane forests and highlands) of great ecological and evolutionary importance. With 101 species of lemur it sheds light on the evolution and radiation of primates, while its lack of any large terrestrial mammals makes it a great case for studying the role of these animals in an ecological setting. At the same time, a vast proportion of the island has been deforested in the last few 100 years of human settlement and this poses a number of issues relevant to biological study and conservation. It was thus a privilege as a biology student to be able to travel through some of the country's national parks and nature reserves (including Isalo National Park in the arid canyonlands south of the highlands and Ranomafana National Park in the rainforest to the east) and observe its flora and fauna first-hand.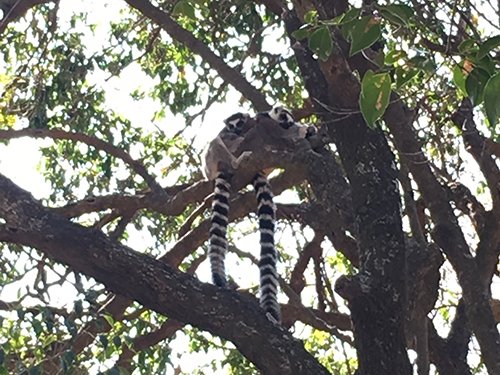 Blue Ventures (BV) is a non-profit organisation based in London, which first set up its field base in the small fishing village of Andavadoaka on the west coast of Madagascar, between Toliara and Morombe. Using research-led practices it aims to reduce the impact of human activity on local marine ecosystems, particularly coral reefs, while establishing sustainable fishing practices in local communities. As well as developing community projects such as education and healthcare initiatives in Andavadoaka, BV has created a marine reserve known as the Velondriake along a stretch of the Madagascan Mozambique Channel; this limits fishing of certain species like elasmobranchs and sets aside particularly biodiverse areas of local reefs as no-catch zones.

A number of tropical reef species, such as surgeonfish and unicornfish, are significant food sources for local communities and as such are under particular pressure in these areas. It is thus important both for fish populations and the stability of the reef ecosystems, and for local livelihoods, that some management policy is introduced and its effects monitored. Blue Ventures therefore run on-going ecological surveys of some 30 sites along the coast, of both catch and non-catch zones, to assess the impact of their fisheries management policies on biodiversity and health of the reefs. For this they need the contribution of a large number of volunteers every year to collect survey data to be used in their analysis. All the data collected is open-source and is used by other organisations to influence their own policies in other marine communities around the world.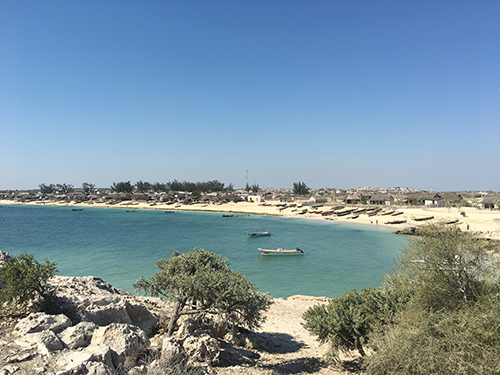 I volunteered for Blue Ventures on their expedition from 13 August – 22 September 2018. For the first four weeks of the expedition the focus was on training to a sufficient level of ecological knowledge to be able to complete reef surveys underwater, while also completing the requisite dive training. I completed my PADI Rescue Diver, which was a hugely rewarding experience and taught me not only advanced technical diving skills but also emergency response and first aid skills that will be useful in a range of situations. I would be keen to continue using diving for research work in the future, so it was also beneficial in developing my diving to a competency appropriate for this. To conduct reef surveys, volunteers chose to specialise in either benthic or fish species, and so I was taught to identify 190 fish morphs by sight underwater, and then to conduct moving transects while diving on the reefs. This involved laying out a 20m line along a selected section of the reef, and recording the number of every species observed in a set time as you crossed the transect end to end. By the end of the training it was incredibly satisfying to be able to identify species quickly and reliably in this way, while monitoring dive equipment, and the last two weeks of the expedition were spent surveying a total of five reef sites with these techniques. Much of ecological fieldwork relies on a balance between scientific understanding and practical ability and this really brought that home to me. As well as developing my fieldwork skills, however, being able to identify reef species to such an accuracy gave me a great appreciation of the complexity and dynamics of coral reef ecosystems and exposed me to examples of animal behaviour that I will be sure to draw on in work for my degree assignments.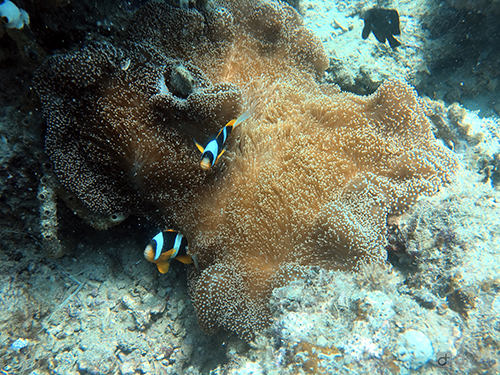 The Madagascar expedition with BV was a fantastic experience and I am very grateful for Merton's financial support in allowing me to go. As well as being exposed to a lot of practical science work it was a unique opportunity to see how local communities are affected by conservation strategies, something rarely appreciated or well understood when studying conservation from a biological viewpoint alone. I am also incredibly lucky to have spent time with some beautiful marine animals including giant cuttlefish, whales, dolphins and octopus, as well as the thousands of fish I surveyed, and have come away with a much greater understanding of their biology than I could ever have gleaned from lectures alone.