Tinbergen Society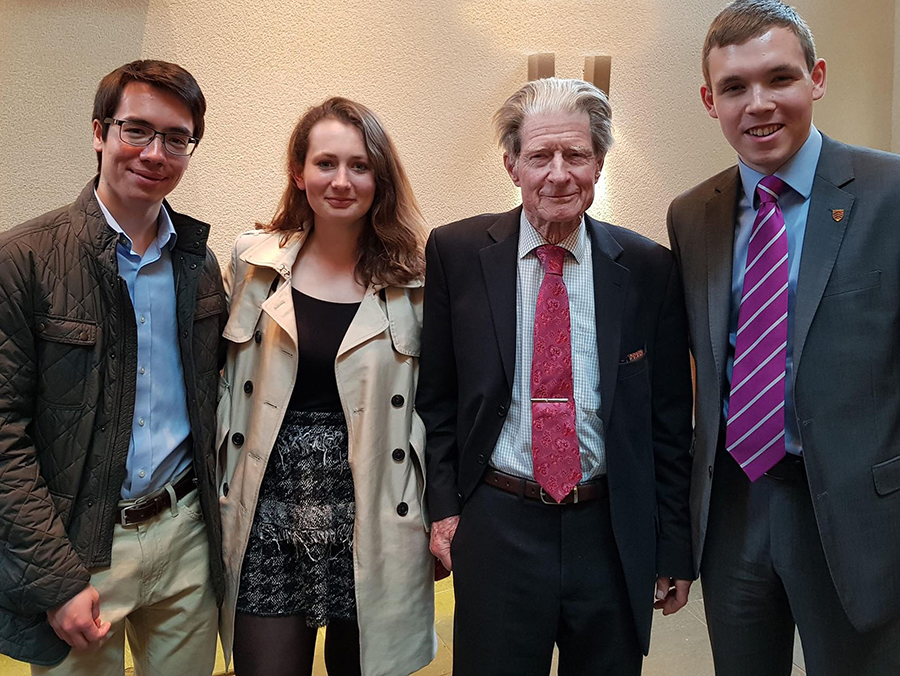 My inaugural act as President was to rename the Biology Society the Tinbergen Society, on the 30th anniversary of the death of former Fellow Niko Tinbergen, the 'founding father of ethology'. The Society has gone from strength to strength this year, organising a range of socials and talks, promoting a friendly atmosphere where students can ask for advice as well as cohesion between undergraduate and postgraduate biologists.
Michaelmas term involved welcoming the biology and biochemistry freshers at the Welcome Tea, with older students keen to share their experience over tea and biscuits. Later in the term, the Society visited Otmoor RSPB for a birdwatching trip; birdwatching seems to have become quite the recurring theme in our socials, which is understandable given the research interests of many of our Fellows and postgraduates. The trip was a great success (despite Tim, our director of studies, again failing to spot a bittern as it sailed by in front of us) and concluded with dinner in the local pub, the Abingdon Arms. We also enjoyed a talk from our visiting Biodiversity Fellow Caleb Ofori, whose current research revolves around amphibian conservation in West Africa.
The undisputed highlight of the year was the Hilary term black-tie dinner and accompanying lecture, which this year was given by behavioural ecologist Professor Nick Davies. For the first time this annual lecture was opened up to the public, rather than just members of the Tinbergen Society – it was encouraging to see the interest generated by the talk, which quickly saw the TS Eliot Theatre sold out. Professor Davies gave an informative and entertaining talk on cuckoos and their hosts, which was followed by a drinks reception in the New Common Room and dinner in the Senior Common Room. It was fascinating to hear about Professor Davies' experiences birdwatching around Oxford during his graduate years, while we ate an ingenious meal of quails' eggs laid out in the form of a cuckoo's nest by the chef.
Trinity term began with another talk in the TS Eliot Theatre, this time given by Nobel Laureate Professor Sir John Gurdon (Christ Church, 1952), known for his pioneering work on cloning and nuclear transfer. Aside from continuous computer malfunctions the lecture was superb, and was again delivered to a packed theatre.
Professor Tim Guilford's annual barbeque provided an excellent distraction from exams for the first years, punctuated both with light comic relief in the form of food once again being dropped (and the unfortunate individual having to eat it off the floor) and deep chat lasting long into the night. It was good to catch up with our esteemed Director of Studies after his sabbatical year, and to hear about his unfortunate paragliding adventures.
Serving as the President of the Tinbergen Society has been an extremely rewarding experience this year and I hope that my successor finds it as enjoyable as I have.
Thomas Miller (2016)
Tinbergen Society President 2017-18