Merton College Poetry Society
Merton College Poetry Society is a Merton-based but University-wide poetry society.
2021/22
The Merton College Poetry Society (MCPS) has been busy all year, holding weekly meetings that include poetry readings, structured writing workshops, collage workshops and opportunities for students to keeping working on their WIPs with other aspiring poets.
The year started under the benevolent eyes of Luke Bateman and Rachel Jung (both 2019), who had been co-presidents since 2020. They kept the society chugging along through Michaelmas, producing a gorgeous pamphlet while keeping their degrees going, before handing over to the comparatively unoccupied second-years Anna Stephen, Hollie Goodwin and Nayah Thu (all 2020), in anticipation of Finals.
Although we had big shoes to fill, the house hasn't burnt down (yet!) In Hilary term, highlights of the various workshops and readings include an (anti) Valentine's Day collage and blackout poetry workshop in collaboration with the Welfare Reps and a highly successful evening of sharing our favourite songs and lyrics. There were barely enough chairs in the JCR, which the co-presidents have decided to take as a sign of success. Additionally, lyrical analysis of rap songs and their social implications, novelty or otherwise, has become a recurring feature of the meetings, both with and without PowerPoint presentations.
While warm weather, coursework and Finals have all made Trinity a relatively quiet term on the poetry front, this didn't stop a successful co-hosted writing workshop with the Teddy Hall writing society, or the production of the year's third Pekes and Pollicles, highlighting work from both published and unpublished students of all ages, colleges and degrees, as well as their artwork and photography.
A special thank you to Luke and Rachel, and we are looking forward to seeing what next year brings.
Nayah Thu (2020)
Poetry Society Co-President 2021-22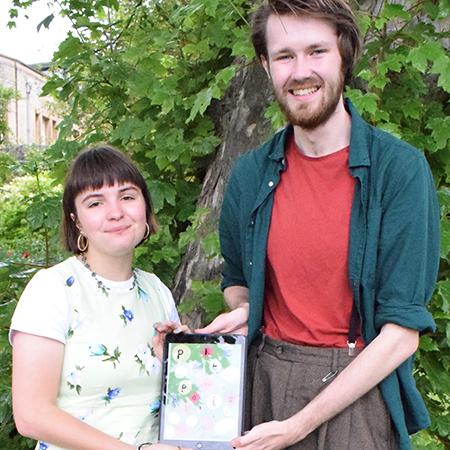 2020/21
It's been another busy year for the Merton College Poetry Society. We kicked off the year with events in both Freshers' and International Freshers' Week, welcoming in a new group of regular attendees with one night of poetry in translation and a night of comic poetry. Our events throughout the term, from feminist poetry to poems themed around the environment, played a vital role in bringing together Merton's new creative community during a term of increasing isolation.
With the sad news that we wouldn't be able to return in Hilary, MCPS provided a comforting on-screen meeting place every week of the virtual term. In addition to themed reading nights (such as our Valentines' Poetry evening or our incredibly well attended Pride Poetry event), we hosted several workshops to get the creative juices flowing. One workshop was a surrealist crossover with the JCR Art Society Rep, producing a mind-bending collaborative poem to feature in our pamphlet. We also conducted our first ever 'Chain Storytelling Project' where Mertonians from around the world took it in turns to add 100 words to a strange and fantastical short story entitled 'Something was afoot in Fellows' Garden …'
In Trinity, finally reunited in Oxford, MCPS was happy to host a number of summery events. We spent an evening revelling in the beauty of Shakespeare's language, as well as collaborations with the Oxford University LGTBQ+ Soc for a university wide Pride Open Mic and the Merton Chalcenterics Classics Society for a university-wide Classics and Poetry Evening. We were also fortunate to be able to host our first in-person sessions since Hilary 2020, with an in-person night of poetry inspired by the College as part of Arts Week.
This year we produced three wonderful pamphlets, packed full of poetry, prose and art. In Michaelmas and Hilary, our virtual launch events were attended by in excess of 30 people across the world, and in Trinity, our first in-person launch party gathered 20 Mertonian poets in Fellows' Garden. We express our great gratitude to all those who have trusted us with their work, and can't wait to see what they produce next.
Luke Bateman and Rachel Jung (both 2019)
Poetry Society Co-Presidents 2020-21