Merton College Girls' Choir
Merton College Girls' Choir was formed in 2016 and consists of 24 choristers. Girls can be probationer choristers from Year 4 and sing up to the end of Year 11. By negotiation, they can continue in the choir whilst in the sixth form.
The choir sings Evensong on Wednesdays during University term, and the girls are drawn from many local schools. The girls rehearse twice each week after school. For occasional services and other events, the girls sing with the College Choir.
The choir has already take part in a number of high-profile events, including performances with Merton College Choir, Oxford Baroque and The Royal Philharmonic Orchestra in such works as Bach's St Matthew Passion and Elgar's The Apostles.
The Director of Music, Benjamin Nicholas, is happy to hear prospective girl choristers at any time. To make an appointment please call Sarah Cotterill, Chapel Administrator, on 01865 616724.
Girls' Choir news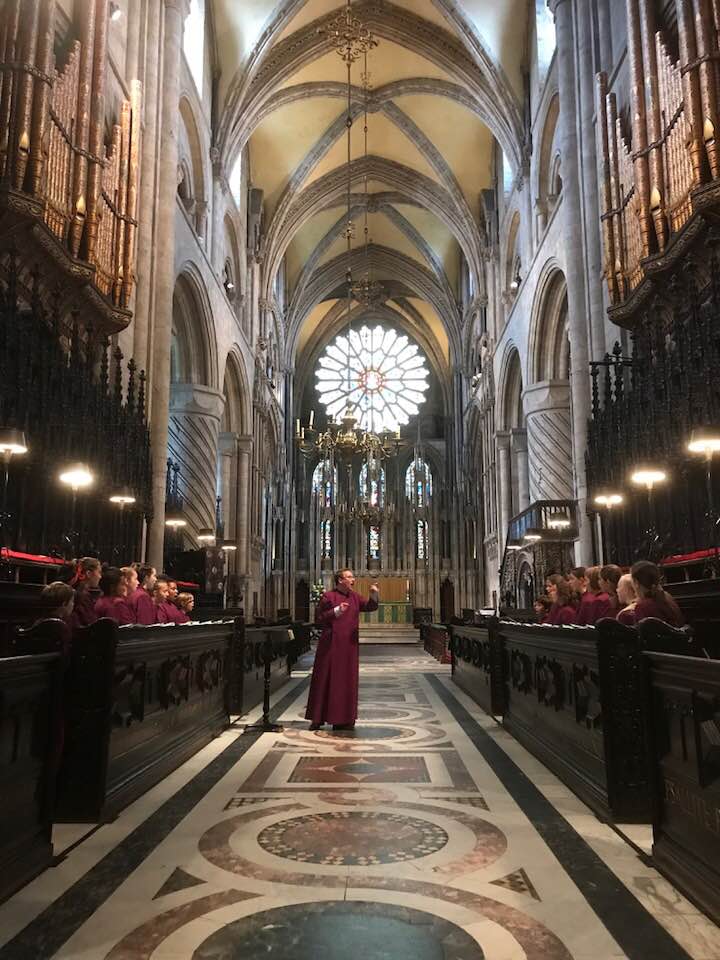 At the end of August 2018, the Girl Choristers enjoyed a four-day trip to the North East. The choristers sang Evensong in Durham Cathedral, and gave concerts at the churches of Holy Trinity, Embleton and St Mary the Virgin, Ponteland. Both Embleton and Ponteland are College 'Livings' and this year we celebrate the 750th anniversary of the link between Ponteland and Merton. The concert programmes included music by Byrd, Handel, Copland, Hurford, Lindley, Archer, and ending with John Scott's arrangement of How can I keep from singing?
FAQs
What are the benefits to being a chorister?
Singing music by great composers in one of Oxford's most famous buildings;
taking part in services and concerts in Oxford and further afield;
receiving lessons from an experienced singing teacher;
making friends and getting to know new people with similar interests; and
occasional opportunities to sing with the undergraduate College Choir.
This is an entirely free opportunity: robes, singing lessons and refreshments are all provided.
What is the time commitment?
Monday: 4:00pm-4:30pm optional Theory Class; 4:45pm-6:00pm Rehearsal (refreshments available from 4:30pm)
Wednesday: 4:45pm-5:55pm Rehearsal; 6:15pm-6:50pm Evensong
These are the core duties during school term. The choir will have occasional extra commitments during the Christmas and Easter holidays, for which advance notice will always be given.
Do I have to be religious?
There is no requirement to have experience of Anglican worship or traditions but families need to be comfortable with the Chapel's Christian ethos and that the choir will lead both the said and sung parts of the service.