Portrait of Stuart Hall by Claudette Johnson celebrated at Merton
Friday 26 May 2023
On Thursday 25 May, the portrait of influential Mertonian Stuart Hall (1951), commissioned by the College from eminent artist Claudette Johnson, was celebrated at Merton. A viewing of the portrait in Hall was followed by talks in the TS Eliot Lecture Theatre and a drinks reception. Acting Warden Professor Jennifer Payne welcomed the speakers, and the Vice-Chancellor of the University of Oxford, Professor Irene Tracey expressed her own appreciation of the portrait honouring Stuart Hall. Fellow Librarian Dr Julia Walworth, who organised the event, introduced each of the speakers, Catherine Hall, Becky Hall, Claudette Johnson, Gilane Tawadros, Ruth Ramsden-Karelse, and Dr David Dibosa.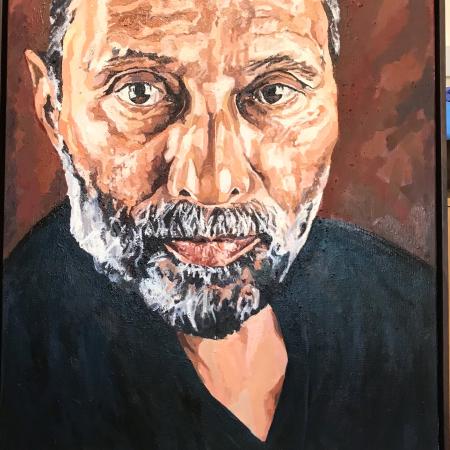 Stuart Hall FBA
Stuart Hall FBA (1932-2014), Honorary Fellow of Merton, was a founder of cultural studies and influential public intellectual. Born in 1932 in Kingston, Jamaica, he came to the UK in 1951 as a Rhodes Scholar to study English at Merton. He was the first research fellow at the Centre for Contemporary Cultural Studies (CCCS) at the University of Birmingham, and later its director, and was crucial to the establishment of the subject in Britain. From 1979 until his formal retirement in 1997 he was Professor of Sociology at the Open University. He remained active in his retirement, as chair of Autograph (the Association of Black Photographers) and of the International Institute of Visual Arts.
Shortly after his death in 2014, the Stuart Hall Foundation was launched, specifically to provide opportunities for students and academics pursuing themes in line with his work. Merton College, in partnership with TORCH (The Oxford Research Centre in the Humanities), funds one of these scholarships.
Claudette Johnson
Claudette Johnson is a British artist known for her large-scale drawings of Black women and her involvement with the ground-breaking BLK Art Group, of which she was a founder member. Her work featured in significant group exhibitions in the 1980s and 90s, including Five Black Women, Africa Centre, London,(1983); Black Women Time Now, Battersea Arts Centre, London,(1984); The Thin Black Line, Institute of Contemporary Arts, London, (1985); In This Skin: Drawings by Claudette Johnson, Black Art Gallery, London, (1992).  
Her solo exhibitions include Hollybush Gardens (London (2017) and Modern Art Oxford (2019), the latter of which was described as, 'an overview of one of the most accomplished figurative artists working in Britain today....her art sets out to redress negative portrayals of black men and women and to counter the invisibility of black people in cultural spheres and beyond' (Modern Art Oxford). Her work is in the collections of the Tate London, Rugby Art Gallery, Arts Council England, Mappin Art Gallery, Manchester Art Gallery and Wolverhampton Art Gallery. She is shortly to have a major exhibition at the Courtauld Gallery.