The Big Merton 1264 Challenge - Thank You!
We have been thrilled by the response from across the College community to The Big Merton 1264 Challenge. So many students, staff, alumni and others participated in challenges of every shape and size: from bike rides to Beowulf translation, baking to burpees, the enthusiasm and creativity was hugely impressive. Thank you!
We are delighted to list all of the Challenges we know about below, but please do get in touch if we have missed anyone. A selection of participants, representing the sheer breadth of activities undertaken, will be receiving a little token of our appreciation in the post soon.
The 1264 Challenge has also helped to raise vital funds for our two causes: (1) The Merton Hardship Fund, set up specifically to support students, staff, alumni and other members of the College who are facing financial difficulty; and (2) Oxford Mutual Aid, a collective of over a thousand volunteers in Oxford working to help individuals in need.
We are deeply grateful to everyone who made donations. Should you wish to take part, it is still possible to make a gift to Oxford Mutual Aid [donate here] and the Merton Hardship Fund [donate here]. Our Hardship Fund will be vital in the coming months and years, during which we expect the need for support to increase within the College community.
Thank you to everyone who took part and made donations. You have all done terrifically well and we are most grateful.
If you have any questions about the 1264 Challenge or the Merton Hardship Fund, please don't hesitate to contact the Development Office by email at development@merton.ox.ac.uk or by phone at +44(0)1865 286314.
Bee Print Auction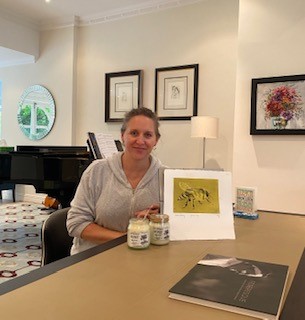 Our Emeritus Fellow in English Literature, Professor John Carey FBA, very kindly gave us the chance to auction his wonderful print of a honeybee. And to sweeten the deal, he also provided two jars of honey. All proceeds of the auction supported our two worthy 1264 Challenge causes: the Merton Hardship Fund and Oxford Mutual Aid (OMA).
We are delighted to announce that the winner of the auction was Nicola Peters, mother of first-year Merton student Charlie Peters (2019, Classical Archaeology & Ancient History).
We are enormously grateful to John, Nicola and everyone else who made donations and took part in the 1264 Challenge. The wonderful support we have received will help all those in the Merton community experiencing hardship and will assist OMA's efforts in supporting vulnerable individuals affected by the coronavirus pandemic in Oxford.
Completed challenges
Date
Activity
Saturday 16
The Warden, Professor Irene Tracey & her family ran 12.64 km
Saturday 16
Ben Nicholas and members of the College Choir ran 12.64 km
Saturday 16
Departmental Lecturer in Philosophy Dr Umut Baysan ran 12.64 km
 
Saturday 16
Graduate student Thomas Heywood ran 12.64 km through University Parks
Saturday 16
Emeritus Fellow Dr Michael Dunnill completed 126 sit-ups in 3 hours.
Saturday 16
The Chaplain, Simon Jones walked 12.64 km
Saturday 16
Junior Dean for Welfare Catherine Paverd ran 12.64 km
Saturday 16
Professor Steven Gunn walked 12.64 times round the College garden while reading a book about Queen Elizabeth I
Saturday 16
Alumna Virginia Knight (1982) has been building small models out of architects' blocks during lockdown. Here's an appropriate contribution:
Saturday 16
Graduate student Toby Adkins, who is the current Men's Captain of the Oxford University Cycling Club, cycled 126.4 km.
 
Saturday 16
Challenged by alumna Karen Wilson (1985) to come up with "a piece based on the chord progression I-II-VI-IV", alumnus The Revd Marcus Green (1985) offers "this very simple piano meditation":


Sunday 17
Merton Professor of English Language & Literature Helen Small completed a Charlbury-Chadlington loop, 12.64 km (plus a little extra!)
Sunday 17
JCR President Lucy Buxton walked for 1hr 26m
Sunday 17
Francesca Lovell-Read (MCR) baked a 1264-themed cake
Monday 18
This from alumnus Simon Petherick (1979): "If you look hard, you can see my artfully arranged 1264 on the banks of the Thames today at Barnes in London. Close to where Oxford would have been soaring past Cambridge in the boat race in March had it not been cancelled."
 
Monday 18
Former Senior Tutor Rachel Buxton participated in the 1264 challenge from the other side of the world (Australia) with 12.64(ish) of paddling:
 
Monday 18
Undergraduate Alia Eyres did 264 bounces on the trampoline in one go. "Nearly fell off halfway through (it's a mini exercise trampoline) but wobble-bounced back on for Merton."
Monday 18
Kaiyang Song (JCR) did 126 burpees - watch on Facebook (login required)
Tuesday 19
Undergraduate Rodrigo Marlasca Aparicio completed 1,264 push-ups
 
Tuesday 19
Graduate student Lachlan Hughes compiled "12.64 Fun Facts about Merton in the Middle Ages from A History of Merton by GH Martin and JRL Highfield"
Wednesday 20

Alumnus Ben Slocock (1982) who has come up with 12 mathematical identities using the digits 1 2 6 and 4 just once each:

1 x 2 = 6 – 4
2 ÷ 1 = 6 – 4
21 = 6 - 4
6 – 2 = 4 x 1
6 – 2 = 4 ÷ 1
6 – 2 = 4¹
4 + 2 = 6 x 1
4 + 2 = 6 ÷ 1
4 + 2 = 6¹
16 = 2⁴
16 = 4²
(4 + 1 – 2)! = 6

and, more Countdown style, some results using those digits only to reach 1264:

1264 = 16 x (2⁴(4 +1 ) – 1)

1264 = 2⁶ (6 + 4) - 2⁴

1264 = (2 x 6!) – (2⁴ x (1 + 4 + 6))

Ben says: "I'm sure current mathematicians can find some more interesting ones" - any takers?

Wednesday 20
Arundhati Wuppalapati's planned 12.6 mile-run turned into a 126.4 km turbo bike ride! Arundhati says, "I'm feeling a bit tired now, I might have a 12.64 hour nap ..."
Wednesday 20
Clara Lepard (MCR) completed 126.4 push-ups in 12 hours.


Thursday 21
Fede (JCR) completed 126 rugby passes
Thursday 21
Kate Stanton (MCR) created "A Year at Merton in 12.64 Photos"

To find out what they show follow The Big Merton 1264 Challenge on Facebook or see our Twitter feed

Friday 22
Graduate student Dalia Gala completed 1,264 squats:


Friday 22
Christopher Rogers (1962) set out to walk 12.64 miles of the Ridgeway, from Overton Hill via Hackpen Hill, Barbury Castle and Four Mile Clump to Marlborough (actually rather more than 12.64 miles.) He also sang 126.4 scales in the key of D Major. He says: "Friday was a lovely day, I did my 12.64 miles and decided to add a further 'half Merton' so the whole day was 18.96 miles."
Friday 22
Alumnus John Borgars (1964) writes: "This is a photo of Ermine Street at 12 minutes to 6 (or as near as I could manage) on Sunday morning, taken while walking 12.64 miles (I have been instructed to eschew running pro tem lest I tear a muscle again)."

 

Friday 22

Undergraduate Phoebe Mountain went for a 12.6 km-run.

Friday 22
MCR President Lucas Didrik-Haugeberg – "A Tour of Kristiansand in 12 Photos"
Friday 22
The College Choir's 1264 playlist (126 songs) was released on Spotify to celebrate the release of sleeper's prayer
Friday 22
Alumnus Michael Ridpath (1979) is an author best known for his financial and crime thrillers, and for the #1264challenge he created A Merton Crime Story in 1,264 words: You can download Michael's tale from https://bit.ly/MertonCrimeStory1264 - he rather modestly suggested that we mention that "it's only 4 pages long" - and read more about his work at www.michaelridpath.com
Saturday 23
Professor Alex Scott completed the final leg of a 126.4 km indoor cycle ride - he also fitted in 1264 m of climbing:

Saturday 23

Undergraduate Mairi Franklin baked 12 cupcakes. She says: "My dad helped by eating 36% of the 13th cupcake." Don't they look delicious?

Saturday 23
Cycling Challenge: together members of Merton College Boat Club cycled a grand total of 1,264km from around the globe
 
Sunday 24
Charles Tolkien-Gillett (MCR) – "a new translation and reading from Beowulf (my favourite 126.4 lines)"
Sunday 24
First-year Ancient and Modern History undergraduate Luke Bateman sent us this charming short story, The Candle's Adventure, about how the college's buildings and grounds are coping with the pandemic; it's exactly 1,264 words long, which Luke says required some very judicious editing to manage.
Saturday 23/Sunday 24
Senior Tutor Dr Jane Gover created this 3D watercolour of the College:
Monday 25
Silvia Trinczek (MCR) sent us "126.4 Flowers from Kaufering" - she picked 126 flowers in the meadows of her home town and her mother's garden:

 

Monday 25
Alumnus Paul White (1995) went for a 12.64km run around Sydney harbour:
 
Monday 25
Graduate student Carmen Jorge Díaz cycled 12.64 miles.
 
Monday 25
Alumna Yulia Savikovskaya (2006) sorted out "1,264 little calendars of my collection and started with Soviet cartoons-themed ones. Some of them are iridescent with high value among collectors. I started it when I was 7"
Monday 25
Web & Media Officer Simon Cope spent the weekend creating this Spotify playlist: "It all adds up..."
Monday 25
Jessica Rawson Fellow in Modern Asian History Dr Jennifer Altehenger made pancakes:
Monday 25
Graduate student Jessica Phillips baked some shortbread cookies on the 1264 theme:
Monday 25
Alumnus Marcus Scott (1978) completed a 1264 Triathlon - 1 mile swim, 26 mile bike rounded off with a 4 mile run/walk! And a whopping 85 ft of elevation gain in the 26 miles on the roads!

 
Monday 25
Alumnus Nigel Middlemiss (1967) sent us this story in 1,264 characters, about a hare depicted on an ancient wall tile in the Upper Library, and written "for my granddaughters Beatrix, 6, and Evie, 5, with love."



It was a May morning. The young girl was sitting in the Library with her tablet. She had to write a story, about: "Merton quadrangles and sustainability". But what did THAT mean? She had no idea.
Suddenly her eyes fell on a picture of a little hare on the wall. It had been put there hundreds of years ago. The hare was in a field full of flowers. "What should I write?" the girl murmured. The hare, to her amazement, suddenly hopped off the wall. "Follow me", it said. Off it went, past the old bookcases, down the stairs.
Out it shot across a field & into another field, called Stubbins Quad. "This field has no meadow flowers any more" said the hare. "Just grass. When I was young, clover, red and white, celandines, ladies' fingers, buttercups, harebells, daisies with pink edges to their petals, cowslips, grew here".
"And something else: look up at those mullioned windows. In that room in Stubbins Quad, on summer days, Nigel & Prisca read poems out loud & made hitch-hiking plans; long ago, that was".
"Mmm", mused the girl, slowly. "You know, we could, at least, bring back the flowers". Come with me, little hare, back to the Library. I know now what I'll write".
And so it was. The hare hopped back onto the wall tile. And the girl sat & wrote.

Tuesday 26
Paul Zimmer-Harwood (MCR) completed the 'Mertonman Challenge': 12.64 km swimming, 126.4 km cycling, 12.64 miles running and 12.64 km rowing in 12.64 hours of total time! He says, "I am thankful for the luxury to do things like this and I am also quite proud - and even more tired'!
Tuesday 26
Tutor in Spanish Dr Alice Brooke organised a relay - she and 15 other SCR members pledged to run, walk and cycle, and today they collectively made it to 1,264km ... and beyond!

UPDATE: As of Wednesday, Alice tells us, "Collectively, the SCR has sped into the 17th century, with a cumulative total of 1,624km."
 
Tuesday 26
Alumna Amanda Thomas (2012) writes: "I have been enjoying following the 1264 challenge so thought I would have a go. I completed 12.64 km on the rowing machine with an average split (time per 500m) of 2.14.6, just under an hour in total."
 
Tuesday 26
Alumna Jo Woods (1985) completed 160 km running - "which is c.12.64 x 12.64 - slightly ahead of time as I couldn't face another days running!"
Wednesday 27
Physics DPhil student Philipp Windischhofer has come up with this autogramic pangram, (a sentence that describes its own composition):

"This pangram for Merton contains one b, two c's, six f's, four a's, one d, thirty-one e's, three g's, eight h's, ten i's, one j, one k, one l, three m's, twenty n's, sixteen o's, two p's, one q, ten r's, twenty-five s's, twenty-three t's, two u's, five v's, seven w's, three x's, five y's & one z."

"I am very fond of self-referential systems" says Philipp, adding, "On top, I arranged the order of the first four letters to read "1264"!"
Wednesday 27
Antonia Anstatt (MCR) completed a 1,200 piece 4-D puzzle in 64 photos:

Wednesday 27
For his challenge, Emeritus Fellow Professor David Norbrook "tried the sortes Hutchinsonianae, reading her poem Order and Disorder down to Canto 12 line 64, which turns out to be 'Four hundred years of bondage shall expire'. It is not clear exactly how this applies to Merton College, but surely it must be good news!"
Wednesday 27
Resource Description Project Librarian Cathy Lewis and family completed their challenge to pass a football to one another 1,264 times - they did it in three stages, as documented by her daughter:
 
Wednesday 27
Alumna Sarah Stacey (1994) tells us she has cycled 126.4km around the fabulous Oxfordshire countryside this week, "...or will have by the time I've cycled to the next village for beer supplies."
Wednesday 27
Welfare Adviser Jenny Barrett ran 12.64 km
 
Wednesday 27
Undergraduate Alex Beukers "decided to draw 12 Mertonians, and finished it just about in time! It's been great to read up a bit about all the amazing people that have come out of our college, as well as a lovely way to procrastinate... who do you recognise?"
 
Wednesday 27
The Chapel team came up with these cocktail recipes - Enjoy The 1264 Responsibly!

 
by Thursday 28
Fellow Librarian Dr Julia Walworth shared images from manuscripts whose signature numbers added up to an appropriate number: 317+271+259+249+124+44=1264!
by Thursday 28
Alumnus Jonathan Tot (2017) made a calculation of all possible computations on 4 inputs: 1, 2, 6 and 4.
by Thursday 28
Yvette Siegert (MCR) was "slowly creating a poem made up entirely of found text from a translation of Book IV of St Thomas Aquinas's Summa Contra Gentiles, a section that he most likely completed in 1264. Aiming for an estimated syllabic count around 1,264, but please don't expect any miracles on that front."
by Thursday 28
Alumnus David Clark (1984) was trying to get the Merton College Biomedical and Life Sciences network to increase their membership from 97 to 126; "If we succeed, I'll donate £126 to the appeal and encourage others to give what they can too."
by Thursday 28
Stipendiary Lecturer Dr James Pickering ran 126.4km - "Dedicated to all the undergraduate physical chemists who are struggling to interpret their rotational Raman spectra in lockdown"
 
by Thursday 28

Alumnus Keith Burton (1962), "one of those nerdy stamp collectors", challenged himself to sort out 1,264 of the large number of postage stamps he has "in unsorted piles, boxes and books ... so that I know what they are and where they are."

UPDATE: Keith (on the late shift) reports that he has sorted his 1,264 stamps, finishing at 00:42 on Bank Holiday Monday, 25 May. "Sadly there were many duplicates so there is the question of whether or not they should count. This judge says "Yes" but now suggests that he tries for 1,264 different stamps – 770 so far. 594 more 'new' ones before Thursday seems unlikely. Got a couple of crosswords to do, and the garden calls as well in bright 🌞 - best wishes to all you athletic types – as a mathematician (of sorts) counting is more my game."

by Thursday 28
The Revd Monsignor Bruce Harbert (1966) read 1264 psalms from The Book of Psalms and prayed for the College. 
Daily
Emeritus Fellow Christine Taylor did a plank for 1.264 minutes each day.
 
Daily
Tim Phillips (1960) had a new knee fitted on 10 March; he walked 1,264 yards twice daily "to try and get it going".
Thursday 28
Bake-Off: members of Merton College Boat Club produced baked good which added up to 126,400 kJ (~30,000 kcal)
by Thursday 28
Alumnus and Bodley Fellow Richard Allan (1959) walked 1,264 circuits (200 steps per circuit) of his Islington garden. Richard writes:

"For what it is worth, the garden circuit is 200 steps, involving a figure of eight. This comprises starting at the side door (in a tunnel between the house and garage), circuiting the concreted front driveway, returning through the tunnel, circuiting the back garden on the grass (including a mini-circuit of the back patio and greenhouse), and returning to the tunnel. Since Easter Day, I have taken off Sundays (6) Bank Holidays (3) and days out walking in Epping Forest and Trent Park (3), but have otherwise done my 40 circuits a day. All very repetitive, but the weather has been fantastic, and I have loved watching spring turn to summer in the garden, listening to (and admiring) all the bird life, and revelling in the peace of lock-down. Diana and I are supremely lucky."
 
by Thursday 28
Alumna Phoebe Pexton (2015) ran 126.4km in 10 days:
by Thursday 28
Alumnus Mark Davison (1978) cycled 1,264km 
Thursday 28
Graduate student Ben Schneider completed completed a 126.4 miles hiking and running in 12 days:
 
Thursday 28
Junior Research Fellow in Mathematics Dr Lukas Brantner verified (by hand!) that 1264 is the sum of the first 27 primes!
 
Thursday 28
The Warden, Professor Irene Tracey, and her husband Professor Myles Allen completed a 126.4 km cycle ride:
 
Thursday 28
Alumna Jamie Lynne Boutilier (2013) "completed two 1264 challenges: I climbed 12,640 feet to just above Hope Pass, the highest point of the Leadville 100-mile race on 18 May; on 28 May I celebrated my dogs' birthday. One is named Merton, and the other one turned 12. We celebrated with 6.4 miles of hiking."
 
Thursday 28
Alumna Steffi Arzt (1991) managed to row 12.64 miles on a rowing machine - "unfortunately we are not allowed on the river yet. Courage Merton and I hope to be back soon for the Gaudy. Best wishes to all of you. Steffi, France"
 
Thursday 28
Academic Registrar Katy Fifield has done 126 minutes on the turbo trainer (indoor bike) this morning. "I passed the time with two Ockham lectures which has increased my knowledge of physics by *at least* 126%"
 
Thursday 28
12 Mertonians have pledged to reduce the amount of animal product in their diets for 64 days. In addition, they are putting together a shared recipe collection with 126 plant-based recipes in 4 categories. This part is still a work in progress, and anyone can participate by adding them to the shared document.
 
Thursday 28
Alumnus Martin Wainwright (1968) sent this cryptic message: "Mildly curious about the fate of my surreptitious #1264Challenge If you can solve its various riddles, I will buy you a pint when allowed to do so safely."


The following day he followed up with this:

"Although I put it down to the enervating weather, my wife suggests that the modest response to my #1264Challenge riddles is due to my obscure reasoning following an Oxford education, compounded by the sense of unreality common among those of us who matriculated in 1968.

"For instance," she said, "you haven't given them any clues." I replied that they were at Merton and wouldn't need clues. She said: "Well, you haven't given them any questions either."

Perhaps that was an oversight and if so, I will now put it right with quite an easy one to start with and the others getting more difficult:

Geography: why Malden?
History: Fill in the missing word: 'The club is typically ......... in that its members are usually vague and misinformed about its history.'
PPE: Why might the Government have been advised to seek advice from New Malden at an earlier stage of the pandemic?
Art: Who is the soap advertiser and for whom and what is his connection with this?
English Literature: How has Ophelia changed and which quatrain of WH Auden's might apply (given a change of gender)?
Mathematics: which inspired member of the SCR might possibly, indeed probably, have designed the curving platform roofs of New Malden railway station?
And finally Medicine: what do the Warden of Merton and the Principal of Malden have in common?

Good luck! And the offer of a pint stands"

Friday 29
Undergraduate Rodrigo Marlasca Aparicio (who, let's remember, has already done 1,264 push-ups) has made a replica of the Radcliffe Camera - using 1.2kg of fondant and 6 layers of chocolate sponge, and taking 4 days to do so. They say, "The main base is four layers of chocolate sponge, with buttercream frosting between the layers and covering the whole thing. The dome is also made of chocolate sponge and buttercream frosting, but I had to get more creative to get that shape because I do not happen to own a dome-shaped cake tin. It is all covered in fondant and some of the detail has been painted with food colouring. Not sure how I will get through this much cake!"
 
Friday 29
Alumnus Christian Jorgensen (2007) did a walk of 12.64 km (7.85 miles) around Baltimore, Maryland.
 
Friday 29
Not content with baking that rather excellent cake (complete with icing sugar Walter de Merton!) the MCR's Francesca Lovell-Read "decided to do an extra 1264 challenge: my sister (an alumna) and I made 1,264 words out of the letters in the college motto (qui timet deum faciet bona). It took us quite a long time but we got there in the end! Fortunately there are quite a lot of vowels which helped..."


Friday 29
Undergraduate Anna McQueen "did a 12.64km walk with my father, and made some new friends along the way!"
 
Saturday 30
Alumna Hannah Polonsky (2010) and her daughter Lucy (nearly two) built a DUPLO® model (made with exactly 12+64 pieces!) of them sitting at the stone table in the Merton College gardens with their mother/grandmother (and alumna) Rachel Polonsky (DPhil, 1989-94).
 
Saturday 30
Alumna Gabrielle Higgins (1996) "took advantage of croquet being one of the first 8 sports to resume after lockdown to do a 126.4 hoop 4-ball break. It took me 2 hours 46 minutes. Sadly the distance wasn't so obliging. Pictured is the 0.4: the striker's ball is jawsed in the hoop called ONE back, and the TWO balls in the background are crosswired from each other, which aficionados will recognise as one of the standard leaves to set up a SEXtuple peel for the FOURth ball. £1.26 a hoop for the Merton Hardship Fund anyone?"
 
Sunday 31
Another offering from graduate student Antonia Anstatt - a virtual treasure hunt!
Sunday 31
Alumna, Honorary Fellow and President of the Merton Society Dame Philippa Whipple (1984) and family completed 12 x 64-ball table tennis rallies (in the wind!)
 
Monday 1 June
Alumna Susanna Curtis (1982) performed 1264 movements as one continuous dance sequence. "This did turn out to be quite a challenge, when I went into the studio this morning ... about half way through I thought I was running out of juice, but the adrenalin kicked in and I made it."


Monday 1 June
Undergraduate Mairi Franklin answered the question we've all asked ourselves from time to time: how long would 1,264 crochet stitches be? 9.4 metres, apparently...


Monday 1 June
Alumnus Ron Tamplin (1955) offers us this poem:

IT'S NOT CRICKET

1-2-can knock a 6 or 4 no more
And seldom could at any time before,
But now I've raised in years 4-score and 5,
Grateful and very glad to be alive,
Locked down it's true, not up, but still not out.
Into the garden then, a gadabout.
This year, first heavy rains, now so much sun,
And the whole thing's a wreck, it's overrun!
In perspiring dream, chopping back the briars,
See Merton's garden, Oxford's dreaming spires,
The mulberry tree, the solace of wisteria.
I cut and sweep, the only bloom, hysteria,
Then, between video lunch and virtual tea,
Write a cheque  for 126-44p.
Monday 1 June
...and finally: alumnus Cristian Gazdac (1998) spotted this: "in order to vote for the Românii au talent (Romania's Got Talent) winner this weekend you had to send an SMS to ...1264!"