Profile: An English Graduate Scholar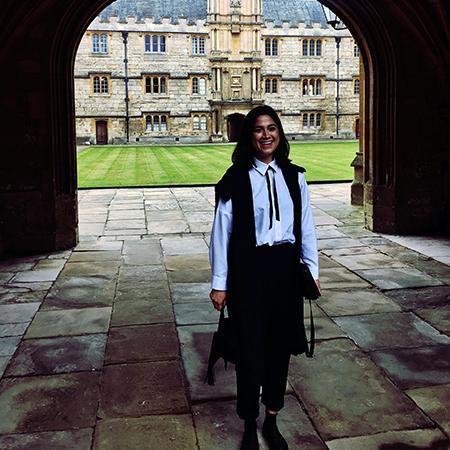 Ruth Ramsden-Karelse
In 2017, I was delighted to be awarded the inaugural Stuart Hall Doctoral Studentship, in association with Merton College, TORCH and the Stuart Hall Foundation. The scholarship funds my DPhil research on feminine drag performance since 1950 in 'mixed-race' communities in the Western Cape of South Africa, formerly classified as 'Coloured'.
I hold an MA in Culture and Thought After 1945 and a BA in English and Related Literature, both from The University of York. Prior to commencing my DPhil, I spent three years teaching English at a comprehensive secondary school in London, where I established student-led discussion and action groups and worked with a borough-wide anti-bullying steering group to promote student welfare. I've been able to continue some of this work while at Oxford via, for example, the Equality Forum, student outreach programmes and community engagement projects.
I was keen to ensure that while based in the English Faculty, my DPhil work could be interdisciplinary. The Stuart Hall Doctoral Studentship has given me access to networks and opportunities within and beyond Oxford that have supported this. Merton College has facilitated engagement with the Stuart Hall Foundation, including their other scholars and fellows. Having secured TORCH funding, I founded and now co-convene the Oxford Queer Studies Network. I have, additionally, benefited from being able to apply to funds from both Merton and TORCH to carry out essential primary research and present my work in South Africa.