Professor Dinah Birch CBE
Honorary Fellow
Professor Dinah Birch joined Merton in 1980 as its first female Junior Research Fellow, and she was also the first woman to be elected to the College's Governing Body. She is now an Honorary Fellow of Merton, and currently serves as Pro-Vice-Chancellor for Cultural Engagement and Professor of English Literature at the University of Liverpool.
Dinah first came to Oxford in 1971 to read English at St Hugh's College, where she graduated with a First and, after working for a year in South Africa, returned to complete her DPhil. Following her doctorate, she took up the Fellowship position at Merton and returned to St Hugh's in 1982 as a Fixed-Term Tutorial Fellow in English. In 1986, she joined the Open University as a Lecturer in Literature for four years.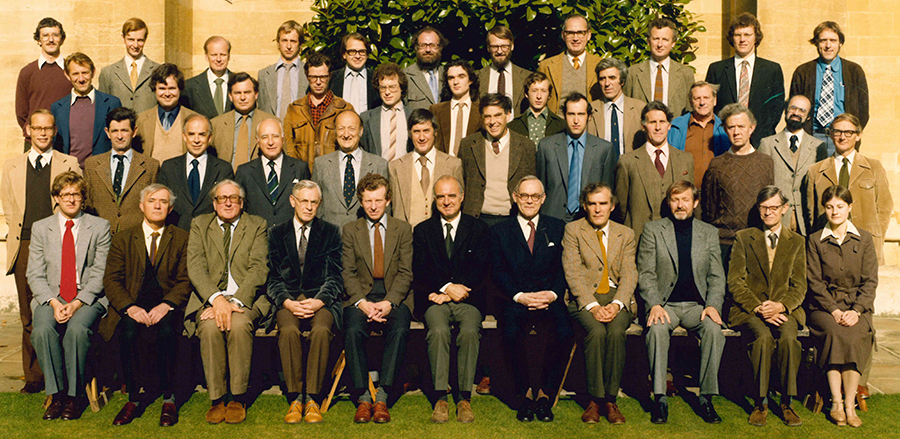 The new decade brought her back to Oxford when in 1990 she became the Stirling Boyd Fellow in English Literature at Trinity College. Dinah held this position for 13 years and was the College's Vice-Principal for the 2002-2003 academic year. She moved to the University of Liverpool in 2003 as a Professor of English Literature. During her time at Liverpool, she has also served as the Head of the School of English from 2004 to 2007, and became Pro-Vice-Chancellor for Research and Knowledge Exchange in 2011.
Professor Birch is an expert on Victorian literature and poetry, and particularly on the work of John Ruskin. She is the author of many books, including Our Victorian Education (2007, Wiley Blackwell), and has published new editions of novels by George Eliot, Elizabeth Gaskell and Anthony Trollope. She has contributed journal articles on a wide range of topics, including contemporary fiction and poetry, gender and genre, women's writing, 19th-century mythography, Victorian biography and autobiography, and the relation between literature and the visual arts.
In addition to her work at the University of Liverpool, Dinah holds a multitude of leadership roles in academia and the cultural sector. She is President of the British Association for Victorian Studies, has chaired the Advisory Council for the University of London's Institute of English Studies until 2020, and chairs the Advisory Board of The Ruskin Library and Research Centre at Lancaster University (where she is a Visiting Professor). In 2017, she was appointed Chair of the Arts and Humanities Main Panel for the current Research Excellence Framework (REF) assessment. She is the general editor of the Oxford Companion to English Literature and is a regular broadcaster and contributor to the Times Literary Supplement and London Review of Books. Dinah also chairs the Editorial Board of The Conversation, an international online journal for the dissemination of research. In 2012, she served as a member of the Man Booker Prize panel, where Jury Chair Sir Peter Stothard called her "[one] of Britain's finest professional critics."
For her many services to higher education, literary scholarship and cultural life, Dinah was awarded a CBE in the 2016 Queen's Birthday Honours.
Merton & Me
Thinking of the first day you walked through the Merton Lodge arch, what was your first impression?
I was struck by the beauty of the College, and by its palpable sense of a long history.  So many generations of students and scholars had stepped into the College before me, over hundreds and hundreds of years.
Do you have a particular memory that stands out from your time at Merton?
Merton admits its Junior Research Fellows as members of its Governing Body. I remember being acutely conscious of that honour, and responsibility, at my very first Governing Body meeting – and feeling a little over-awed by the experience!
Tell us something about yourself that we would not know.
I'm a farmer's daughter, well-informed about varieties of wheat and methods of field drainage.
What tips would you give your younger self to prepare for the career you have achieved?
Remember that as much – if not more – is to be learned from a failure as from a success.
Describe Merton in three words.
Distinguished; generous; enduring.
40 Years of Progress: Oxford, gender equality, and academia since 1980
Dinah Birch was one of our panellists for this discussion event on Wednesday 3 February 2021, which explored the full spectrum of gender equality in Oxford and how it has evolved since women were first admitted to Merton College. She joined Alison Finch and Lyndal Roper to share the challenges they faced during their careers and personal journeys, and reflect on the progress that has been made.
The panel also discussed less frequently asked, but equally important, questions: are there any advantages that have arisen as a result of being a woman in male-dominated fields? Were there any challenges they did not face which their male peers did? And how will changing ideas about gender shape universities and academia as we look to the future?