Chapel & Choir: People
The Chaplain
The Revd Canon Dr Simon Jones has been Chaplain of Merton since 2002. As well as being responsible for the day to day life of the Chapel, Simon also co-ordinates the various College welfare bodies and convenes the College's Student Support Committee and Chapel & Patronage Committee. He is always happy to speak in confidence with any member of College (regardless of religious affiliation) concerning any matter.
Email: Simon Jones
Telephone: 01865 276365.
Before coming to Merton, Simon served his curacy at Tewkesbury Abbey in the Diocese of Gloucester. He trained for ordination at Westcott House in Cambridge and, as a member of Selwyn College, completed a PhD in Syrian baptismal theology. His current research interests include recent revisions of Anglican baptismal rites, Gregory Dix and the origin and development of marriage rites. He is a member of the Church of England Liturgical Commission, and the Oxford Diocesan Liturgical Committee. He was installed as an Honorary Canon of Christ Church in 2015 and as a Wiccamical Prebendary (Honorary Canon Theologian) of Chichester Cathedral in February 2016.
Reed Rubin Organist & Director of Music
Benjamin Nicholas is our Director of Music, and in September 2018 becomes Principal Conductor of the Oxford Bach Choir. In recent months he has appeared as a conductor with the BBC Singers, City of Birmingham Symphony Orchestra, City of London Sinfonia and the Holst Singers. In June he made his debut with the Royal Philharmonic Orchestra in a performance of Elgar's The Apostles.
 
Ben's work at Merton has included the founding of the annual Passiontide Festival, the installation of the Dobson Organ and the creation of the College's Girls' Choir, which sang for the first time in October 2016. He has conducted the College Choir in concerts in the USA, Italy, Sweden and France, on BBC Radio 3 & 4 and BBC TV, and on a series of recordings for Delphian, the first of which was a Gramophone Editor's Choice. His other recordings include discs of Weelkes, Mozart, Stainer, Stanford, Rutter, Gabriel Jackson, Richard Allain, and the organ works of Elgar. 
 
Ben has conducted many first performances, and premiered a new work by Charlotte Bray with the City of London Sinfonia in Southwark Cathedral. In the Cheltenham Music Festival he premiered new choral works by Judith Weir, Hannah Kendall, Dobrinka Tabakova and Kerry Andrew, and at Merton he has commissioned Birtwistle, Dove, MacMillan, Jackson and Joubert.
 
Ben was a chorister at Norwich Cathedral and has held organ scholarships at Chichester Cathedral, Lincoln College, Oxford and St Paul's Cathedral. He is a former Director of Tewkesbury Abbey Schola Cantorum and the Edington Music Festival.
Email: Benjamin Nicholas
Associate Chaplain and Career Development Researcher
The Revd Dr Jarred Mercer is originally from Florida, USA, but came to the UK in 2009. He completed his Masters degree at the University of St Andrews and his DPhil here at Oxford (The Queen's College), and was a visiting doctoral researcher at École Pratique des Hautes Études in Paris from 2012-2013. Jarred trained for ordination at St Stephen's House. He was ordained deacon on 4 July 2015 and priest on 26 June 2016. He was curate at St Mary Magdalen, Oxford for two years, combining this with a role as Junior Chaplain here at Merton. Jarred's research interests are primarily in early Christianity and his doctoral thesis was on Hilary of Poitiers. While continuing to work in this area, he is currently beginning research on the spirituality of children in late antiquity. Jarred is married to Chelsea and they have three children: Noah, Owen, and Elspeth.
Email: Jarred Mercer
Chapel Administrator and Verger
Chapel Administrator: Sarah Cotterill. Sarah is the Chaplain's PA and provides administrative support for the Chapel and Choral Foundation.
Verger: Leah Collins. Leah is responsible for the daily running and upkeep of the Chapel. She helps with the organisation and setting up of services, as well as overseeing concerts and outside events.
Chapel Officers
A number of students assist with the running of the Chapel. Chapel Wardens welcome people to services, arrange readers and servers for the main Sunday evening service and send out the weekly Chapel email. The sacristans light candles and ring the bells before services and often serve at the Sunday evening Eucharist. The Chapel Clerk arranges the rota of weekday readers. This year's officers are:
Student Chapel Officers: Victor Ajuwon, Adrian Burbie, Molly Clark, Tim Foot, Margaret Frainier, Henry Grub, Rob Lentz, Tom Lousada, Beth McCullagh, Gian Piero Milani, Thomas Nightingale, Oliver Pateman & Audrey Southgate.
Pastoral Assistants: Dominik Chmielewski, Catherine Haydon & Sebastian Jones.
Assistant Organist and Organ Scholar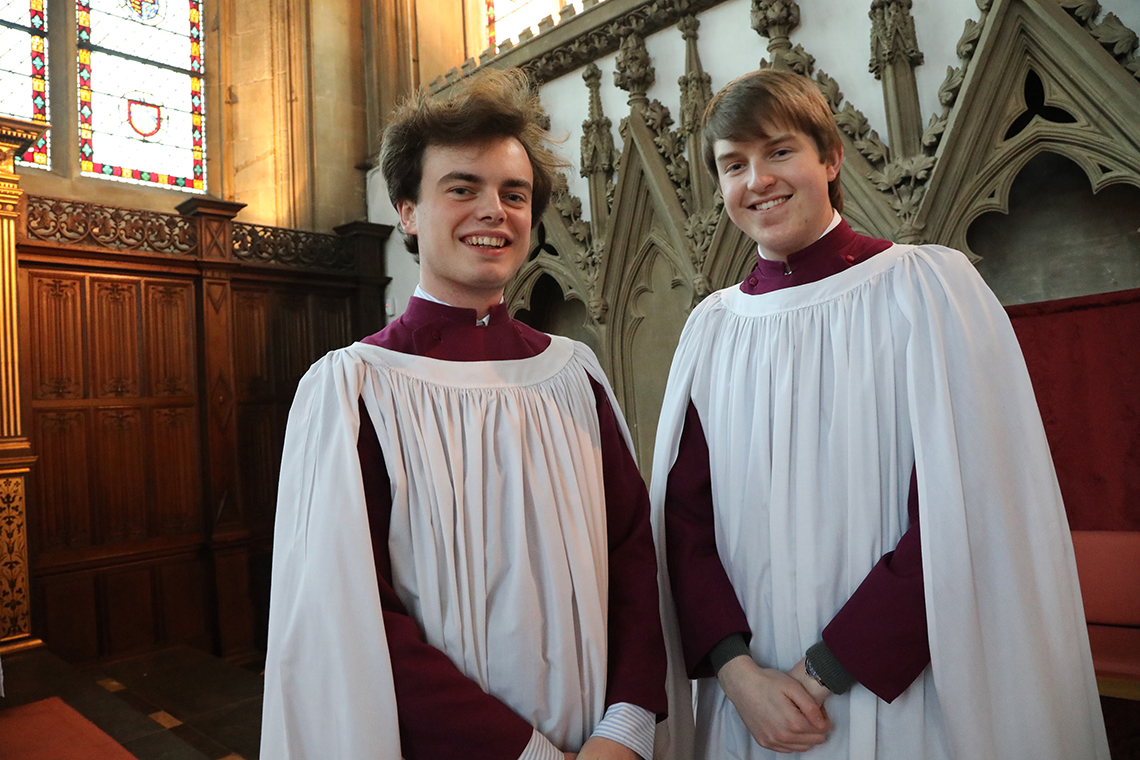 Alex Little is the Assistant Organist and is in his first year studying for an MPhil in Music. He was a chorister at Norwich Cathedral, started learning the organ with David Dunnett there in 2007, and is now taught in Oxford by William Whitehead. He has played recitals at Wymondham Abbey, Norfolk and the church of St Lawrence Jewry in London.
Tom Fetherstonhaugh is Organ Scholar and is studying music. He was a chorister at Westminster Abbey where he sang for both daily and State services, including the Royal Wedding in 2011. He studied violin and conducting at the Royal Academy of Music Junior Department and has formed the Fantasia Orchestra. He started learning the organ with Iestyn Evans at the Cardinal Vaughan Memorial School in 2011. When not doing music, Tom cycles, runs, and occasionally plays the viola.
Vocal Coaches
Carys Lane and Giles Underwood are the College's Vocal Coaches. They work with the Choral Scholars on a regular basis whilst continuing to give concerts both in the UK and abroad.
Patron of the College Choir
Peter Phillips, founder and director of The Tallis Scholars, is Patron of the College Choir. It was Peter's idea that the College should consider establishing a Choral Foundation. Along with Benjamin Nicholas, he was a Reed Rubin Director of Music from 2008, a post he held until 2016. His involvement included recordings, tours and broadcasts, as well as conducting the choir on a number of occasions each term. The College is enormously grateful for Peter's enthusiasm for the Choral Foundation and is delighted that he has accepted the honorary position of Patron. Peter is also a Bodley Fellow of the College.