Merton student named as Sustainability Photographer of the Year 2019
Wednesday 26 June 2019
Biological Sciences undergraduate Hermione Grassi has been named as Sustainability Photographer of the Year 2019 at the sixth Sustainability Showcase, which saw staff and students from across the University gather to recognise the contributions they have made towards making its operations more sustainable. Hermione's success follows that of another Merton student, Sofia Coelho, at last year's event.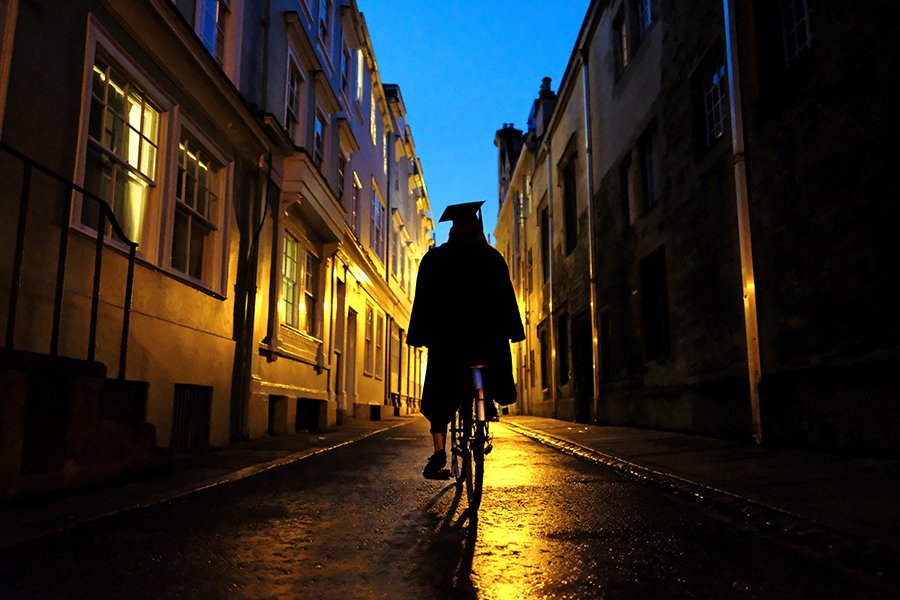 Hermione's winning image is entitled 'Education Lights the Way'. She says:
"I have been interested in photography since school and in particular the way it allows a message to be portrayed in a thought-provoking manner. Therefore the challenge of capturing a scene that conveys the importance of environmental sustainability was appealing to me. The photograph aims to encapsulate a number of the University's Environmental Sustainability policy areas, notably sustainable travel, community and education, research and knowledge transfer - all in a specifically 'Oxford' context"
Held at the Sheldonian Theatre with a drinks reception in the Weston Library, the Sustainability Showcase attracted around 200 people from across the University. Dr David Prout, Pro-Vice-Chancellor for Planning and Resources, hosted the evening after a welcome from Vice-Chancellor Professor Louise Richardson.
There were prizes for the top-performing colleges in the 2018-19 Student Switch Off competition. Over the six years the competition has been running in Oxford, it has trained more than 364 students as ambassadors and had over 32,000 entries in the climate change quiz. This year's Green Impact scheme saw teams - including one from Merton - who have worked to make the buildings they work in more sustainable receive awards in many categories – bronze (attained by Merton), silver, gold and for the first year ever gold plus aimed at teams that consistently push the boundaries.
Harriet Waters, Head of Environmental Sustainability wrapped up the evening by launching the University's new carbon target. The University plans to at least halve its carbon emissions by 2030, by continuing to implement carbon-reduction projects and building energy-efficient buildings.