Passiontide at Merton: Gabriel Jackson's 'The Passion of our Lord Jesus Christ'
Date:
Friday 4 April 2014
Venue
Merton College Chapel
The Choir of Merton College
The Oxford Contemporary Sinfonia
William Whitehead Organ
Emma Tring Soprano
Nick Pritchard Tenor
Benjamin Nicholas Conductor
Programme
JS Bach Preludes from the Orgelbüchlein
Stephen Hough, Jon Laukvik, Matthew Martin New compositions from the Orgelbüchlein Project
Gabriel Jackson The Passion of our Lord Jesus Christ (world première)
The long-awaited Passion of our Lord Jesus Christ by Gabriel Jackson received its world première in the first concert of the Passiontide at Merton festival in the College's 750th anniversary year. Scored for soloists, choir and ten-part instrumental ensemble, Jackson's new work is sure to earn a significant place in the repertoire.
Written for the Merton Choirbook, the work is divided into seven movements, beginning with Palm Sunday. It consists of passages from the Gospels, a number of Latin liturgical texts, and some verses of poetry. To link this major commission with the College's 750th anniversary, each of the poets is a former member of the College, representing different periods in its history.
The coincidence of Merton's anniversary with the centenary of the outbreak of the First World War is marked by a contribution from Edmund Blunden, whose poetry enables the listener to juxtapose Jesus' agony in Gethsemane with the experience of the trenches. After the crucifixion, the final stanza of TS Eliot's 'Little Gidding', set to music in this work for the first time, points towards the resurrection, and the hope that 'All shall be well'.
Also receiving their premières were preludes by Stephen Hough, Jon Laukvik and Matthew Martin.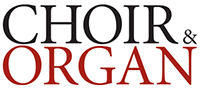 Stephen Hough's prelude is a Choir & Organ magazine new music composition
At a pre-concert talk, open to all ticket holders, Meurig Bowen discussed the creation of this new setting of the Passion with librettist Simon Jones and composer Gabriel Jackson.