Christine Taylor
Emeritus Fellow, Development Director 2006-2017
Emeritus Fellow Christine Taylor has had a multi-faceted career, with roles spanning teaching, marketing and corporate relations, as well as alumni relations and fundraising in Higher Education. During the course of her life, she has succeeded in making two major career changes.
Christine went to the University of Bristol where she studied German with French. Following her time at university, she spent 14 years running the German Department and teaching French in two London girls' schools, the second being the academic North London Collegiate School, which is regularly listed in the top five of the UK league tables. Those who know Christine will be aware of her love of German culture and language, and it was at this school that she expanded the number of students studying German by 40%.
At the age of 38 Christine did the unconventional thing and changed careers, moving into business and spending the next six years in a marketing role in the German exhibition industry. With marketing and advertising experience under her belt, she then moved on to work at the ESCP Business School (a leading French grande école) as UK Corporate and External Relations Manager. Here Christine further developed her experience in the education sector – building key corporate relationships, and making a real impact by doubling internships and MBA-style corporate projects, as well as developing a 1,000-strong UK alumni association. It was at this school too that she gained further building blocks for her role at Merton.
Christine became Development Director and Fellow at Merton in 2006. At this time, development offices throughout the University of Oxford were much smaller than they are today, and she built up her team to become the driving force that was necessary for the College's 750th Anniversary Campaign and the Anniversary in 2014. She convened Merton's Development Committee and campaign boards, introduced our benefaction levels and broadened the College's publications. She vastly expanded the alumni events programme, reaching 20% participation among all alumni. These are only a few of Christine's many achievements whilst at Merton.
One might argue that her crowning triumph was her execution of the College's £30 million 750th Anniversary Campaign, named Sustaining Excellence. Christine was a key figure behind the campaign, working with two Wardens, and with extremely committed alumni development boards around the world, as well as with a talented Development Office team. The campaign helped to secure Tutorships, provided an additional £8 million for undergraduate and graduate student support, and enabled the building of the TS Eliot Lecture Theatre as well as other facilities. It was during those years too that the College's Choral Foundation was created. The campaign reached its successful conclusion in our 750th year, 2014.
Christine's zest and zeal defined her time at Merton, and she demonstrated her strength of character when faced with the ongoing challenge of raising £4.3 million per year for the College. She is only the second female Merton Fellow to reach Emeritus status and, still committed to the College, she is a regular member of the 1264 Society and one of our Patrons.
Merton & Me
Thinking of the first day you walked through the Merton Lodge arch for your Development Director interview, what was your first impression?
I was immensely awe-inspired by the College's historic buildings set in a medieval street and against the beautiful Christ Church Meadow, and never imagined that I would get the job!
Do you have a particular memory that stands out from your time at Merton?
I have many, but one is the following: I had taken the details of a US-based Mertonian with me on a business trip to New York, aiming to follow up on the phone on a philanthropic ask that I had made for a five-figure donation to the College. This was going to be easier, in terms of the time difference, than trying to reach him from the UK, which had proved difficult. Sitting in my New York hotel room, I did manage to capture him on his mobile (he wasn't based near New York) and we had a long and engaging conversation, mainly about the environment. Some one-and-a-quarter hours into the conversation, as the sun was setting over the Manhattan skyline, and I was getting concerned about the College's telephone bill (?!), he suddenly announced that he wouldn't make a pledge, but that he would like to make a $1 million gift to the College that year and would like to do that in the next 14 days, if I could send over the bank details. I nearly fell off my chair but managed to be calm enough to follow up with how he would like his gift to be used. Needless to say, I was overjoyed, as were the Warden, the whole Development Board and team, and I slept very well that night!
Tell us something about yourself that we would not know.
I was not particularly sporty whilst at school, but started running in my 50s.  Since then, I have run 15 half marathons, many 10ks, and taken part in running races in Spain, Germany, Russia and Ireland, as well as the UK. And most of my wider family now run.
What tips would you give your younger self to prepare for the career you've achieved?
Be prepared to take risks and have full confidence that you can undertake major career changes and be assured (given my committed faith) that a higher power is somehow in charge.
Describe Merton in three words.
Caring; historic; academic.
A short film about Christine Taylor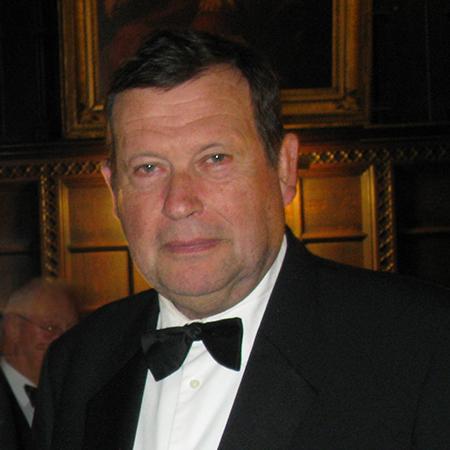 I worked for many years with Christine. She was a terrific, indeed a transformative asset for Merton College. The 750th anniversary target at £30m was regarded as ultra-ambitious but she rose to it!
David Ure (1965)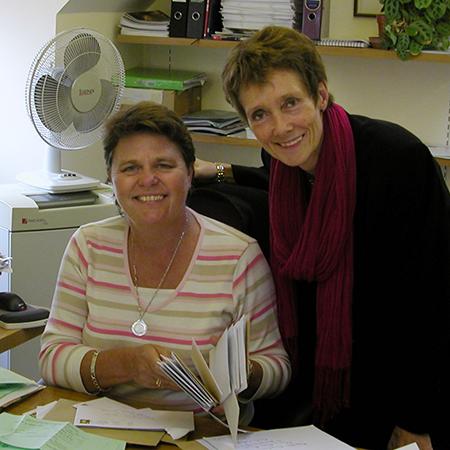 She not only steered the team through the 2014 celebrations – no mean feat – but she was also instrumental in identifying alumni and "motivating" them into raising £30m by 14 September, the very day of the 750th Anniversary of the founding of the College.
Helen Kingsley (Alumni Relations Manager 2002-2017)
An Interview with Christine Taylor
Your undergraduate degree was a BA in German with French at the University of Bristol. What led you to choose those languages to study?
For me, that was simple. I really enjoyed learning, reading, and speaking those two languages which I had studied to A and S Level at school. I wanted to become much more fluent and to study their great works of literature – Goethe, Schiller, Thomas Mann, Brecht, Racine, Albert Camus, etc. I had no thought of what career I might enter.
You spent a year at Tübingen University in South Germany as part of your degree. How did you find this experience?
It was a completely enriching and enjoyable experience and I felt very privileged. I was there with only one other Bristol University student at one of Germany's oldest universities – not as old as Merton of course – but nevertheless founded in 1477. Our main target, apart from having the usual lengthy reading list and a dissertation to write, was to improve our German. So, as Tübingen University is famous for Theology and Medicine, we attended many Theology and Medical Faculty lectures, in addition to German literature and language seminars and lectures. But one of the things which I found the most exciting (and which wouldn't be safe now!) was hitching to all different parts of Germany. The most memorable trip was hitching across the 'Iron Curtain' over to Berlin, which was then situated in the middle of East Germany. Berlin was a divided city at that time, and East Berlin was deeply shocking. In 1974 most of it still looked as if World War II had just ended – Berlin's three cathedrals, the Berlin Cathedral, the German Cathedral and the French Cathedral, as well as the famous Pergamon Museum, were all still in ruins. We stayed next to Spandau Castle in West Berlin, near to where Rudolf Hess (the former Deputy Führer to Hitler) was still interned.
Following your degree, you decided to become a German and French teacher. What inspired you to take that career path?
Well, it was really because I didn't want to give up my languages and at the time that I graduated, in 1975, entering the business world with the expectation of engaging in an international career, using one's languages, wasn't so obvious, especially as a woman. I knew that I was good at explaining things and that I wanted a career focussed on people. So I chose to be a Modern Languages teacher.
In 1990, after fourteen years of teaching, you changed careers, becoming Sales and Marketing Manager at the Düsseldorf Trade Fair Agency in London. What made you decide to take this step?
I used to watch the extremely talented North London Collegiate School sixth-form leavers go off to careers in law, accountancy, medicine, media and marketing and the then Headmistress of the school noted my restlessness. In the context of an annual appraisal, she offered me a "year out" and held my Head of Department job for a year. What a gift! I found a position, via my German language fluency, working in the UK PR and marketing agency of one of Germany's largest exhibition centres – so I moved from teaching and literature into a world of sales, marketing and PR. I thereby expanded my German knowledge into printing, packaging, medicine, control and instrumentation—and luxury yachts! I learned as much as I could about sales and marketing by reading every available book on the subject in my spare time! It was fun, and extremely challenging, and I didn't go back to teaching. But that was the first time that I encountered career challenges due to being a woman. I was frequently seen as a secretary and had to prove that my role was a different one.
Let's fast forward to your next career leap, working at the ESCP Europe Business School. What made you decide to make a career change once again?
I made that second career change simply because the UK PR Agency of Messe Düsseldorf was very small, with no opportunities for promotion. So in 1996, I looked for a position which would accommodate my new-found marketing and sales skills, but also use my languages. ESCP Business School is one of France's leading 'Grandes Écoles' with linked campuses in Paris, London (then Oxford), Berlin, Madrid, Torino and Warsaw. My role was to drive  corporate and external relations in the UK. However, there were plenty of opportunities to use German and French, since the students were all trilingual and we worked with the school's teams travelling across Europe visiting companies and campuses.

You worked in alumni relations at the ESCP Europe Business School, and continued down that path in 2006, becoming Development Director at Merton where you oversaw the College's fundraising and engagement strategy. Although your previous role involved alumni relations, here you were taking on a major gifts fundraising role as well. What was it that enticed you to make the leap to fundraising for an Oxford college?
The reason was an intensely practical one, as well as my wanting the excitement of a new challenge. ESCP had meanwhile moved to London. I was doing a weekly commute from Oxford and had been at ESCP for ten years. I was sent the job advert for the Merton Director of Development role and I thought it would be a great honour to work for one of Oxford University's most beautiful and academic colleges. Teaching, marketing, sales and alumni relations were a good basis for the Director of Development position. I also saw the challenge of coordinating Merton's alumni relations and fundraising for its 750th Anniversary as an exciting one.
But it is true – I had only raised £20,000 for a small charity before joining Merton, and suddenly, I was responsible for a £30 million campaign! However, as I had found out when transferring from teaching to sales and marketing in 1990, it was important to read every possible book on the subject. So I did that once again before and during my move into fundraising in 2006 at Merton!
Your achievements at Merton are many. What are you most proud of and is there anything that stands out for you?
Apart from Francis Finlay (1962), British-born New York-based financier and philanthropist, who funded the College's Finlay Building in 2004, most large 20th and 21st century donations had hitherto come to the College from the US, via our US alumni organisation, MC3. Most UK-based Mertonians had, until I arrived, not been approached personally to make an individual gift. I was the first Development Director to 'go on the road.'
So, I am very proud of the fact that some 69% of the £30 million raised for the 750th Anniversary Campaign came from UK-based Mertonians (74% of whom lived in the UK at that stage). I simply spent most Fridays, and often another day in the week, visiting individual UK-based Mertonians. It was hugely enjoyable and richly rewarding. The enormous challenge of underpinning the tutorial system when it was endangered, as well as establishing a Student Support Fund (to fund the new undergraduate bursaries and graduate scholarships) and building the College's much-needed TS Eliot Lecture Theatre, were all projects which engaged Mertonians. They gave generously to their College, with great gratitude for the tremendous foundation which Merton had been for their careers. But, of course, this was a tremendous team effort – I worked with two different Wardens, with a splendid Development and Alumni Relations team, and a fabulous group of generous Mertonians, who formed campaign boards and worked tirelessly both in the UK and internationally towards the £30 million target. During the period of the 750th Anniversary Campaign, Merton became one of the most successful fundraising colleges across the University of Oxford. We also had a tremendously exciting Anniversary Programme in 2014, with thousands attending the 750th Birthday Weekend in September 2014, which other colleges then sought to emulate.
Is it challenging to be a woman in major gifts fundraising?
No, I think that women are ideally suited to the role. Major gifts fundraising is all about building individual relationships, which involves careful listening and then enabling donors to give to their passions. It is deeply rewarding, and women are very good at it!
Are there any advantages or challenges that you faced as one of the few women at your level in the College and the wider University community?
No, to be honest, I never thought about it! Merton was, from the time I joined the College in 2006, extremely welcoming towards women students, staff and fellows. Significantly, more than half of Oxford University's development directors were women in those years (2006-2017).
You are involved in many voluntary activities. For example, you are currently a Governor at a London school and Board Member of ESCP Europe Corporate Services, and during your time at Merton, you were a Trustee of the Oxford Centre for Mission Studies. What draws you to voluntary work and how have you found that it has complemented your career?
I think it is wonderful to serve voluntarily on different boards and committees. I have been given a huge amount in my life. It is deeply rewarding to use the skills and knowledge that I have gained in my career and give back, especially to those who have not had the opportunities and privileges that I have had myself. There are further benefits: you bring back into your career the lessons which you learn outside it.
Finally, do you have any advice for anyone who is currently thinking about their career and who might be interested in a career in alumni relations and development?
In today's world, I think it is very important to remember that you might not engage in the same career throughout your life. Much of life is about taking risks, and anyone who studies at Merton is more than capable of changing career mid-way through their lives.
On the whole, I think that people who come into alumni relations and fundraising/development later on in their lives will have more to give. I found it immensely useful that I knew my way in the corporate world when meeting with individual Mertonians to ask them to give back to their College.