Susanna Curtis (1982)
Susanna Curtis is an artistic director, dancer, actor and choreographer. She has been working in all those roles in Nuremberg since 1995, but it's probably true to say that she first put her skills into real-life practice while she was at Merton.
Susanna was raised in Glasgow, which is where her interest in classical ballet and contemporary dance was first sparked. In 1982 she came south to Oxford to study Modern Languages. And it was while at Merton that she had the opportunity to put her dance interest into practical application. As a student she was heavily involved in the theatre scene: dancing in, acting in and choreographing numerous student productions, including shows at the Edinburgh Fringe. Total immersion, you might call it, as she was also President of the Oxford University Ballet Society and on the committee of the OU Contemporary Dance Society. As she says, "This led to my decision to make dance and ultimately, choreography, my career."
After leaving Oxford, Susanna went to the Netherlands on a guest student scholarship at the Rotterdam Dansacademie Conservatoire. She successfully auditioned for her first job as a dancer in Ulm, Germany, the country where she had spent her year abroad during her degree. She stayed on and worked for various independent companies and state theatres, and as a ballet mistress, before founding her own dance-theatre company, Curtis & Co., in Nuremberg in 2001.
Every year since then, Curtis & Co. has produced a new dance-theatre production, some of which have gone on tour, including to Glasgow. The 2021 performance, which premiered in March, is called Butterfly Brain – a dignified and gentle approach to the difficult subject of dementia, at the same time highlighting the absurdist nature of the disease. Last year's production was Madame Bovary, it's me too – a dance theatre in the spirit of Flaubert's masterpiece. Previous years have included productions of Macbeth for a cast of three and a four-person King Lear.
Susanna's work is not limited to dedicated theatrical spaces. Since 2004 she has been working as a hospital clown for KlinikClowns Bavaria. This non-profit organisation believes strongly in the power of laughter and humour as therapy, sending its professional, sensitive clowns into hospitals, hospices and retirement homes in the region.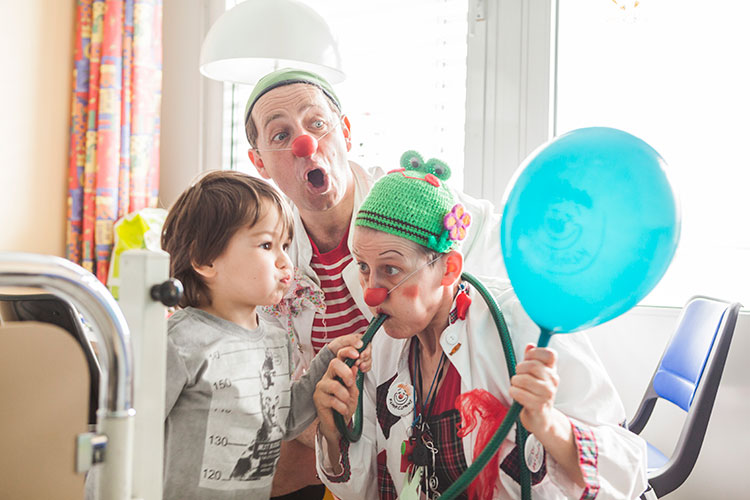 Perhaps it's no wonder, then, that in 2014 Susanna was awarded the City of Nuremberg's Prize for Culture and in 2020 the Middle Franconian Wolfram-von-Eschenbach prize for her work. And her face must be familiar to locals for, in 2017, she was chosen to represent Nuremberg in the field of culture in a three-year advertising campaign.
Most recently, in May this year, Susanna became artistic director/choreographer at EveryBody, a dance project that works with professional and amateur artists, with and without disability. Dance for every body, literally.
Merton & Me
Thinking of the first day you walked through the Merton Lodge arch as a student, what was your first impression?
I actually remember being acutely embarrassed. I had been intending to arrive appropriately dressed for the venerable place. My mum's car broke down on the long journey from Glasgow, I arrived late for the freshers' get together in the JCR and looked a mess. But looking back, I definitely thought: new door opening – new adventures coming. I'd set my heart on Merton when I'd come down for interview on the "Scottish Scheme".
Do you have a particular memory that stands out from your time at Merton?
One would definitely be evening flits over the quad, attired only in my dressing gown, to be able to take a bath in the superior bathroom of Prince Hiro (Naruhito). Another would be arranging a fun photo call for the whole college. Looking at the group photo today there are some very weird creatures popping up between fresh-faced students.
Tell us something about yourself that we would not know.
As an artist, freelancer and creative I admit to being a bit of a workaholic, but when on holiday I can just lie on a beach for hours, listening to the sound of the sea, soaking in the sun – and OK, I admit it, reading a good novel.
What tips would you give your younger self to prepare for the career you have achieved?
Observe, listen, absorb
Watch people, watch people moving – in crowds, in groups, in pairs, alone
Just be
Describe Merton in three words.
Serene, quirky, steeped in history.