Holy Week: Caiaphas, Peter and Pilate
A reflection by The Revd Dr Jarred Mercer, Associate Chaplain and Career Development Researcher at Merton College.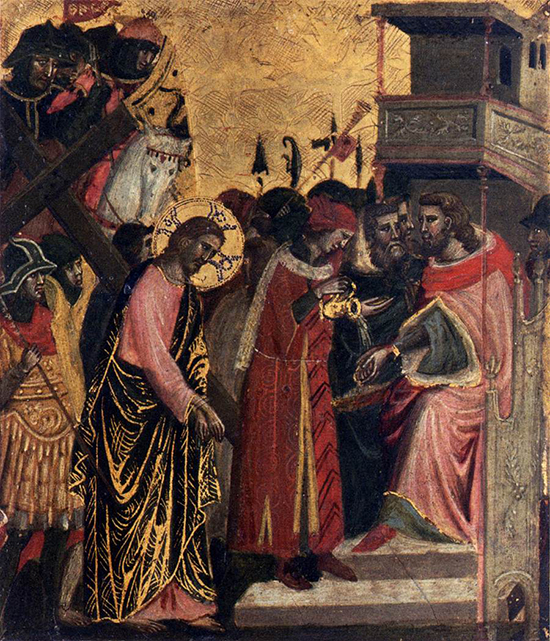 Gabriel Jackson, The Passion of Our Lord Jesus Christ
(listen on Apple Music or Spotify)
libretto compiled by Simon Jones
They led Jesus away to the high priest: and with him were assembled all the chief priests and the elders and the scribes.    
And Peter followed him afar off, even into the palace of the high priest: and he sat with the servants, and warmed himself at the fire.
And the chief priests and all the council sought for witness against Jesus to put him to death; and found none. (Mark 14.53-55)
Sitting by the streames that glide
Downe by Babell's towring wall,
With our tears wee filde the tyde,
Whilst our myndfull thoughts recall
Thee, O Sion, and thy fall.        
As Peter was beneath in the palace, there cometh one of the maids of the high priest:
And when she saw Peter warming himself, she looked upon him, and said, And thou also wast with Jesus of Nazareth.
But he denied, saying, I know not, neither understand I what thou sayest. And he went out into the porch; and the cock crew.
And a maid saw him again, and began to say to them that stood by, This is one of them.
And he denied it again. And a little after, they that stood by said again to Peter, Surely thou art one of them: for thou art a Galilaean, and thy speech agreeth thereto.
But he began to curse and to swear, saying, I know not this man of whom ye speak.
And the second time the cock crew. And Peter called to mind the word that Jesus said unto him, Before the cock crow twice, thou shalt deny me thrice. And when he thought thereon, he wept. (Mark 14.69-72)
Our neglected harps unstrung,
Not acquainted with the hand
Of the skillfull tuner, hunge
On the willow trees that stand
Planted in the neighbour land.
In the morning the chief priests held a consultation with the elders and scribes and the whole council, and bound Jesus, and carried him away, and delivered him to Pilate.
And Pilate asked him, Art thou the King of the Jews? And he answering said unto them, Thou sayest it.
And the chief priests accused him of many things: but he answered nothing.
And Pilate asked him again, saying, Answerest thou nothing? behold how many things they witness against thee.
But Jesus yet answered nothing; so that Pilate marvelled. (Mark 15.1-5)
Yet the spightfull foe commands
Songs of mirthe, and bids us lay
To dumb harps our captive hands,
And to scoffe our sorrowes, say,
Sing us some sweet Hebrewe lay.
Now at that feast he released unto them one prisoner, whomsoever they desired.
And there was one named Barabbas, which lay bound with them that had made insurrection with him, who had committed murder in the insurrection.
And the multitude crying aloud began to desire him to do as he had ever done unto them.
But Pilate answered them, saying, Will ye that I release unto you the King of the Jews?
For he knew that the chief priests had delivered him for envy.
But the chief priests moved the people, that he should rather release Barabbas unto them.
And Pilate answered and said again unto them, What will ye then that I shall do unto him whom ye call the King of the Jews?
And they cried out again, Crucify him. (Mark 15.6-13)
But, we say, our holye strayn
Is too pure for heathen land,
Nor may wee God's himmes prophane,
Or move eyther voyce or hand
To delight a savage band.
Then Pilate said unto them, Why, what evil hath he done? And they cried out the more exceedingly, Crucify him.
And so Pilate, willing to content the people, released Barabbas unto them, and delivered Jesus, when he had scourged him, to be crucified. (Mark 15.14-15)
Holye Salem, if thy love
Fall from my forgetfull harte,
May the skill by which I move
Strings of musicke, tun'd with art,
From my withered hand departe.
Psalm 137
Thomas Carew (1595-1640)
(Matriculated at Merton College, Oxford, 1608)
---
The trial of Jesus sits between Maundy Thursday and Good Friday. It is one of the most dramatic scenes, or three scenes we could say, in the history of literature, and certainly in the story of our faith. After the agony and desolation of the Garden of Gethsemane, where Jesus is betrayed by the kiss of a friend and abandoned by everyone else, Christ is brought before the council of the chief priests to face trumped up false charges before the high priest Caiaphas. In John's version of events he goes first to Annas, Caiaphas' father-in-law, who had been high priest until deposed by the empire in 15AD. Many still recognised Annas as the highest authority, and the fact that Jesus is taken to both suggests the level of conspiracy against him. Some meticulous planning has gone into the murder of this man, and we're fooling ourselves if we think for a second the sentence was not already given before the trial began. 
And we see ourselves, everywhere. Everywhere, throughout this narrative and at various points throughout our lives we follow and sing, but shout and curse, and rejoice but blame, and repent but deny and cower by the fire. And unlike the other parts of the story involved in the Triduum, the 'three days' of Maundy Thursday, Good Friday, and Holy Saturday, we have no liturgy for the trial of Jesus. We re-enact Last Supper and Footwashing, we sit and pray in the garden with Jesus at the Altar of Repose, we have the Liturgy of Good Friday and stations of the cross, and the starkness of Holy Saturday is enacted by emptiness, with no sacrament in the church building. But between the Garden to the Cross there is no ritual. The best we can do is to read or sing the passion narratives, which include the trial of Jesus, on Palm Sunday and Good Friday. While we can parade through the streets waving palm branches and singing hosanna, we cannot find a way to express ourselves as a people shouting, 'Crucify!', or denying Christ by the fireside.
We're drawn into the narrative, however, at several points and there is a sense in which not only Jesus but each of us, and each of the characters of the story, are on trial in one way or another. It takes little imagination to find ourselves on trial with Peter, with Caiaphas and the crowd, and with Pilate, as Jesus faces his final hours.
The trial of Peter. All four gospels report that Peter followed Jesus to his trial while the other disciples fled in terror (though John mentions one unnamed disciple going along with Peter). But they all four qualify Peter's following: Peter followed 'at a distance'. Cloaked in the night Peter follows Jesus into the courtyard of the high priest. In fact, he is so covert that he sits with the guards, those holding his master captive, and blends in as he warms himself by the fire. Peter is a paradox, here. He stays with Jesus while the others flee, showing his devotion and, however distant, he remained a disciple, a 'follower' of Jesus. But he does so only to cower by the fire and eventually deny him three times. Peter sticks with Jesus to the end, yet, abandons him in the courtyard of Christ's final hours.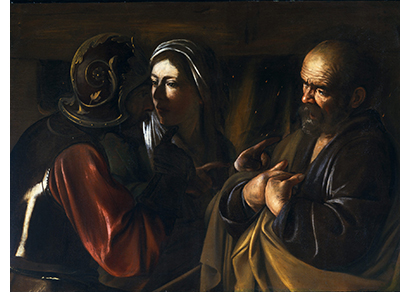 Peter fails his time of trial. The cock crows and the words of Jesus foretelling Peter's denial erupt in Peter's mind like a tremor, and he weeps. Luke's Gospel even says that he caught the gaze of Christ at that moment: 'And the Lord turned and looked at Peter. And Peter remembered the word of the Lord, how he had said to him, "Before the cock crows today, you will deny me three times". And he went out and wept bitterly' (Luke 22:61–62). But the good news of the story is that, wherever we find ourselves, Christ meets us there in love. That gaze is not one of condemnation but of forgiveness and reconciliation. We see Jesus meeting Peter's failure with love explicitly after the resurrection, when he gives Peter the opportunity to reconcile each denial with a declaration of love for Christ as he, three times, asks Peter: 'Do you love me?' And Jesus follows up with the same invitation he gave to Peter at their first meeting: 'Follow me'. 
The trial of Caiaphas and the crowd. Jesus was innocent of any wrongdoing, everyone knew that. But the high priest and crowd are able to condemn him lawfully regardless. All kinds of false accusations are hailed against him, and none of them stand, but finally the blow that condemns him: 'Why do we still need witnesses? You have heard his blasphemy?' (Mark 14:63–64). In John's telling the people are exasperated in trying to prove Jesus' guilt to Pilate. They cannot prove to Pilate that Jesus is an enemy of the state, a threat to the empire or to anyone else, and so finally they break down and get to the point: 'We have a law, and by that law he ought to die, because he has made himself the Son of God' (John 19:7).
Jesus is not a threat to society, he has done no wrong, but the crowds and the priests have a higher righteousness enabling their cries of 'Crucify him!' to be hurled with a completely clear conscience—feeling justified, even righteous before God in doing so, or at least they have enough to go on to convince themselves of this. Jesus was a blasphemer, and he got what was coming to him. 
We are not strangers, of course, to this self-righteous, self-justifying scapegoating. The priests fear their status quo threatened, their way of life under pressure, their power and influence undermined, and by getting rid of Jesus all this goes away. We see this every day in our world: governments and societies blaming victims—be they immigrants or the poor or anyone counted as 'other'—for the multifaceted and intricate web of problems facing communities and nations. We create rivalries and scapegoats, and in doing so we create victims and become oppressors, and often in the name of economics or liberties or 'way of life' we feel perfectly justified and in good conscience doing so. And we cannot just rail against these systemic issues in a way that places us in yet another self-righteous and condemnatory place. Even if we do not find ourselves directly or explicitly participating in these forms of victimisation (we all participate at least implicitly), we all in small and intimate ways in our relationships and interactions with others find ourselves caught up in the zero sum game of rivalry, competition, and 'success' that is our modern world, a world in which others must decrease so that we may increase. 
But Christ meets us in love by himself becoming our victim. He becomes the victim that saves us from this cycle of violence and rivalry, reaching out in love even to his accusers and oppressors, offering salvation and reconciliation again, as he does for Peter: 'Father, forgive them' (Luke 23:34), he cries in the midst of his suffering.
The trial of Pilate. Pilate is on trial as well, and he knows it. Before his own conscience and before the people he is accountable to as leader. He fears doing anything to Jesus, whom he knows is innocent, and whom he also seems to sense is more than just the ordinary blasphemer his accusers portray him to be. He ironically tries to satisfy them by offering a substitute, Barabbas, to save Jesus—all the while Jesus is dying in the place of Barabbas and Pilate and the priests and the crowds and for the life of the whole world. In Matthew's telling of the narrative Pilate washes his hands and says that he is innocent of Christ's blood and turns him over to the crowds to do with him what they will. But the law required his approval for crucifixion, so even with this gesture, he sends Jesus to his execution, with soldiers under his command carrying it out. 
The trial of Christ offers us another way at every turn, wherever we find ourselves in the story. Jesus in his unwillingness to deny the truth—the truth that redeems and reconciles—even though it cost him everything, gifts to us another way to live in that truth when we find ourselves like Peter only able to follow 'at a distance', or unable to acknowledge the truth in our lives or the lives of others. In Jesus' silence before his accusers, he offers another way forward when the world seems only to raise its voice in blame or self-promotion, or in fear of one another, or when we can't see past our own way of thinking, or believe that scapegoating victims brings some sort of safety or security. And when we try to 'wash our hands' of blame for the world's brokenness rather than work to reconcile and redeem it, Christ's self-sacrifice as he bears the blame due to others shows an active way of love that blamelessness in itself could never achieve. 
While we may not have any direct liturgy for the trial of Jesus—no set way to perform it as a community, this is a part of Holy Week that we all still need to pass through on our way to Easter morning. Passing through it, living through it, could bring radical transformation to our lives and our world. And this year's Holy Week, when we are in a time of separation and distance that has forced us to slow down and take stock of how we live and where we are headed, might just be the one that enables us to discover together the better way that Christ offers us.
---
A Prayer of Bishop Lancelot Andrewes
O Lord Jesus Christ, look upon us with those eyes of thine wherewith thou didst look upon Peter in the hall; that with Peter we may repent and, by the same love be forgiven; for thine endless mercy's sake. Amen