Winners of the 2023 Louis MacNeice Creative Writing Prize Announced
Monday 17 April 2023
Named after Merton alumnus Louis MacNeice, a poet and playwright who attended the college during the 1920s, the competition invites all current students of the College to enter a maximum of one poem and/or one short story on any topic.
We are delighted to announce the winners: the short story prize was awarded to English undergraduate George Adams for Morning at the Cullin Hills Hotel, Portree Harbour, while History Graduate Luke Bateman's poem Elk took first place in the poetry category. 
Luke saw more success as his tale Trip to Headington Quarry was awarded proxime in the short story category and William Wickstead, whose writing was commended in 2021, this year gained proxime in the poetry for Strawberry Gold.
The entries were judged by this year's Visiting Research Fellow in the Creative Arts, Ben Haggarty, Kirsty Gunn, who held the post in 2020 and Merton Stipendiary Lecturer Laura Ludtke.  Ben commented that 'the broad range of entries and the diversity of talent made it quite a contest, but we felt the writing of the winners in both categories was particularly assured in form and satisfying in content.'
Prose
First place: George Adams Morning at the Cullin Hills Hotel, Portree Harbour
Proxime: Luke Bateman Trip to Headington Quarry
Poetry
First place: Luke Bateman Elk
Proxime: William Wickstead Strawberry Gold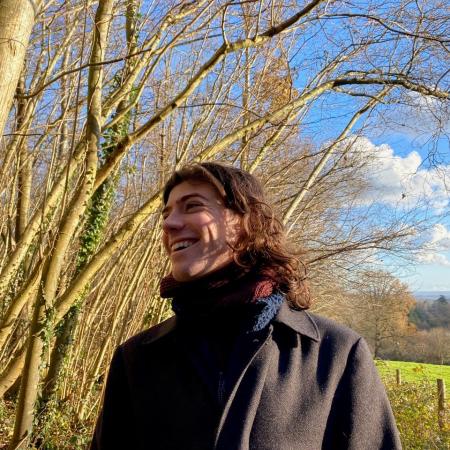 George Adams, Short Story Winner
The first draft of this short story was written on the Isle of Skye during the summer of 2021 whilst on holiday. It was inspired by Cat in the Rain (1925), a well-known story by Ernest Hemingway. Learning a great deal from this example, I worked on sentence syntax and cadence and on communicating an atmosphere with an underlying sense of heaviness.
In Michaelmas term the following year I showed a draft to a friend of mine and I am grateful for their time, generosity, and encouragement. Without their support, I wouldn't have entered the piece for this competition.
I would also like to express my sincere thanks to the judging panel and Merton College for organising this competition in tribute to Louis MacNeice, and my appreciation for this opportunity. Knowing the abundance of talented writers at Merton it is a great honour to be the recipient of this prize.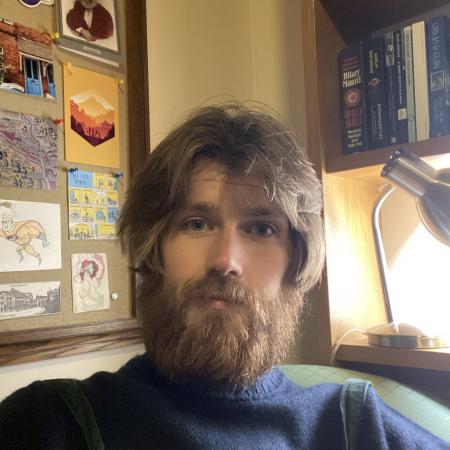 Luke Bateman, Poetry Winner and Short Story Proxime
I am absolutely delighted to have been awarded the Louis MacNeice Creative Writing Prize for Poetry, and the proxime for Short Story. Both Elk and Trip to Headington Quarry are experiments with poetry and fiction's role as tools to extend empathy beyond a human gaze. By opening up windows into the lives of the more-than-human, and our own deep entanglement with them, I believe literature can play a role in responding to the Anthropocene. I hope my poem and short story can showcase one way to harness imagination to commune with reality.
Merton, as a deeply storied place, has been central to my development as a creative. I'm grateful to all those who have supported my writing and curiosity here, especially the constantly inspiring members of Merton College Poetry Society who have provided a home within a home. My gratitude goes also to the judges of this competition, for embracing my writing and providing a wonderful cap to four years of artistic exploration and experimentation.
Will Wickstead, Poetry Proxime
I haven't written much poetry in my life up until this point, but the Louis MacNeice prize and the really strong Merton creative writing scene inspired me to try it out. I struggle to take my poetry seriously and so winning this award is a great encouragement. I'd like to thank the panel for awarding me proxime (as well as George Adams and Luke Bateman with whom I sometimes write).