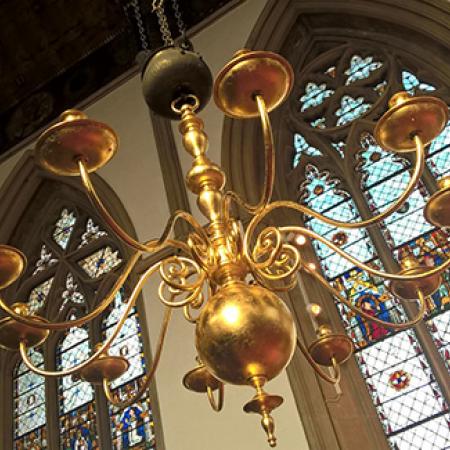 New lighting installed in College Chapel
Tuesday 14 February 2017
A set of new light fittings is being installed in the Chapel, replacing the Victorian candle holders that have been in use for over 150 years.
The College commissioned Luke Hughes & Co Ltd to design and install the new lights for the stalls, which include draught-proof fittings for candles, and LED lights to improve visibility for the choir and clergy. At the same time, the candelabra are being regilded.
The existing window uplighters provide some illumination during evening services, but they need to be supplemented by candlelight, and in a building as draughty as the Chapel glass cup-like fittings known as followers have to be placed on the top of the candles to stop them burning unevenly and to prevent the wax from spilling. In recent years, these followers have proven inadequate to the task, often falling from the candles during services and smashing on the floor!
So in order to provide an adequate level of lighting whilst being able to continue to use candles, the new fittings incorporate glass tubes into which the candles are inserted. In addition, those for the choir and clergy contain LEDs which shine down onto the desk in front of them.
The Chaplain, The Revd Canon Dr Simon Jones, said:
"Candlelight provides a beautiful environment for worship as well as being a practical necessity in a medieval building with minimal electric light. We can now look forward to enjoying candlelit services for many years to come."