2021 Louis MacNeice Prize for Creative Writing - winners announced
Tuesday 15 June 2021
The winners of the second Merton College Louis MacNeice Prize for Creative Writing have been announced, with French undergraduates topping both fields: third-year Elena Vargas-Richards in the poetry category, and first-year Nalishebo Simukulwa in the short story category.
Elena explained that the idea for her poem, La matria, came to her through a creative writing class she attended during her current year abroad in France:
"I grew up in a family spanning different continents and I experienced the myriad cultural shifts and code switches that have come alongside this. As what some people might call a 'third culture kid' (having parents or family members from two separate cultures and feeling displaced or accepted into a third culture), I find it easy yet powerful to write about how I perceive my cultural identity – if I even subscribe to that phrase.

"I am passionate about poetry and writing in Spanish; I also enjoy integrating it into other languages, and exploring the results. In this poem I was able to play around with italics, bold font, lines and spacing, which was gratifying as my relationship with the country of my mother is many-layered...I hope the reader's visual journey through the text reflects a small part of that."
She added:
"I would like to thank Merton and this year's judging panel for running the competition and reading entries. The Louis MacNeice prize, existing without guidelines or themes, is a wonderful opportunity to send in your own writing shaped as you desire it."
Nalishebo said she was thrilled to be given the award for her story, Babysitting, adding:
"I am grateful to both the judging panel and the competition organisers for giving me this opportunity. Babysitting is my first short story and to have it recognised is very encouraging.
"In Babysitting, we follow an afternoon in the lives of Lulu and Ash, two teenage best friends who have a weekend job babysitting local children. The story is told from Lulu's perspective and as the day unravels, we learn more about the dynamics in the girls' relationship. I wrote Babysitting after going through old photographs and reimagining the events within them; I really wanted to write a story with characters that felt familiar to me.

"I look forward to continuing my writing and producing more short stories. Hopefully, as I progress I will develop my work to encompass longer works of fiction also and I am sure that having the experience writing short stories such as Babysitting will help me accomplish this goal."
Third-year Law DPhil student Tsvetelina van Benthem was awarded proxime in the short story category. She said:
"I would like to express my gratitude to the panel and to Merton College for organising the competition. Creative outlets such as this allow students to step out, at least for a little while, from their academic routines, and reconnect with joys and pleasures that many of us may have almost forgotten.

"Life Hunters is loosely based on a dream I had in the early days of the second lockdown. It also incorporates thoughts, memories and anxieties that I have, for many years, felt the need to put to paper. This is a story about adaptation, with all the pain, doubts and uncertainties that accompany it. It is also a story about resilience and the search for meaning, with touches of humanity shining through even in the most unlikely of times and places."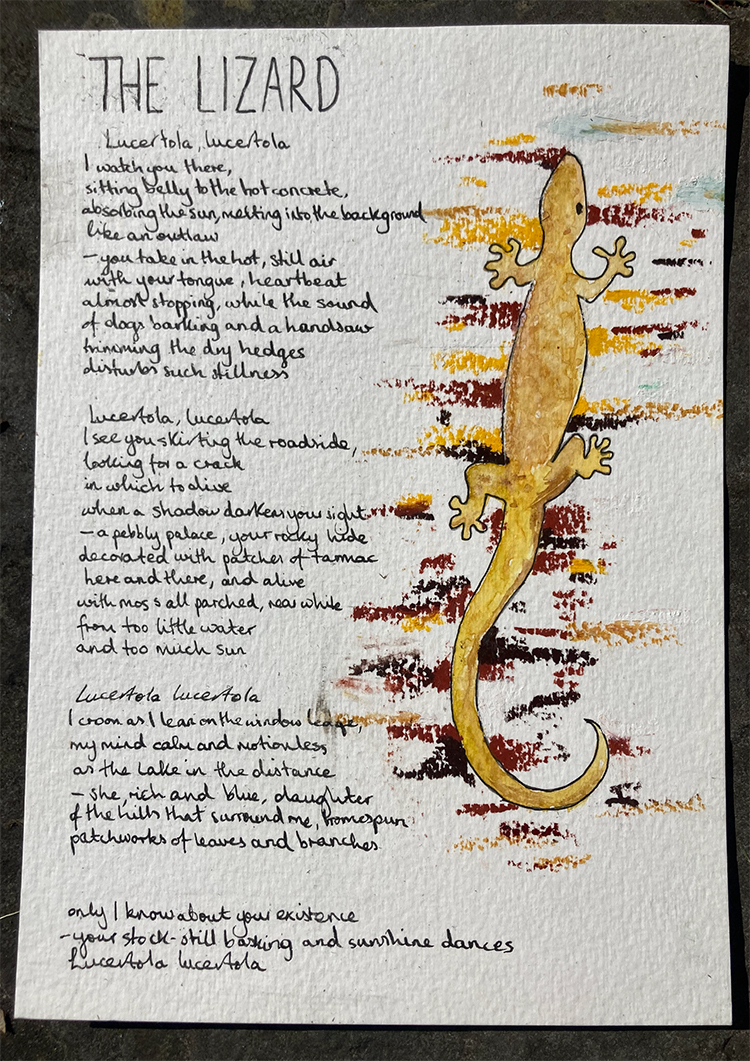 The poetry category proxime was third-year Modern Languages undergraduate Isobel Sanders, for her poems The Dragon Fly and The Lizard:
"I am a languages student and The Lizard was written while I was living near the stunning Lake Iseo in Northern Italy during my year abroad. I aimed to capture the arid stillness of where I was in eastern Lombardy, inspired by how the harsh Ligurian environment governs Ungaretti's poetry. My own poem came very much from my location and my situation; my perceptions as an alien to the region seemed especially vivid.

"I wanted to place some kind of restriction on the form to see what happened. The result? Not too much. The Lizard's shy, evasive rhyme scheme came relatively organically, perhaps helped along by the informal dialogic register and natural subject.

"To win proxime is a very encouraging surprise, and also sets a great challenge for further efforts with my creative writing."
Commendations were given to Shekinah Vera-Cruz, Pablo Scheffer and William Wickstead in the poetry category; and to Anna Stephen and William Wickstead for their short stories.
The competition was open to all current students enrolled at Merton College and has been named in honour of a Merton alumnus, Louis MacNeice (1926), a poet and playwright who attended the college during the 1920s. The entries were judged by one of this year's Visiting Research Fellows in the Creative Arts, Will Eaves.