Julia de Lacy Mann
Merton's first female Honorary Fellow
Julia de Lacy Mann (22 August 1891 – 23 May 1985) was one of Britain's foremost economic historians in the 20th century and a pioneer of women's education at Oxford. She was the first woman elected an Honorary Fellow of Merton College, in recognition of her research on the British cloth industry during the early modern period and the Industrial Revolution, and her work demonstrated an extraordinary command of archival sources. Alongside her scholarly pursuits, she was one of the longest-tenured heads of an Oxford college in the modern era, driving the growth of St Hilda's College as its Principal between 1928 and 1955.
'Miss Mann', as she was known to contemporaries, was born into a liberal and academic family in London in 1891. Her father, James Mann, had been a Fellow of Trinity College, Oxford, and her mother, Amy Gertrude Mann, was the sister of Thomas Bowman, Warden of Merton from 1904 to 1936. Julia de Lacy Mann grew up in Bromley and focused on classics at Bromley High School before going up to Somerville College to read Greats in 1910.  After completing her studies at Oxford (the university did not permit women to take a degree until 1920), she studied social science at the London School of Economics (LSE) and became interested in economic history.  
The field of economic history was emerging out of several trends in the late 19th and early 20th centuries, including the development of statistics, the Rankean tradition of academic history as scientific inquiry, and the parallel professionalisation of economics with early steps towards mathematical modelling. In Britain there was also popular interest among trade unionists in understanding the country's economic development through the Industrial Revolution. Writing before the subfield specialisation that now divides historians, Mann's research contributed to economic history, social history, business history, and the history of her chosen subject, textiles.
Like many scholars who came of age in the first quarter of the 20th century, the outbreak of war delayed her academic career. Mann served as a clerk in the Admiralty in the early part of the First World War before moving to the Foreign Office in 1916. In 1919, she was a member of the British government's staff at the Paris peace conference.
She returned to the academy after the war, going back to Somerville to study for a diploma in economics. Influenced by a tutor who was involved in the cotton section of the Board of Trade, Mann began a doctorate at the LSE in 1922, with a plan of researching the pre-industrial British cotton industry. After just a year on Houghton Street she was back in Oxford, selected to replace another economic historian, AE Levett, as Vice Principal and Tutor in Economics for the institution then known as St Hilda's Hall.
Even among the women's colleges, St Hilda's was small and poorly resourced during the interwar years, with only five tutors in 1923. It was fortunate, however, to have an exceptionally committed leader in Julia de Lacy Mann, who quickly demonstrated an aptitude for organization and a commitment to maintaining contact with old members. She took on many of the responsibilities of the ailing Principal Winifred Moberly in the late 1920s, and was elected Principal following Moberly's death. While she disliked fundraising, Mann had a gift for it, gathering support to expand the library and accommodation, which enabled the college to nearly double its intake of students through the late 1930s and after the Second World War. She inherited the estate of her uncle, Thomas Bowman, upon his death in 1945 and donated the receipts to St Hilda's and his old college, Merton.
Her research on the cotton industry and the Industrial Revolution continued during her long tenure at St Hilda's, and she published The cotton trade and industrial Lancashire, 1600–1780, co-authored with AP Wadsworth, in 1931. This was a pathbreaking book: it was the most detailed effort to recount the early development of the cotton industry in the northwest of England yet produced, and it remains an important source for economic and social historians. She also contributed to the institutionalisation of economic history, serving as an early assistant editor of the Economic History Review from 1927 to 1934 and as a member of the Council of the nascent Economic History Society (founded 1926).
Her contemporaries remembered her as an imposing figure because of her exceptional stature, her reticence, and what Negley Harte recalled as her 'booming' voice, but budding textile historians of the later 20th century also found her receptive to and supportive of their research. Mann's interests  extended beyond academia. She was known to appreciate 19th century memoirs and classical music, and, sometimes, more athletic endeavours. When Mann was an Oxford undergraduate, she played in the first mixed doubles tennis match permitted by the University, partnered with Harold MacMillan, who, many years later, awarded her an Oxford DLitt (1973).
Following her retirement from St Hilda's in 1955, she moved to Melksham in Wiltshire and began researching the region's extensive textile history. This work culminated in The Cloth Industry in the West of England from 1640 to 1880 (1971), which remains the authoritative text on the early modern prosperity and industrial-age decline of textile production in Gloucestershire, Wiltshire, and Somerset. The region, she argued, suffered from natural disadvantages (chiefly an absence of coal), but more importantly a failure to innovate and keep up with Northern competition. Like The cotton trade and industrial Lancashire, her exceptionally thorough research with primary source material has meant that this work is still an important source for debates about textile history into the 2020s.
Though the 1970s marked the beginning of the 'Cliometric Revolution' that brought early econometrics to the study of economic history, Mann remained a firm exponent of archival history. During her retirement she also published articles in the Economic History Review, Textile History, chapters in the Victoria County History of Wiltshire, and the collection Documents Illustrating the Wiltshire Textile Trades in the Eighteenth Century, which organises a diverse variety of transcribed archival material on economic and business history and the material culture of textiles. A festschrift honouring her was published in 1973, including contributions by the notable economic historians Donald Coleman and Max Hartwell, and she was elected an Honorary Fellow of Merton in 1979.
Mann retained her scholarly interests despite her advancing years, attending seminars at the LSE and the Pasold Research Fund's annual textile history conference into her nineties. The 1981 Pasold conference at St John's was the first time she had ever dined at high table, rather than in the Senior Common Room, in an Oxford men's college, despite her extraordinarily long tenure at St Hilda's and more than half a century as a prominent economic historian.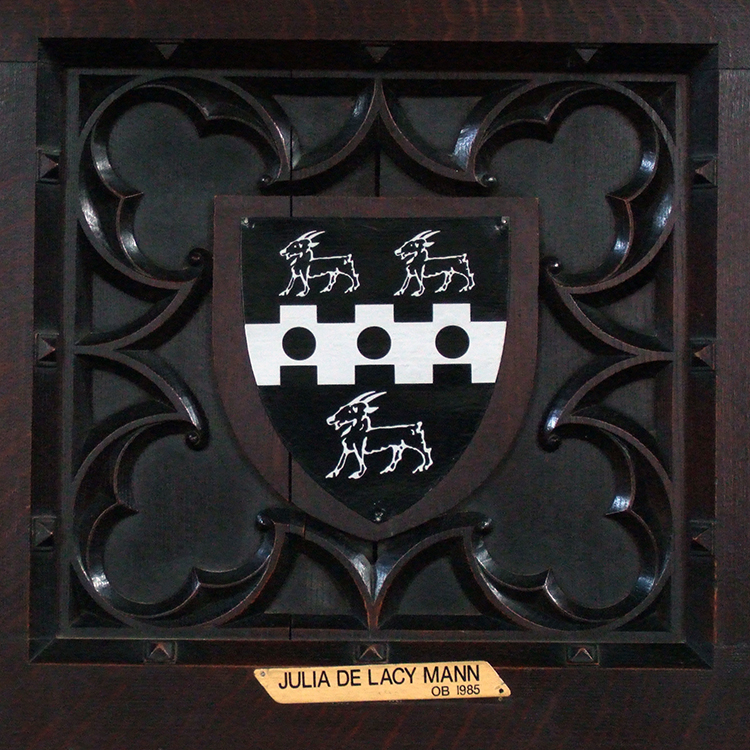 She died at her home in Melksham in 1985. At Merton, she is remembered with a plaque of her arms on the south wall of the Hall, in the company of other benefactors.
Ben Schneider (2014)
DPhil Candidate in Economic and Social History
Main image - by kind permission of the Principal and Fellows of St Hilda's College, Oxford