Her Imperial Highness Princess Akiko of Mikasa (2004)
Her Imperial Highness Princess Akiko of Mikasa is a member of the Imperial House of Japan, the elder daughter of Prince Tomohito of Mikasa. She is second cousin to the Japanese Emperor Naruhito (Merton 1983). Her grandfather, Prince Mikasa, and Emperor Naruhito's grandfather, Emperor Shōwa, were brothers.
Princess Akiko is at heart an art historian, whose research interests lie in the perception and influence of Japanese culture and tradition in the West. She is well acquainted with Merton, having first come here for the 2001-02 academic year as part of her BA course in History from Gakushuin University in Tokyo. While at Oxford, she studied Japanese art history with Professor Steven Gunn, Tutor in History and Professor of Early Modern History, as her tutor.
The Princess evidently greatly enjoyed her year at the College, for she returned a few years later as a doctoral student. This time, she was at Merton from October 2004 until she took her final examination in January 2010. Her thesis was titled 'Collecting and Displaying 'Japan' in the Victorian Age: The case of the British Museum '. Her thesis supervisors were Professor Dame Jessica Rawson (Honorary Fellow), Merton's first female Warden (1994-2010), and Timothy Clark, Head of the Japanese Section at the British Museum.
Professor William Anderson (1842–1900) was an English surgeon, who moved to Japan in 1873 and became an important scholar and collector of Japanese art. His collection of more than 3,000 Japanese and Chinese paintings, purchased by the British Museum in 1881, provided a rich resource for Princess Akiko's research. The Princess was awarded her DPhil in 2011, becoming the second member and first female member of the Japanese Imperial Family to achieve a doctorate.
After leaving Oxford and Merton, Princess Akiko took up a postdoctoral Fellowship at Ritsumeikan University in Kyoto, and then held several posts as Visiting Associate Professor and Visiting Researcher.
The Princess has visited Turkey many times, and became President of the Japan-Turkey Society – a non-profit organisation aiming mutual exchange between the two countries – in 2014, taking over the role from her father. An enthusiast of skiing, she is also President of the Professional Ski Instructors Association of Japan.
Princess Akiko is a Professor of the Institute of Japanese Culture at Kyoto Sangyo University; Patron of 'Shinyusha', where children study Japanese culture; Special Guest Professor of Kokugakuin University; and Guest Professor of Kyoto City University of Arts. She also holds various other official positions, including Research Associate at the SOAS Japan Research Centre.
Princess Akiko on her time at Merton
I came to Merton as a visiting student in October 2001. Before I left Japan, HIH The Crown Prince (now HIM The Emperor of Japan) invited me for tea at his residence and kindly shared his many affectionate memories of Merton. He showed me some of the pictures he had of Oxford. When I arrived at the College, I felt his stories suddenly take shape in front of me.
Being a student at Oxford was completely different from my studies in Japan. In Japan, we usually have lectures and seminars in university, but having tutorials is rare. At first, I found it quite difficult to keep up with the tutorials – writing essays every week and joining discussions with the tutor and other students were new challenges. But it was a good experience for me and it greatly helped me to develop my career as an academic.
The city of Oxford is history itself, so I was so thrilled to be a part of it. I liked working at a window seat of the Mob Library – where I could look out of a window, I always felt that Mertonians of 100 years ago had been looking out at the same view. Many 'non-academic' people are living in Oxford, so the city is lively and I think it is a good mixture of people. I also had a lovely blue bicycle and enjoyed riding around the city.
I did not feel the College and University were really any different when I came back as a graduate student in 2004, because my old friends, Fellows and staff were still at the College. But when I visited Oxford a few years later, after I completed my doctorate, the city felt so different. While I was studying in Oxford, whenever I went out of the College, I always met or saw someone I knew along the streets. Just a few years later, I did not see anyone I knew on the street, so then I felt Oxford was no longer my city anymore.
When I was in Merton as a visiting student in 2001, I was studying Scottish history. When I had a meeting with Professor Dame Jessica Rawson, the then Warden, she kindly suggested to me that I might have tutorials with her on Japanese art. At her tutorials, I realised that Japanese people's eyes towards Japanese art and Western people's eyes towards Japanese art were very different. Then I started to be interested in the differences between Japanese and Western understandings of Japanese art. When I visited Tim Clark, the then Head of the Japanese Section of the British Museum, he introduced me to the William Anderson (1842-1900) Collection, one of the pioneering collections of Japanese art in the West. And this is how I came to choose my thesis topic: Collecting and Displaying 'Japan' in Victorian Britain: The case of the British Museum. Then, with the help of my supervisor, Professor Rawson, and my outside supervisor, Timothy Clark, I had the privilege to work as a volunteer at the British Museum, while I was doing research for my doctorate. While I was looking through the Old Registers of the Prints and Drawings Department, many members of staff kindly helped me in passing to read old handwriting and to find other documents. It was like a treasure hunt, and I made many interesting discoveries in the bookshelves, cabinets and storage of the British Museum. It was a totally amazing experience for me.
Among the scholars whose work I came across was Lawrence Binyon (1869-1943), who was Keeper of the Department of Prints and Drawings (including Japanese and Chinese works on paper). He was dedicated to introducing a Japanese understanding of Japanese art to a Western audience. Before Binyon's time, Japanese art was judged by Westerners with a Western understanding. For example, William Anderson did not understand or appreciate the absence of Western perspective or the ways in which animals, flowers or humans were sometimes presented as caricatured in Japanese paintings. Binyon asked advice from Japanese scholars, painters and experts and adopted their ideas for his collecting policy, display and writings on Japanese art. Thanks to his dedication, Westerners now had a chance to see what Japanese people regard as authentic. In this period, just as at Oxford, where curators acquired copies of Classical sculpture, now in the Ashmolean Museum, the British Museum made efforts to acquire copies of great Japanese works of art. Among these, the Museum has a very fine version of the Kudura Kannon, carved in wood in 1920 by Niiro Chūnosuke, of the original seventh century sculpture still surviving in Hōryū-ji Temple in Nara. The Museum also has some copies of the wall paintings in the Hōryū-ji Temple; one of them was painted by Sakurai Kōun at the request of a British diplomat, Ernest Satow, and later presented to Anderson. From 1881, it has been kept in the British Museum. As a scholar, Binyon had recognised how important and central to the development of Japanese art these works were; but few people even today have the possibility of seeing the originals.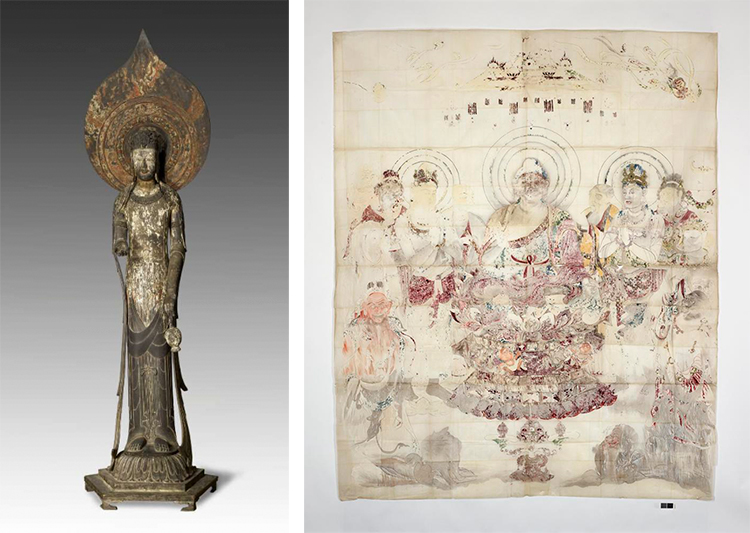 I was very fortunate to visit London once a week to have tutorials with Tim at the British Museum and to handle original collections on site. I was able to get to know many people who were working at the British Museum or visiting the British Museum. If I had stayed in Oxford the whole time, I might have been quite depressed, but visiting London regularly and meeting other people was a very refreshing and inspiring experience for me.
Now, I am working in Kyoto Sangyo University as a professor. I take charge of three seminars on Japanese culture and I am hoping to write at least one academic paper a year. Because my supervisors set me a very high standard, I know that I would like to teach my students in the same way. This is a challenging task, as students working in Japan do not have the opportunities or the wide range of people to interact with that I had in Oxford. But I am trying to show them the interests and importance of academic study and to explain to them the reward of examining subjects from many different perspectives, an important lesson I took away from my time at Oxford.
Images
Copy of the Kudara Kannon sculpture from Hōryūji temple, 1931. Purchased from Niiro Chūnosuke. Acquisition supported by Art Fund, Sir Percival David and Mrs. Alex Whyte. © Trustees of the British Museum 1932,0309.1
Copy of wall painting no. 9 from the Golden Hall at Hōryūji temple, about 1879. Attributed to Sakurai Kōun. Purchased from Professor William Anderson. © Trustees of the British Museum 1881,1210,0.148
Merton & Me
Thinking of the first day you walked through the Merton Lodge arch as a student, what was your first impression?
It's like a film set…
Do you have a particular memory that stands out from your time at Merton?
I visited the Warden's office quite regularly to ask her secretary, Lisa Lawrence, to read Professor Rawson's handwriting written on my chapters. She was familiar with her handwriting, so usually she was very quick, but sometimes even she struggled to read it! One day, when Lisa was having difficulty translating the handwriting she came to realise it said 'I don't think so!'. She looked very sorry, looking at me. There were three different types of 'No' on the page: 'No!', 'I don't think so!', 'Not true'! However, her rigorous supervision made me write a convincing thesis, so I owe her a great deal.
Tell us something about yourself that we would not know.
I am a professional ski instructor. 
What tips would you give your younger self to prepare for the career you have achieved?
Do not hesitate to talk with people, even if your English is not perfect. They will try to understand you and they want to have a conversation with you. Meeting and talking with many people helps you to develop new ideas and give other alternatives, which you have never thought of.
Describe Merton in three words.
Classical, intellectual but friendly.