Student Ambassador: Robert Lentz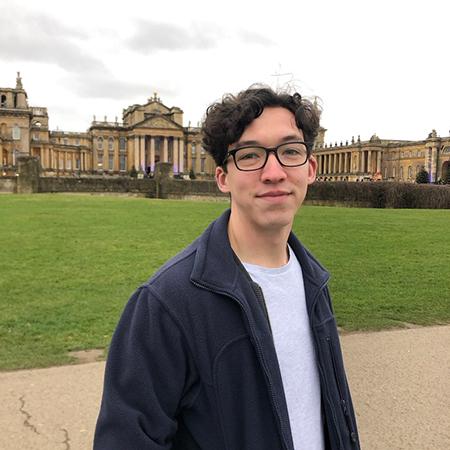 Year: Third (and final!)
Subject: History
Where are you from?: Farnham, Surrey
Why Merton?
For me, as for many others, the choice to apply to Merton was made on the basis of the practical benefits of going to Merton, the 'feel' of the college, and the way in which Merton appeared to be a particularly good college at which to study a certain subject – in my case, History.
From a purely practical perspective, the fact that Merton offers very reasonable town-centre accommodation for every year of the undergraduate degree was a major draw for me. Knowing that I wouldn't have to walk too far to get to and from libraries, lectures, shops, cafes and so on definitely appealed to me! Whilst it wasn't exactly a habit, being able to wake up at 11:45am, roll out of bed, and be in a history lecture by noon was a luxury that came in handy once or twice. The fact that I could get three meals from Hall a day for a tenner has also definitely helped!
In terms of 'feel', it is true that there's no better way to gauge it than visiting the colleges – but I can certainly confirm that the atmosphere at Merton felt incredibly friendly and inviting when I visited the college on an Open Day, and this has rung true all throughout my degree: the sense of community at Merton, between students, staff, tutors, is palpable and a real strength of the college. In terms of the buildings and environment of the college, do take a look at the gallery to get a sense of what Merton is like! One of the most satisfying aspects of helping at previous Open Days was seeing people realise that Merton – a college that is fairly reserved in its appearance from Merton Street – actually has one of the largest college gardens in Oxford, overlooking Christ Church meadow, not to mention some pretty impressive quads!
For me as a prospective History applicant, it may come as no surprise that I was keen to study at one of Oxford's older colleges, but also one which I knew had a strong reputation for History as a subject, and took on a decent-sized cohort of History undergraduates each year. Also, knowing that Merton had a particularly excellent library provision (a figure definitely worth looking up if you're planning on doing a more texts-based degree). Of course, different people have different priorities when it comes to deciding which college to apply to, but Merton certainly ticked all the boxes for me!
Best thing about your course?
Perhaps the best thing about doing History at Oxford, is the absurd amount of choice you get as to what it is you'd like to study: in the whole of the degree, there's only one module that every single undergraduate will do, and even within that module there's a vast amount of flexibility.
The chances of any two people doing the exact same degree, in terms of modules studies, is pretty slim: at the start of each term you get a choice of what subject area you want to study, with the number of choices for a particular term ranging from four to as many as thirty different modules. You really are able to pursue the areas which you're most interested in, or indeed, spend time developing your understanding of a period or an area of the world that you had never considered before – for example, I never thought I'd find myself so interested in Japan's Edo period!
Doing a History degree at Oxford provides so much room for tailoring the three years to precisely what you want to study because of the great number of specialist academics who teach at the University: each term, depending on which module you choose, you'll be taught by a tutor who is expert in that subject, whether at your college or at another one. Not only does this mean that you're always getting specialised tutoring on the subjects you're most interested in – it's also a great way to see more of the university!
In short, the adaptability and flexibility of the Oxford History degree is probably what I would consider to be the best thing about it. The only issue is being spoilt for choice!
Most important thing you've learnt?
When you're enjoying what you're working on, is when you produce the best work, so follow your interests and don't let a reading list limit you!
How do you cope with the workload?
Organisation is, unsurprisingly, a pretty useful skill that you'll definitely develop over the course of a degree here – by the end of your first term, you'll have worked out exactly how to timetable yourself, so that whilst you're turning in good essays each week and developing a deep understanding of your subject, you're also able to enjoy a considerable amount of time relaxing with friends, doing extra-curriculars, and enjoying living in one of the most attractive cities in the UK!
Favourite spot to relax?
It's a bit of a walk/cycle from Merton, but the trip to Port Meadow is also worth it – especially with a BBQ in the summer (!) – to enjoy a sunset swim or just a feeling of being well away from civilisation.
Favourite place to eat?
If not Merton College Hall – college lunches are not unknown to turn into pretty lengthy feasts, if you take advantage of the hot main, soup bar, salad bar, puddings and fruit (and all for under £4!!!) – then probably at edamame, an excellent Japanese restaurant right next door to Merton's accommodation on Holywell Street.
What are tutorials like?
Kind of the intellectual equivalent of a particularly daunting-looking rollercoaster – for History, you'll spend most of the week before a tutorial reading for an essay, planning and then writing the essay, and then going over the particular subject of that essay in the tutorial. Tutors aren't scary at all – they're deeply passionate academics who have devoted themselves to becoming experts in their field, so the opportunity to learn from them, and discuss with them a piece of work you've written, is both humbling and extraordinary. If you've done the reading and developed an understanding of the subject for that week, tutorials can be much more fun than I'm willing to admit – even if you'll often find yourself receiving some justified constructive criticism!