Student Ambassador: Molly Archer-Zeff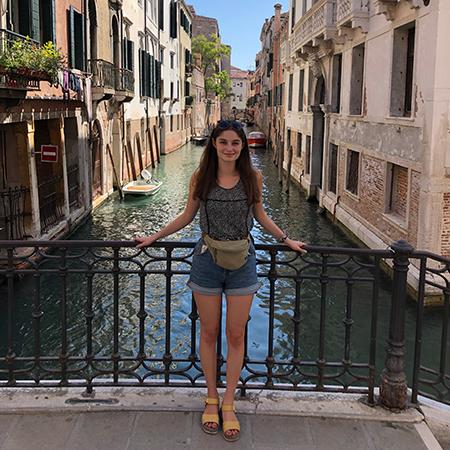 Year: 2
Subject: History
Where are you from?: Southend-on-Sea, Essex 
Why Merton?
I chose Merton because of how friendly and welcoming it was on the Open Day I attended. The students were chatty and eager to answer questions, the college were generous with free refreshments, and the tutors I met were encouraging. I was immediately put at ease by the friendliness and made to feel part of the college.
Best thing about Merton?
I love the community feel at Merton. You always have to give yourself 10 minutes extra time to get somewhere in college because it is inevitable that you will end up stopping for a chat with someone on your way there! I also love the location as it is right in the centre of Oxford so close to the vibrancy of the city, but Merton Street is quiet and tucked away from the bustle.
Best thing about your course?
I really like the opportunities to explore areas I am interested in. There have been weeks where I have been allowed to pursue my own essay idea because a particular area of the topic has caught my interest. The flexibility to explore different ideas can be really exciting.
Best thing about Oxford?
The constant feeling that you are surrounded by history and a fascinating past. As a historian it is really exciting learning about something that happened right on your doorstep. Living in a listed building, sitting in the same hall as memorable alumni, and learning about the history of the city feels like I am living my subject. 
Best thing about the collegiate system?
Colleges break the whole university year group up into smaller, less daunting chunks. The size of my college year group is definitely one of the best things. There are less than 90 of us in my year so we get to know each other well and it feels like a school year group.
Highlight of the year?
Living in Holywell Street in a house with my friends. At Merton we are really lucky to have college accommodation for the whole of our degree and in second year you choose a house with your friends. The memories of sitting round the table together for dinner each night is definitely what made my year so special and put a smile on my face each day.
Most important thing you've learnt?
That being interested in what you are learning is the most important thing and it is okay to have different interests to your peers. In my first year I ended up choosing modules that I wasn't interested in and didn't enjoy. I thought that because I wasn't enjoying them, but my tutorial partners were, I had chosen the wrong degree and wrong university. By the end of the year I was studying modules that I loved and was fascinated by. Since then I have taken different modules to the other Historians at Merton and know that that is okay and having different interests is what makes us all interesting!
How has Oxford changed you?
Oxford has opened my eyes to the world around me more. Meeting people from across the globe, hearing different opinions, and exploring different ideas has definitely altered some of my perspectives. Oxford is constantly challenging my opinions and what I think I know, and this has definitely helped me to learn more about myself and others around me.
What were you worried about before you arrived?
I was mostly worried about fitting in. I went to state schools and lots of people had made comments about Oxford only being for wealthy people from fancy schools. However, I quickly realised that this was not at all true and this fear was removed by meeting a variety of people from different schools and backgrounds.
What new opportunities have you had?
Being at Oxford has given me the opportunity to pursue ideas so that they become a reality rather than just a thought. I have been involved in student journalism but wanted to start my own magazine, so I founded Oxford History Review with some friends. My tutors, the college, and History Faculty have all been really supportive and I'm not sure I would have had the opportunity to start a magazine anywhere else.
What's the work like?
The work is interesting and challenging. It makes you question your ideas and opinions and gives you a different perspective on the past and the world around you. The weekly essays are intense but definitely worth it when you realise that in a week you suddenly have a good working knowledge of a topic you knew nothing about previously!
How do you cope with the workload?
I've found that the most helpful way to deal with the workload is knowing that tutors are considerate and don't want you to be stressed. If something has happened in my week that means that completing all the work is difficult, I speak to my tutor and I've always found them to be encouraging and helpful. Knowing that there are people there to support and help you definitely puts my mind at ease and makes the workload more bearable.
What do you do when you're not working?
I've been heavily involved in student journalism throughout my degree, so I spend quite a lot of time working with Oxford's student newspapers. I also like to go running, swimming, and I spend a lot of time with friends.
Favourite spot to relax?
Oxford has loads of lovely green spaces that I love to walk around and explore. Being outside definitely helps me to relax and feel ready to face the week ahead. Port Meadow is perhaps my favourite because it's a bit of a walk from the city centre, so I don't go there as often so it is a bit of a treat when I do. It also is a great place to swim in the river and have a picnic with friends.
Favourite place to eat?
Edamame on Holywell Street is definitely one of my favourite places to eat because of the cosy seating layout and the authentic Japanese food. It's given me the opportunity to try flavours and foods that I have never had before. If you want to go, there you have to get there nice and early as there is always a long queue- it's definitely a student favourite!
Favourite place to go out?
There are so many good places in Oxford it's so hard to choose one! I know this is another food answer, but I really like Gloucester Green market. The market has lots of different foods from all over the world and I love the vibrant atmosphere, smells, and trying different flavours.
What do you do in the holidays?
I like to meet friends, travel, spend time with my family, and catch up on sleep and relaxation! The holidays are also a good opportunity to take part in things you don't have time for during the term such as work experience. Of course, there is also uni work to do such as reading for the next module or preparing for exams. Personally, I also find that during term I don't end up reading much just for enjoyment so during the holidays I also like to get lost in a novel.
What are tutorials like?
Tutorials are essentially an intellectual discussion. Tutorials normally consist of a couple students sitting in a tutor's office having a deep conversation about a topic they studied that week. They are really interesting and challenging and I always come out of them tired but excited to pursue my module further.