Student Ambassador: Leah Berger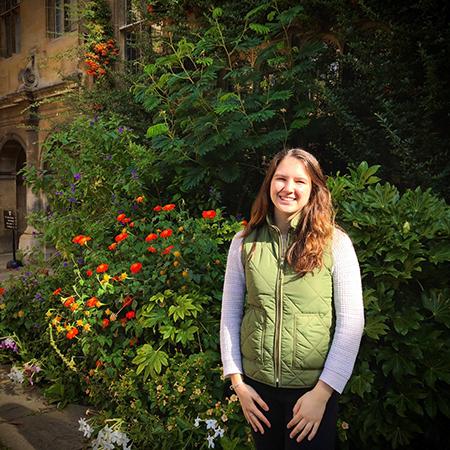 Year: 3
Subject: Law
Where are you from?: Vermont (USA)
Hi! My name is Leah. I am going into my third and final year studying law at Merton. I am American and grew up in a small rural state called Vermont (aka the land of Ben & Jerry's and Bernie Sanders). I also spent a year studying abroad in Berlin, Germany before beginning my law studies at Oxford.
Coursework
I decided to study law because I was interested in the intersection of human behaviour, economics, politics and the structure of society. I took these subjects in high school (equivalent to A-levels) and decided law was the best route to explore these interests.
I have learned about all the above and more! Although the workload is quite rigorous, the tutors are fair and very supportive. Generally, there will be a reading list for the week and an essay due for each subject. The reading list will contain textbook overviews, as well as primary texts (i.e. cases and statutes).
A tutorial will take place at the end of the week, where you will have the opportunity to ask questions and discuss the work set that week. There will be late nights in the library and cramming for an essay no doubt, but the peers within your course and the resources available are there to help and support you to thrive.
Law is a fascinating subject with very real practical applications and developments that change the way society functions.
Merton
As an international student, I did not initially understand the college system very well. I chose to study at Merton for a few basic reasons based on what I read online, namely, its smaller size, central location, academic rigour and beautiful classic architecture.
However, I have discovered much more that I love about the college. First, the people in college are genuine and caring. From my peers to the Porters to the tutors, I have been surrounded by supportive and kind people. I also particularly enjoy the Fellows' Garden, which is a large garden meticulously maintained and amazing for studying in the warmer months or a garden party with friends. The accommodation at Merton is also quite good, and some of the old rooms in college are absolutely stunning (not to mention hundreds of years old)! There is also Hall with cheap and abundant meals, the Porters who are staffed 24/7, student and faculty welfare advisors, a beautiful chapel and two libraries.
Oxford
Beyond Merton, Oxford as a town is also a vibrant place. There are many university-wide societies and clubs that meet regularly. I personally powerlift with the Oxford University Powerlifting Club, am part of Merton's own Halsbury Law Society and the 1980 Society (a women's* focused club) and Oxford Women in Business.
There are also plenty of cafes, gyms, pubs and parks for meeting friends or taking a break. Some of my favourites include The Missing Bean (coffee shop), Sasi's Thai, Mano's Greek Deli and The House for a cocktail or The Kings Arms for a pint after a long day. Although Oxford has a wide range of activities and cuisines, London is also just a short bus or train ride away.
If I've learned anything from Oxford, it's to take a chance and be more confident than you think you are! It goes by quickly, so take advantage of the numerous opportunities that are available. Merton is a great place to take advantage of all that Oxford has to offer in a supportive and incredible environment.