Student Ambassador: Eleanor Coomber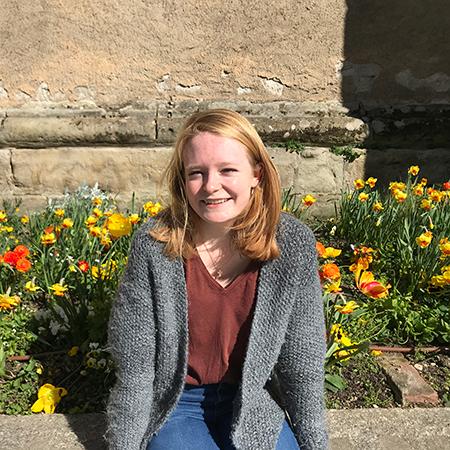 Year: 3
Subject: English and French
Where are you from?: London
Why Merton?
I'm famously indecisive and was struggling to decide whether I should apply to Oxford, let alone which college. Merton wasn't even on my radar at the Open Day, until we heard rumours of free ice cream and decided at the last minute to follow the Merton tote bags and purple balloons. We were welcomed by cheery and enthusiastic faces who were more than happy to squeeze in one last tour at the end of a long day! I loved Merton's charm, with the cobbled street, beautiful buildings – big and yet somehow not intimidating – and especially the gardens! And the promise of free food wooed me and has never disappointed since! 
Best thing about your course?
One of the great things about joint schools is that you really get to personalise your course, and in my opinion, get the best of both worlds! After a taste of everything in first year, second and fourth year give you the chance to hone in on exactly what interests you across both subjects, whether that be a mixture of completely different topics, or ones that complement and feed into each other nicely. The structure of my course also meant that for most of my second year I had one-on-one tutorials, which sounds terrifying, but was actually a real privilege! It challenged and pushed me to think in new ways about all sorts, with the help of a (friendly) expert.
Favourite spot to relax?
This has to be Port Meadow – only a 10 minute cycle or 30 minute walk from Merton, it's easy to get to but feels detached enough from the centre of Oxford and the buzz of activity that it's like a mini holiday, and a breath of fresh air when things get hectic! If you're brave, a swim in the river is extra refreshing!
What were you worried about before you arrived?
Struggling to keep up academically and not being at the same level as everyone else. I soon realised, though, that everyone comes at their course from different backgrounds and different angles, but we were all in the same boat and the tutors are interested in what everyone has to say! 
What do you do in the holidays?
Unwind, bake cakes, and make the most of having friends from college who live all over the country (and further!) to visit!
In the long summer holidays I also look for opportunities to practise my French – there are college grants available to help language students get abroad to improve their skills.